Czech police have foiled what the European press is calling an assassination attempt on visiting German Chancellor, Angela Merkel, by arresting a middle-aged man with weapons in a 4X4 black Mercedes; trying to join Merkel's motorcade as it moved between Prague airport and Czech government headquarters. Local reports claim that officers found a baton, a canister of teargas, cobblestones, and handcuffs with the alleged perpetrator.
Police spokesman Josef Bocan told Express that the police had to use firearms to subdue the suspect:
"The suspect acted alone. While attempting to join the motorcade, he tried to run down police securing the road. He tried to join the procession at all costs, cutting off a police vehicle that was trying to stop him. He only stopped and got out of the vehicle after police warned him that they were going to shoot. He was not armed, but items found in the car could easily have been used as weapons, particularly some cement cubes.
"The suspect has been detained. He is suspected of attempting to cause a crime – specifically an attempt to use violence against an official. Thanks to the professional actions of officers, Angela Merkel's life was not in danger. The incident is currently being investigated by Prague detectives."
A video uploaded by Blesk News on YouTube shows several officers around a police car talking to the "suspect."
Merkel was in the Czech Republic for the first time in four years, meeting with Prime Minister Bohuslav Sobotka and President Milos Zeman, to create a new agenda after Britain's decision to leave the European Union.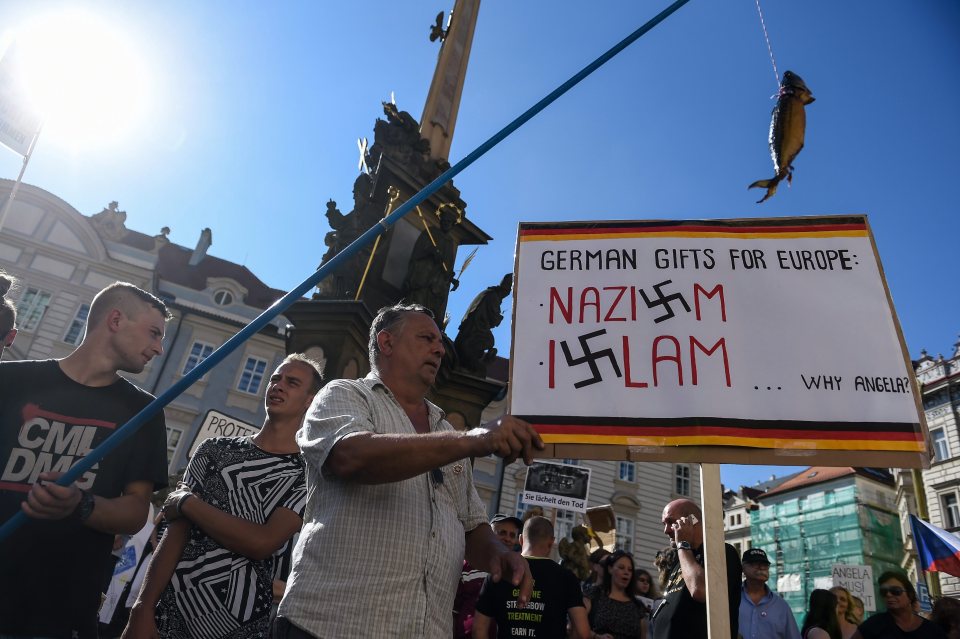 However, a series of demonstrations greeted her in Prague with several hundred protesters asking her to quit, as a result of her decision to open the EU's doors to refugees and migrants last summer (Merkel allowed an estimated one million refugees into Germany in 2015). Some protesters held posters saying "Merkel is killing Europe," while others waved placards showing Merkel with a Hitler moustache and posters featuring the EU flag next to that of Nazi Germany.
Keep Speaking Out?

Protesters wearing Burqas demonstrate against Angela Merkel (Hillary) on Aug 25, 2016 in Prague pic.twitter.com/etvKg8AeRq

— Amy Mek (@AmyMek) August 26, 2016
VIDEO: Merkel 'Assassination Attempt' After Protests During Czech Visit https://t.co/U4WVBfoB1E pic.twitter.com/LYsVhkFZ7R

— Breitbart London (@BreitbartLondon) August 26, 2016
Demos in Prague during Merkel visit against her immigration policy. Only RT news had it on TV. Angela gets protected pic.twitter.com/Cmei5UrivS

— Politicking (@XFilesAndAll) August 26, 2016
Meanwhile people of Czech Republic welcomed Angela Merkel by calling her "German Whore". pic.twitter.com/T6KSvDVMAR

— America First! (@America_1st_) August 25, 2016
?‼️?? Czech Republic today: first protest against #Merkel in #Prague. pic.twitter.com/bUN3UnUsmd

— Onlinemagazin (@OnlineMagazin) August 25, 2016
People protest during Angela Merkel's visit to #Prague © CTK/Alamy Live News https://t.co/mqO1RpKtsD pic.twitter.com/N7tTQS1skQ

— Alamy News (@AlamyNews) August 25, 2016
Meanwhile…
European leaders push Angela Merkel for joint EU army https://t.co/rhZ7w2471e

— The Independent (@Independent) August 26, 2016
Almost 30% of Germans want to quit EU as support for Merkel's govt. drops below 50% https://t.co/Bk0fZYSH1q

— Vyacheslav (@slava381977) August 26, 2016
---
This article (Merkel Assassination Attempt? 'Armed' Man Tries to Drive into German Chancellor's Motorcade in Prague) is a free and open source. You have permission to republish this article under a Creative Commons license with attribution to the author and AnonHQ.com.