Nestlé, the Swiss multinational corporation, is eager to start sucking water out of the Pacific Northwest and, according to the Nestlé Waters website, is currently evaluating the potential for a bottling plant in the small town of Cascade Locks, Oregon – a plan they have been working on since 2008.
Nestlé is determined to tap into the Cascade Locks water supply, despite the state of California suffering a record-breaking drought and experts are saying that, even with recent rains, the damage done to the state's water supply will be long lasting; it could take years or even decades of wet weather to replenish California's impoverished groundwater reserves.
Early last year, in an attempt to bypass public scrutiny of the Cascade Locks water deal, Nestlé tried to obtain the state's legal rights to some of the town's Oxbow Springs water supply.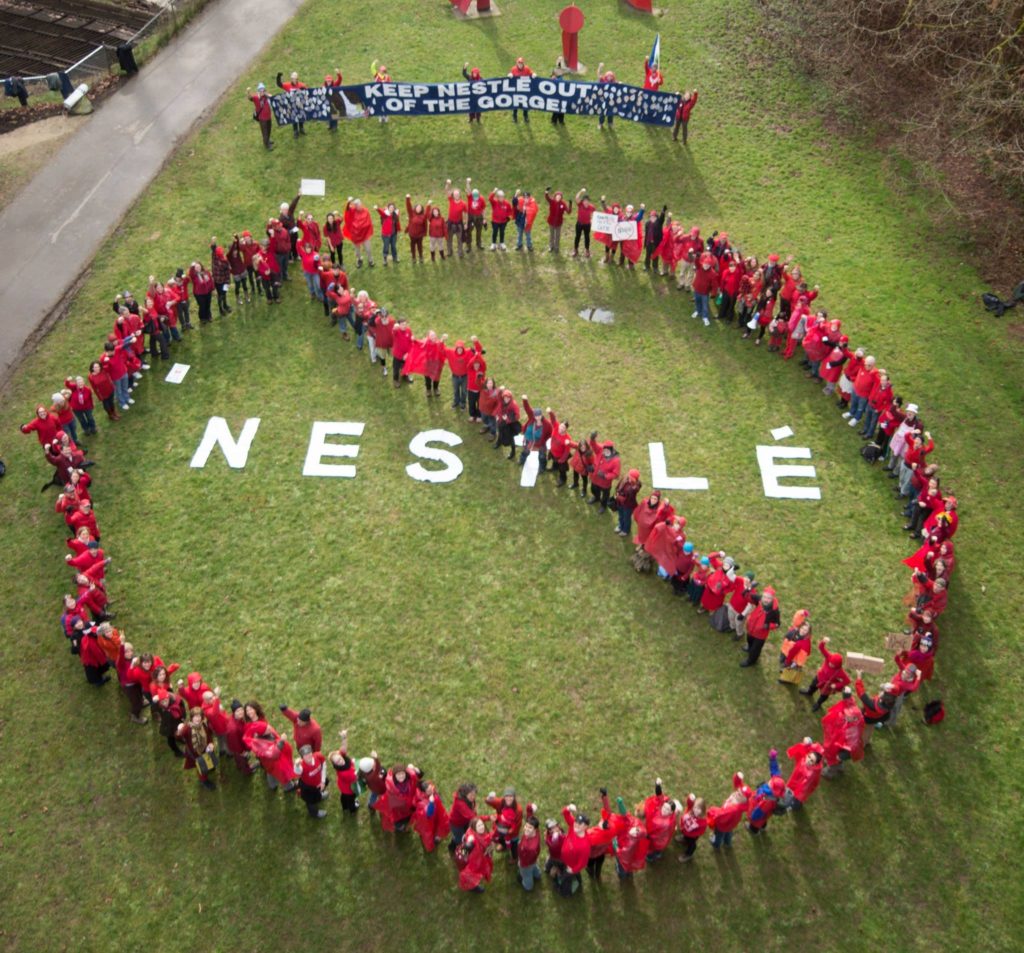 Normally, Nestlé would obtain the water through a gallon-for-gallon trade between the state and Cascade Locks city government, and then buy the water from Cascade Locks. The permitting process to obtain water this way, however, poses one major problem for Nestlé: answering the question of whether the deal would negatively impact the public.
In November last year, Oregon Governor Kate Brown wrote to the Director of Fish and Wildlife Department asking the Department to not go ahead with a water rights transfer and only accept an exchange of water deal, in the interests of keeping the public involved. In response, the Fish and Wildlife Department agreed to grant Brown's request.
Now, the proposal for Nestlé to extract approximately 100 million gallons of water per year from Oxbow Springs, is again open to public protests – and the protests have been going on for years.
Nestlé has argued that a bottling plant in Cascade Locks would be a great economic boost to the town and says it will create approximately 50 jobs, which will be especially beneficial given the town's high unemployment rate.
Those who oppose the plan, however, say that the potential environmental impacts, especially to the already severely depleted water supply, far outweigh any economic benefit.
In April 2013, Food & Water Watch published a fact sheet outlining some of their concerns with Nestlé's proposal to build a bottling plant in Cascade Locks and extract water from Oxbow Springs. Among the concerns was the fact that Oxbow Springs is maintained as a fish hatchery by the Department of Fish and Wildlife, and is used to raise endangered salmon.
Food & Water Watch also warned of Nestlé's promised jobs potentially falling below the feasible living wage and used the mudflats created after Nestlé began drawing from a Michigan aquifer as a cautionary tale.
It seems that the already drawn-out struggle for Cascade Lock's water is far from over and public resistance will need to be ongoing to prevent it from becoming  "Nestlé town."
---
This article (Nestlé's Plans to Suck Water From Drought-Ravaged Oregon) is a free and open source. You have permission to republish this article under a Creative Commons license with attribution to the author Bullseye and AnonHQ.com.