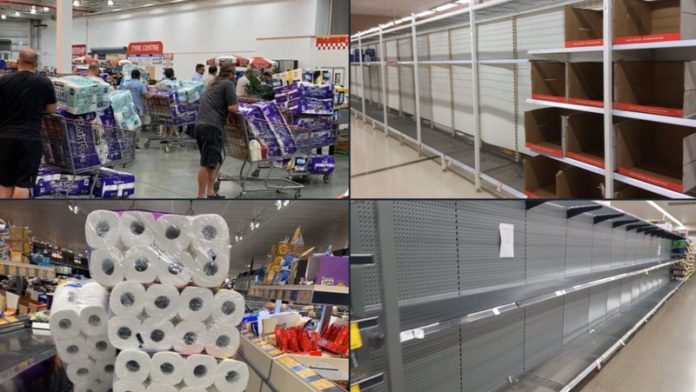 As confirmed US cases soar above 500 this past weekend, Americans made a mad dash to Costco stores across the country to hoard food, water, and disinfectants. 
The Baltimore Sun reports that some Maryland shoppers spent most of the weekend panic buying supplies at big-box retailers as six confirmed cases were reported in the area. The Sun interviewed shoppers across the Baltimore–Washington metropolitan area that loaded up on supplies amid pandemic fears.
The BJ's Wholesale Club in Canton, Harris Teeter in Canton Crossing, and the Whole Foods in the Inner Harbor experienced a surge in shoppers on Saturday and Sunday.
"I'm always prepared," Denise Cox told The Sun at Harris Teeter in Canton Crossing on Saturday morning. She's spent the last several weeks buying water, Clorox wipes, Lysol spray, and bleach. "When I bought the bleach, corona was in my thoughts."
In Ruxton, Maryland, a wealthy suburb of Baltimore City, Graul's Market reported a run by locals, who wiped out their supply of sanitizer items, Clorox wipes, and canned products.
"I've never seen anything like it," said assistant store manager Jeff Major, who has worked for the grocery store for nearly two decades.
Major said the store purchased several cases of Purell hand sanitizer last Wednesday, and it was sold out by that evening.
"I think rubbing alcohol will be the next thing to go," general manager Tom Gilbert said.
"Fingers crossed, we'll have hand sanitizer by March 15," he added.
Sandie Pearce spent her weekend driving around the Baltimore Metropolitan Area, going from store to store in search of disinfectants, such as Lysol and Clorox.
Pearce went to nine stores on Saturday, telling The Sun that disinfectants were all sold out everywhere. However, she hit the "jackpot" at a Walgreens on York Road in Timonium. Where she found a 12-ounce can of Lysol spray for $8, marked up well over 100%.
She said Amazon was all sold out of disinfectants, which forced her to spend the weekend searching for virus prevention products at brick and mortar stores.
"The last time I saw this was the last big snowstorm," Pearce said. "Before it was bread. Now it's germ virus killers."
Rod Hall, store manager at Dollar General in Baltimore City, said someone walked into his store and bought hundreds of dollars of disinfectants last week.
"It was Clorox. It was Lysol. It was store brand. He didn't care," Hall said, as he explained the man wiped the store shelves clean. "I'm pretty sure it was for business."
He said his store is out of hand sanitizer, rubbing alcohol and surgical masks.
"[Hand sanitizer] was the first thing to go. Then they bought the alcohol. And spray bottles," Hall said. "We might not get anything until the Tuesday after next."
At Walmart in Baltimore County, sales associates said hand sanitizer and surgical masks had been sold out "for weeks."
Most big-box retailers, not just in Maryland but across the country, have seen unprecedented demand for hand sanitizers and masks – now experiencing massive shortages.
President Trump is well aware of the situation and panic across America. Trump said on Monday that "nothing is shut down, life and the economy go on." The Trump administration is absolutely terrified that they cannot control the narrative of the "greatest economy ever," as virus cases surge across the country, the map below will likely get a lot redder:
While President Trump attempts to maintain the narrative of how everything is "wonderful," his Secretary of Health and Human Services, Alex Azar, warned Americans on Monday that "everyone should take precautions regarding the virus."
As virus cases increase in the US, so will the panic – we're likely in the beginnings of a virus crisis in the US that could tilt the economy into recession.