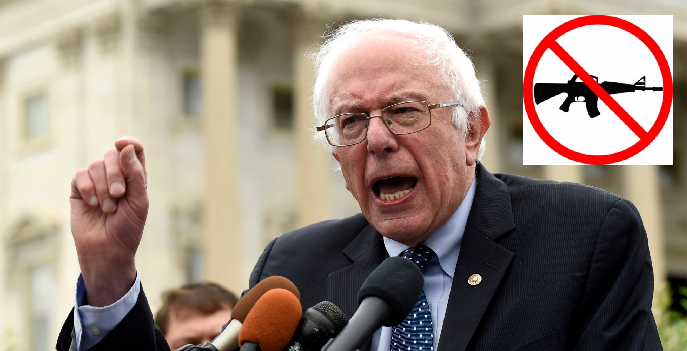 Sanders has basically been sat down by the Democrats, his views a little too extreme – even for them. For the time being, Sanders is out of the Presidential race and back to fulfilling his duties as a United States Senator – you know, his real job. This Monday Sanders participated in the first vote on gun rights since his campaign began, choosing to vote in favor of stripping gun rights rather then protecting them – against the popular majority of the country.
As you may of may not remember, Sanders is from Vermont and this state in particular has long been praised by gun right's activists for being one of the, if not the model for full (original) 2nd Amendment rights. Vermont is 1 of 9 states in the United States which allows Constitutional Carry gun rights in 2016. This law permits every citizen to walk around in public with a loaded gun – concealed, or otherwise. Not even a permit from the police is required to legally conceal a firearm with Constitutional Carry Laws.
Sound dangerous? Like a scene out of a wild, wild west movie? No actually, Vermont has the 2 lowest crime rate of any states in the United States – consistently ranking in the top of the nation for decades. Thus, the state a model example for the successes of full gun rights in America. Neighboring states like New Hampshire, looking to follow their example, have passed Constitutional Carry on the state level multiple times, only to be vetoed by staunch Democratic Governor Maggie Hassan every-time.
Meanwhile in Chicago, where Barack Obama hails from, guns are literally "banned." Yet, Chicago has the highest gun violence rates in the United States. Well, that's is strange isn't it?
When you have a look at the actual facts, the states with open gun laws – like Vermont – consistently rank at the top of the country for lowest crime rates in the nation. Whereas locations with strict gun laws – like Chicago – have crime rates that consistently rank highest in the nation. There is literally a direct correlation between gun laws and crime rates.
On Monday, Senator Sanders stood up in front of Vermont and voted for new laws restricting gun rights of the people living there. Though this vote looks like the right thing to do for his national party, the majority vote of the citizens in his home state would unlikely support his decision – so much for the "Democratic" part of Democratic Socialism right?
While on the topic, here are other examples of the fact that despite Liberals telling you the sky is falling – about gun violence – the number of people effected by it has reduced over the last three decades.
While it is true that the number of "mass shootings" are on the rise in America, the firearm murder rate and gun related death rates have declined significantly overall – over the same time period.
Sanders wants to ban assault rifles, require federal background checks on all weapons and end "the gun show loophole" – which allows to buy, sell and exchange weapons in minutes, and for the most, without regulation. Anyone with a rational mind can say  sure, these all sound like common sense solutions to address a problem in this country.
But the problem with this line of thinking is there is already this thing in place, called the Constitution, which directly says that the right to "bear arms shall not be infringed". Even by a little bit, such as the measures that Senator Sanders and other leading Democrats are proposing. For conservatives, for the lack of a better term its this black and white.
The political turmoil in question is over this issue, it's not that conservatives want to shoot everyone, love violence and want everyone to die! They simply want to stick to the language of the Constitution and point out how open gun rights are consistently proven to lower crime rates and keep people safe. Remember, only law abiding citizens obey the law. Criminals, by definition, do not care about the law. All the new gun laws will do is infringe upon the people who already safely obey the law.
How Arguing With A Liberal About Gun Rights Feels:
Sources: USA Today, Pew Research Center, Congressional Research Service, NBC,  Family Guy, Politico

---
You want to support Anonymous Independent & Investigative News? Please, follow us on Twitter: Follow @AnonymousNewsHQ
---
This article (Its Odd Bernie Sanders has Anti-Gun Views in a Successful Gun Rights State) is a free and open source. You have permission to republish this article using a creative commons license with attribution to the author and AnonHQ. Join the conversations at www.anonboards.com.