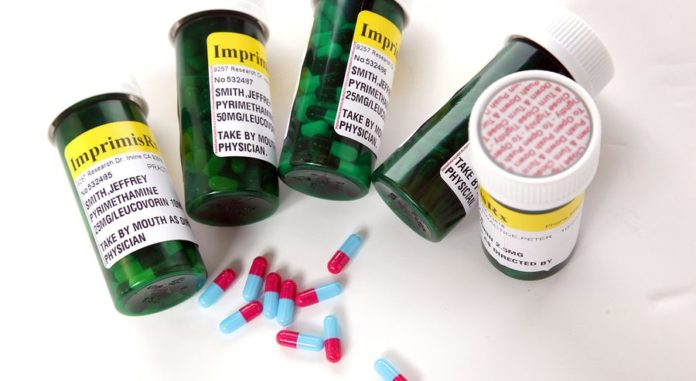 When the poster boy for big pharmaceutical greed, Martin Shkreli, CEO of Turing Pharmaceuticals, hiked the price of Daraprim, a drug used in the treatment of HIV, overnight from $13.50 per pill to $750, he dared the competitors to make cheaper generic version of the drug and still make profit out of it.
Someone took him seriously.
On October 22, San Diego-based Imprimis Pharmaceuticals said that it has developed an alternative to Daraprim and will sell the drug for $1 a pill.
"Imprimis is now offering customizable compounded formulations of pyrimethamine and leucovorin in oral capsules starting as low as $99.00 for a 100 count bottle, or at a cost of under a dollar per capsule. Compounded medications may be appropriate for prescription when a commercially-available medicine does not meet the specific needs of a patient," the company announced.
Pyrimethamine works to block folic acid synthesis in the parasite T. gondii, the cause of toxoplasmosis, and leucovorin helps to reverse the negative effects on bone marrow caused by this mechanism of action. Unlike Daraprim, Imprimis's formulation in itself is not FDA approved, but can be used when prescribed by a doctor for a particular patient. The specific ingredients are FDA-approved and its compounding operations are FDA-inspected.
US Uncut reached out to Shkreli for comment. His only response to was "lol".
"While we respect Turing's right to charge patients and insurance companies whatever it believes is appropriate, there may be more cost-effective compounded options for medications, such as Daraprim," Mark L. Baum, CEO of Imprimis, said.
Martin Shkreli Just Got Owned by a New Drug Company | @kylejaeger https://t.co/JTnJ3pcyll pic.twitter.com/c6R7HLvjJI

— ATTN: (@attn) October 23, 2015
"Today, some drug prices are simply out of control and we believe we may be able to help control costs by offering compounded alternatives to several sole source legacy generic drugs. Imprimis Cares and its team of compounding pharmacists will work with physicians and their patients to ensure they have affordable access to the medicines they need from the over 7,800 generic FDA-approved drugs. Imprimis Cares, available in all 50 states, will work with all third party insurers, pharmacy benefit managers and buying groups to offer its patient specific customizable compounded drug formulations at prices that ensure accessibility and that provide a reasonable profit for Imprimis. We are here to serve our patients and their physicians. We believe that when we do a great job serving our customers, our shareholders will also benefit."
After facing outrage over its price hike, Shkreli agreed to lower the price of Daraprim "to a point that is more affordable and is able to allow the company to make a profit, but a very small profit". But it hasn't been done so far.
152 organizations calling on @TuringPharma to take these 6 steps to #RollitBack#Daraprimhttps://t.co/d7iHthA8j8pic.twitter.com/tk4LWGi272

— HIVMA (@HIVMA) October 22, 2015
Under fire from all sides, Shkreli called out Democratic presidential candidates Hillary Clinton and Bernie Sanders on Twitter, claiming they didn't understand why he was raising the price.
Dear @BernieSanders & @HillaryClinton, I have an important question for you. Get back to me whenever, Martin Shkreli. pic.twitter.com/y0DuJqswAR

— Martin Shkreli (@MartinShkreli) October 12, 2015
A day later, New York Attorney General Eric Schneiderman's antitrust bureau said it was investigating Turing Pharmaceuticals over concerns that the company might be 'unlawfully' restraining competition.
Shkreli then attempted to bribe Senator Bernie Sanders to buy his time so the Turing CEO could justify the massive price hike of Daraprim. When Sanders gave Shkreli's $2,700 donation for his presidential campaign to charity, he got mad.
Drug company CEO Martin Shkreli tried to donate to @berniesanders. Sanders wasn't interested http://t.co/YcBqo6OGGj pic.twitter.com/toJVNtDBti

— The Boston Globe (@BostonGlobe) October 16, 2015
If @BernieSanders doesnt want my $, he can send it back to me. Keeping it & then donating that amount to charity means he still accepted it. — Martin Shkreli (@MartinShkreli) October 16, 2015
Are campaigns allowed to give to charities? Don't they have to spend their money on campaign-related activities? #investigatebernie

— Martin Shkreli (@MartinShkreli) October 16, 2015
---
This Article (Price Gauging Pharma CEO's $750 Pill Gets $1 Alternative) is free and open source. You have permission to republish this article under a Creative Commons license with attribution to the author and AnonHQ.com.
Get Your Anonymous T-Shirt / Sweatshirt / Hoodie / Tanktop, Smartphone or Tablet Cover or Mug In Our 
Spreadshirt Shop
! 
Click Here