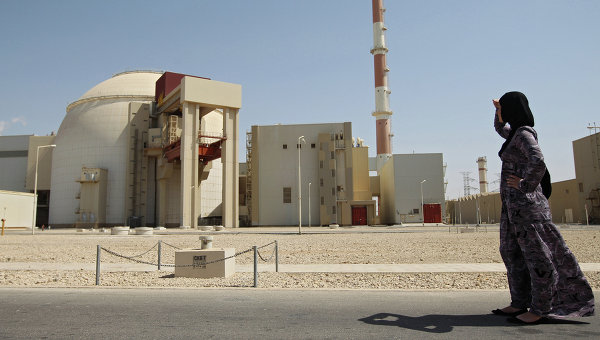 Russia will soon begin building two nuclear power plants in the southern Iranian port city of Bushehr, where it has already built Iran's first nuclear power plant. After the 1,000-megawatt plant reached its maximum power generation capacity in August 2012, Russia's Rosatom State Atomic Energy Corporation and the Atomic Energy Organization of Iran reached an agreement to build eight more nuclear power plants in Iran in March 2014.
Technical measures are ongoing along with political and economic negotiations, Behrouz Kamalvandi, deputy head of the Atomic Energy Organization of Iran, told Iran's Mehr news agency.
"Certain steps were taken which have brought about good conditions with regard to decreasing the number of centrifuges," Kamalvandi said, adding that details about the nuclear power plants will be revealed in the coming days.
In late November, Russian President Vladimir Putin signed a decree lifting the ban on supplying Iran with equipment for uranium enrichment. The country is also considering lending 5 billion dollars to Iran next year, possibly as part of a larger free-trade deal between the two countries.
"The Eurasian Economic Union will start examining the possibility of creating a free-trade zone with Iran. We will intensify industrial cooperation as well. Russia is ready to allocate a state export credit of 5 billion dollars for this purpose. About 35 priority projects in energy, construction, marine terminals, electricity generation, railways, and other areas have been selected," Putin said on November 23.
Under the #IranDeal, #Russia is helping #Iran increase its nuclear capacity. And the world will just watch. https://t.co/zxh76OeWUi

— AJC (@AJCGlobal) December 22, 2015
The export of low-enriched uranium from Iran to Russia takes place within the framework of the Joint Comprehensive Plan of Action reached between Iran and the P5+1 group of countries in Vienna on July 14. Under the deal, Tehran agreed long-term curbs on its nuclear program in exchange for an easing of economic and financial sanctions.
Russia and Iran had signed a contract to deliver several S-300 surface-to-air-missile systems in 2007, but Russia nixed the deal because of UN sanctions against supplying weapons to the Islamic republic. However, Iran's ambassador to Russia recently said that Moscow had started the process of supplying Tehran with an S-300 anti-missile rocket system. The two countries have recently allied to prop up Syrian President Bashar al-Assad against opposition and armed groups.
According to Iran's 20-year plan, the country should have the ability to produce 20,000 megawatts of nuclear-generated power by 2025.
On December 19, Ali Akbar Salehi, head of the Atomic Energy Organization of Iran, said, "As it has been previously announced, we have imported 137 tonnes of yellowcake from Russia and will export about nine tonnes of enriched uranium to Russia within the next days."
The UN nuclear watchdog recently came to a conclusion that Iran apparently pursued a coordinated program to devise a nuclear bomb up until 2003 but that there was no credible sign of bomb-related research and development activity beyond 2009.
---
This Article (Russia Set To Build Two Nuclear Plants In Iran) is free and open source. You have permission to republish this article under a Creative Commons license with attribution to the author and AnonHQ.com.