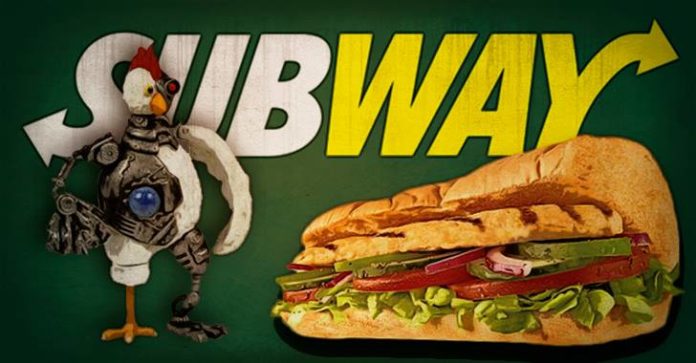 By Carey Wedler at theantimedia.org
In 2014, Subway faced widespread backlash when it was revealed that the bread in their sandwiches contained a chemical commonly found in yoga mats and other rubbers. Though the company acted swiftly amid the PR disaster and removed the 'ingredient' from their food, they are now facing scrutiny amid a recent lab test that found their chicken only contains 53.6% chicken DNA.
The Canadian Broadcasting Corporation's Marketplace division enlisted researchers at Trent University's Wildlife Forensic DNA Laboratory to test chicken from various fast food restaurants, including Wendy's, McDonald's, A&W, and Tim Horton's.
According to CBC:
"An unadulterated piece of chicken from the store should come in at 100 per cent chicken DNA.  Seasoning, marinating or processing meat would bring that number down, so fast food samples seasoned for taste wouldn't be expected to hit that 100 per cent target."
Every fast food restaurant except Subway tested close to 100% — at least 84% and above — according to researchers, who noted the percentage can decrease with added seasoning and spices.
Nevertheless:
"Subway's results were such an outlier that the team decided to test them again, biopsying five new oven roasted chicken pieces, and five new orders of chicken strips."
"Those results were averaged: the oven roasted chicken scored 53.6 per cent chicken DNA, and the chicken strips were found to have just 42.8 per cent chicken DNA. The majority of the remaining DNA? Soy."
This is particularly disturbing because though soy has been touted as a "healthy" option, it is actually linked to a variety of health problems. "Thousands of studies link soy to malnutrition, digestive distress, immune system breakdown, thyroid dysfunction, cognitive decline, reproductive disorders and infertility — even cancer and heart disease," the Huffington Post has explained, also noting that in the United States, at least, 90% of soy is genetically modified.
Subway questioned the results of the tests. According to a company statement:
"SUBWAY Canada cannot confirm the veracity of the results of the lab testing you had conducted. However, we are concerned by the alleged findings you cite with respect to the proportion of soy content."
Claiming they recently tested their products and determined they were up to their standards, they added, "We will look into this again with our supplier to ensure that the chicken is meeting the high standard we set for all of our menu items and ingredients."
According to Marketplace, the testing revealed other concerns:
"[O]nce the ingredients [were] factored in, the fast food chicken had about a quarter less protein than you would get in its home-cooked equivalent. And overall, the sodium levels were between seven and 10 times what they would be in a piece of unadulterated chicken."
To the company's credit, they have worked to eliminate at least one concerning ingredient in their chicken: antibiotics. Anti-Media previously reported on a widespread study that graded fast food restaurants on their use of antibiotics in meat. Subway was included:
"Though last year they received an 'F,' this year they are the 'only [new] restaurant chain to adopt a new antibiotics policy that applies to all types of meat it serves.' The analysis reports roughly two-thirds of Subway chicken is now antibiotic-free."
Nevertheless, it should come as no surprise that a fast food chain with a history of using questionable ingredients continues to have issues with the quality of their products — in spite of their claims their chicken is, well, chicken.
Simply put, "That's misrepresentation," according to one Toronto resident who participated in a Marketplace taste test of the fast food products tested.
Creative Commons / Anti-Media / Report a typo