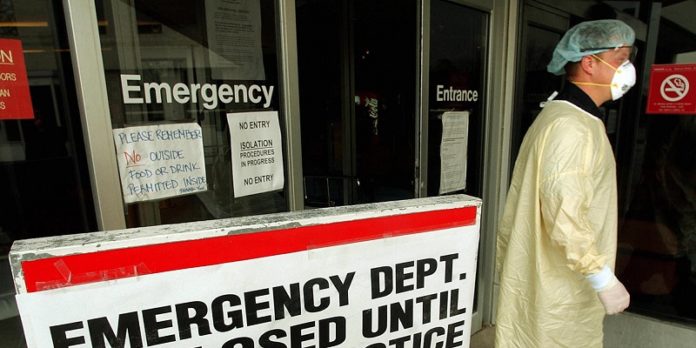 Written by: Veritas
On June 13, 2012 researchers in Canada published data regarding successful treatments of the Ebola virus and a possible cure.  Unfortunately, as it turns out, the poor intentionally infected Macaques' only survived if administered the experimental antibody cocktail within 24 hours of exposure.  After 48 hours, only 2 out of the 4 survived.  In some manners, this may seem to be a step forward, yet  according the CDC, to be effective in the treatment of Ebola, victims require a minimum of 21 days isolation.  That means if you have Ebola, symptoms might not even show up for up to 21 days, leaving a large amount of time for exposure to others.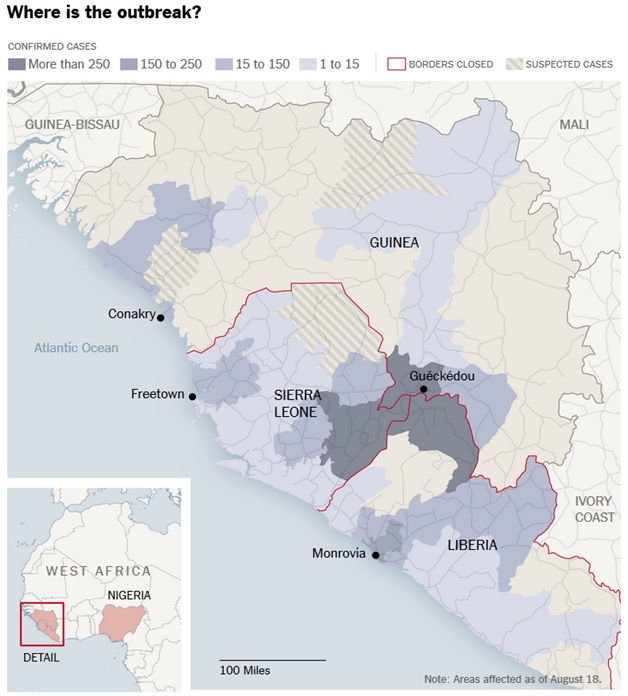 Over two years later, and half way around the world, Ebola virus disease(EVD), has become more and more persistent every day, little hope in sight, where politics seem to, again, hold reign.  The widespread and manic disease has claimed over 1400 lives thus far, over a quarter of them being in the medical profession and 2,615 estimated infected since March.   Those on the front lines battling the disease find themselves in a bleak, frustrating and dark situation, feeling the weight of the hundreds of lives on their shoulders.  Countries in West Africa are scrambling to build more treatment centers out of demand due to overcrowding.  Entering the hospitals and camps that hold the disease, meticulous handling and protective gear is mandatory and a stern warning of "Dont touch the walls, totally infected" is constantly communicated.  Several countries with borders surrounding infected countries have shut them down completely, with deadly force.  Then, just recently, on August 19th, the CDC posted recommendations for hospitals on procedures for handling and preventing EVD as well as guidelines for air travel .
" Every day that disease transmission remains uncontrolled, the likelihood of spread to unaffected countries increases." says Dr. Thomas R. Frieden, a CDC director,  in a recent article, "three core interventions have stopped every previous outbreak and can stop this one as well: exhaustive case and contact finding, effective response to patients and the community, and preventive interventions."  While they appear optimistic in containing of the worst Ebola outbreak in history, on Thursday of last week,  South Africa announced  that "all noncitizens traveling there from three of the virus-stricken countries will be turned away, and that South African citizens arriving from the "high-risk" countries of Guinea, Liberia and Sierra Leone will be subject to strict screening, including temperature checks."  It appears security is ramping up, despite hopeful attitudes.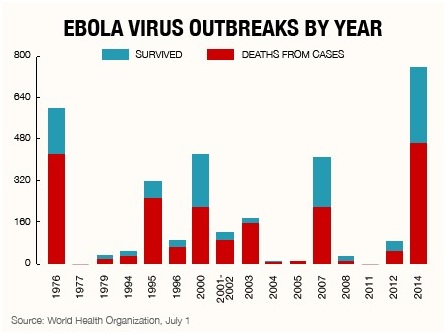 While Ebola and it's five subtypes (possibly 6),don't seem to be making headway on the vaccine and cure front, rumors of a new strain of Ebola have circulated and was quickly thrown under the rug and researchers still have no idea what the exact cause of this outbreak is or where it came from.  Going deeper, facts have started to circulate regarding the actual patenting of a new strain of Ebola dubbed, EboBun, seen here.  Strange the government would patent a virus when the only reason to "patent" something is if you intend on selling it for profit,  which also involves protection  from someone else stealing it.
If you remember last week, when two two doctors recovered from Ebola from small doses of an experimental drug , ZMapp, they made international headlines of their recovery.  Although it isn't clear if it was as a result of the treatment, statistics show that 50% to 55% of Ebola patients get better on their own.   Left over's of the drug were administered to a doctor in Liberia who eventually died this past  Monday.  To date, a total of 6 people have been treated with the drug, with rumors circulating they are doing better.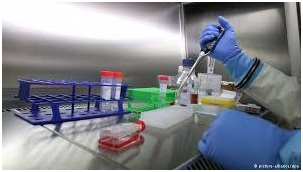 In other parts of the world, Japan has also offered to assist with their new experimental anti-flu drug, "Favipiravir", yet no data suggests that this is a possible preventative.  In Canada, experimental vaccines  are still in their testing phases, however, joint partnerships with the World Health Organization have created a foundation to employ possible vaccinations in the future.  ''We are now working with the (World Health Organization) to address complex regulatory, logistical and ethical issues so that the vaccine can be safely and ethically deployed as rapidly as possible,'' stated Patrick Gaebel, a spokesman for the Public Health Agency of Canada.  Although light successes are seen around the world, Dr. Jon Lai, associate professor of biochemistry at Albert Einstein College of Medicine in New York City, says " despite seeing initial success in cells and mice, it will be some time before the antibodies may be deemed OK for human use."  Meanwhile, in Britain treatment begins today for the first English individual infected with EVD.  The difference in this case being, doctors have chosen the route of treating the symptoms, within a modern day plastic bubble, rather than using experimental drugs.
As politics and the international crisis continues, naturally, controversial arguments have come to the surface.  Research centers, such as the National Institute of Allergy and Infectious Diseases (NIAID) have made statements regarding new Ebola vaccines as, " the perfect time to trial them," and  "It would be unethical not to acknowledge that potential new treatments could both save lives and reduce transmission in this and future outbreaks," says Dr Jeremy Farrar, director of Wellcome Trust.  He continued to say, "Any new intervention must have preclinical safety and efficacy data and Phase I safety data in healthy volunteers."  Meanwhile, the World Health Organization, argues " "Using an experimental vaccine on human beings in the middle of an outbreak in this case would not be ethical, feasible, or wise."  Politics cleverly at play here.
Although no cure is readily available and vaccines are in their experimental phases, it appears the world has taken notice to the overwhelming, frustrating and deadly disease that has no business being in the year 2014.  Saying the word "Ebola" seems to bring back the old stigma as frightening  as the Black Death/Plague of the 1300's.   Rest assured, it appears large amount of work is being put forth to stop this spread, but if it does continue to gain foothold into more diverse and dense populations, it won't be long until it becomes a stowaway onto a trans-oceanic flight, out of West Africa.
Update:  According to Nature.com, 18 out of the 21 monkeys have recovered after 28 days using the experimental drug ZMapp.   HOWEVER, the cocktail used to test the strain is not NOT the same strain currently spreading across West Africa.
______________________________________________________________________________________
Sources:
http://www.nytimes.com/2014/08/24/world/africa/sierra-leone-if-they-survive-in-ebola-ward-they-work-on.html?_r=0
http://www.nytimes.com/2014/08/08/world/africa/dont-touch-the-walls-ebola-fears-infect-hospital.html
http://www.nytimes.com/interactive/2014/07/31/world/africa/ebola-virus-outbreak-qa.html
http://www.nejm.org/doi/full/10.1056/NEJMp1409903?query=featured_home&
http://www.cdc.gov/vhf/ebola/hcp/infection-prevention-and-control-recommendations.html
http://www.mirror.co.uk/news/weird-news/deadly-ebola-virus-come-space-4023678
http://www.gov.za/speeches/view.php?sid=47818
http://www.who.int/mediacentre/factsheets/fs103/en/
http://www.telegraph.co.uk/news/worldnews/ebola/11056259/Why-is-this-the-worst-ever-outbreak-of-Ebola.html
http://www.boston.com/health/2014/08/25/liberia-doctor-given-experimental-ebola-drug-dies/cc517hzQALv0mPPYZ439pI/story.html
http://abcnews.go.com/Health/ebola-stricken-countries-scramble-build-treatment-centers/story?id=25129432
http://in.reuters.com/article/2014/08/21/us-health-ebola-travel-idINKBN0GL23V20140821
http://www.cnn.com/2014/07/25/health/ebola-outbreak-experimental-vaccines/
http://www.naturalnews.com/046290_ebola_patent_vaccines_profit_motive.html