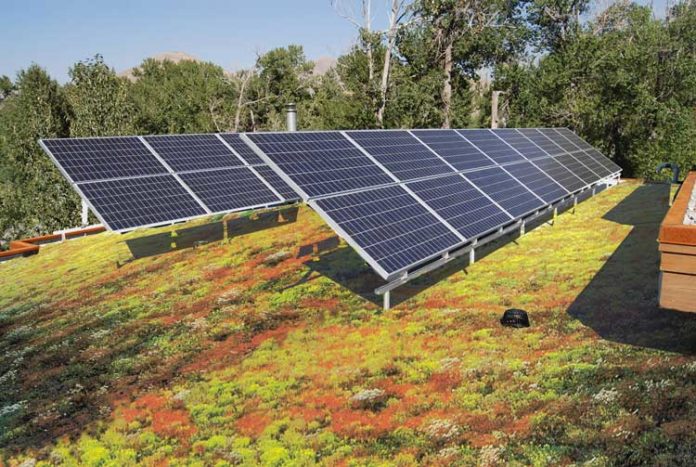 A new law passed by the French parliament makes it mandatory for all rooftops on new buildings built in commercial zones in France to be partially covered with either plants or solar panels. The new law gives the businesses a chance to install solar panels to help provide the buildings with renewable energy, thereby leaving less of a footprint.
Green roofs have an isolating effect which helps reduce the amount of energy needed to heat a building during the winter or cool it in the summer. They also can help reduce the heat island effect in urban areas, so temperatures during summers are comfortably decreased. The heat island effect can cause large cities to get 1.8°F to 5.4°F warmer than surrounding areas in the day, and 22°F warmer at night. They are capable of retaining rainwater and reducing problems with runoff, and also offer birds a place to call home in the urban jungle. In addition to soaking up pollution and noise, the plants in green roofs naturally absorb carbon dioxide, the leading greenhouse gas behind global warming.
In 2009, scientists at Michigan State University found that replacing traditional roofing materials with green roofs in an urban area the size of Detroit, with a population of about one million, would capture more than 55,000 tons of carbon. That is roughly similar to eliminating a year's worth of carbon dioxide emitted by 10,000 mid-sized SUVs and trucks.
European Federation of Green Roof Associations believes the environmentally sound roofs will improve air quality, boost biodiversity and wildlife, conserve energy and even store water during a rainstorm.
"This draft law is a very positive step forward and a concrete lever for greener and smarter cities. There are so many unused rooftops in our cities today and solar photovoltaics is the perfect solution to make the best out of them as it can be seamlessly integrated in an urban setting," said James Watson, CEO of the European Photovoltaic Industry Association.
French environmental activists had called for a stricter law that would require all new buildings to be completely covered with either solar panels or plants but the government convinced them to limit it to only commercial buildings.
---
This Article (To Limit Its Carbon Footprint, France Asks Citizens To Cover Rooftops With Plants Or Solar Panels) is free and open source. You have permission to republish this article under a Creative Commons license with attribution to the author and AnonHQ.com.