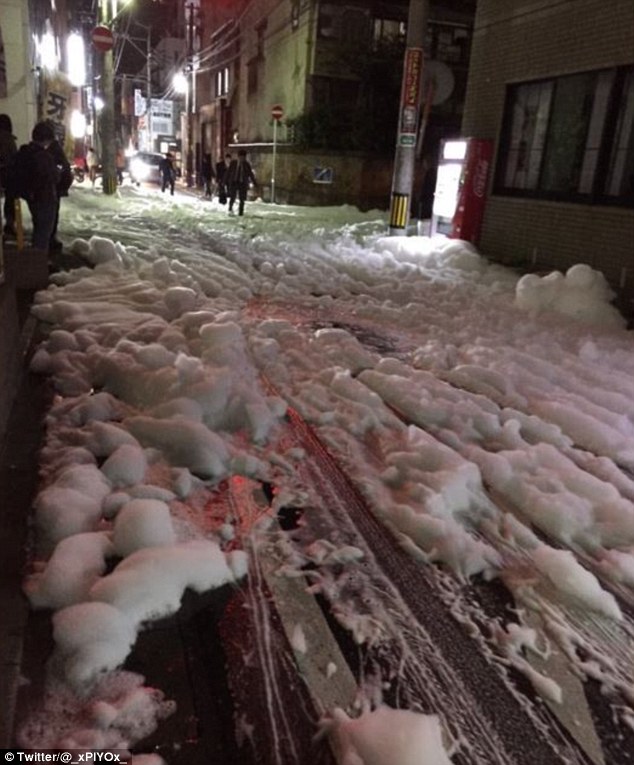 After disastrous tremors from a 7.3-magnitude earthquake shook the city of Fukuoka on April 15 – just a day after a 6.5-magnitude earthquake rattled the same area – the streets of downtown Tenjin and Imaizumi were covered with a thick layer of mysterious foam, sending shivers down the spines of its residents.
Foam blankets Fukuoka, Japan after deadly earthquakes, baffles residents https://t.co/cswaWVCKXe pic.twitter.com/wBDBANjD8N

— RT Play (@rt_play) April 18, 2016
地震の影響で福岡天神の一部がソープランドになるし pic.twitter.com/dzvIBrE3vJ

— 【GWの予定埋め】スカ (@sca_16) April 16, 2016
While people posted photos and a video of the unexplained froth on Twitter, which led many to wonder what may be behind the snow-like layer engulfing Fukuoka, there are speculations that one of the many tremors may have caused an underground water pipe to burst. Others have suggested that the foam was caused by a spillage of fire-fighting foam; however, no fire trucks were spotted in the area, and no one has come up with an official confirmation as of yet.
Confused residents of Fukuoka wade through streets coated in thick layer of mysterious foam https://t.co/LmMpE0LWaU pic.twitter.com/hF2iPszHyq

— PerthNow (@perthnow) April 18, 2016
Unexplained foam are seen blanketing streets of #Fukuoka city after powerful #JapanEarthquake on Sat. pic.twitter.com/zwZO5EAWTl

— People's Daily,China (@PDChina) April 17, 2016
天神あわ吹いてる pic.twitter.com/GX8Hhpz8tZ

— 関原ゆうき (@yuuking1015) April 15, 2016
天神が謎の泡、、? pic.twitter.com/H4YP8KFcWp

— TAKAFUMI (@The_takafumi) April 15, 2016
地震で地下から泡は出るわ(福岡天神)
ラウンドワン上のピンは落ちてくるわ
コンビニの中はグッチャグチャになるわ
大変やな……地震ってあんまり経験してないから気おつけとこ、皆さんもお気をつけて pic.twitter.com/5lQNuyK0Sd

— ☬ロキア☬( 'ω'o[低浮上]o (@R0KlA) April 15, 2016
The two powerful earthquakes killed 48, injured over 1,100, left 410,000 homes without water and 200,000 with no power, and destroyed as many as 9,900 homes, leaving more than 100,000 residents in shelters. 765 aftershocks have hit the Kyushu Island since the 6.5-magnitude earthquake on April 14. The tremors also triggered an eruption in Mount Aso, Japan's largest active volcano.
---
You want to support Anonymous Independent & Investigative News? Please, follow us on Twitter: Follow @AnonymousNewsHQ
---
This Article (Twin Earthquakes Blanket Japanese City With Mysterious Foam [Photos & Videos]) is free and open source. You have permission to republish this article under a Creative Commons license with attribution to the author and AnonHQ.com.