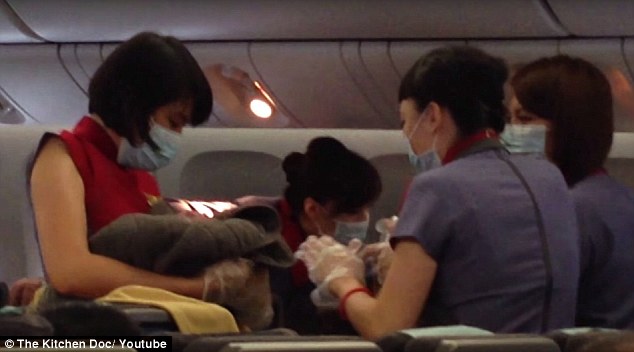 On October 7, a UCLA doctor and the flight crew helped a Taiwanese woman deliver a baby girl on China Airlines flight from Bali to Los Angeles at 30,000 feet in the sky. The plane was forced to make an emergency landing in Alaska after the woman's waters broke six hours into the 19-hour flight from Taiwan Taoyuan International Airport.
On October 17, she was deported by US immigration authorities to Taiwan without her newborn baby amid allegations she concealed her pregnancy to gain American citizenship. While the newborn child is under the care of state authorities in Alaska, the mother might end up having to pay the Taiwanese government (which is the majority owner of China Airlines) to cover the cost of diverting the plane to Alaska. The bill is estimated at $33,000, although the airline media affairs staffer Weni Lee said its insurer is still calculating the cost and will decide whether to ask the mother to cover the cost of the stopover.
Amira Rajput, who recorded the delivery, told ABC News that the new mother was challenged by a border patrol agent who came aboard the plane after landing and asked to see her passport. "He told me that this is something foreign women do, to try and deliver overseas for citizenship," said Rajput.
A Facebook post by Lucienne Chen, one of the flight attendants who helped delivered the baby, claimed that when Jien's water broke mid-flight and she started going into labour, she asked: "Are we in US airspace yet?"
Ok我受不了已爆走了,前東家過去一週把機上生小孩包裝成一個極其fake的溫馨新聞,然後大家以為空服員好厲害會接生好感人好棒棒,小孩可能還會有終身免票,好了!!!我要告訴你們真的夠了!!不要再給這位婦人任何的同情了!!!!事情的來龍去脈就是…

Posted by 小陳周遊列國 on Saturday, October 17, 2015
According to Chen, the woman was 36 weeks pregnant and not 32 as she claimed mid-flight. Under Taiwanese aviation regulations, pregnant women are not allowed to fly without a fit-to-travel certificate from the doctor after 32 weeks.
"Not only did you take the lives of both yourself and your child as a joke, you also took the schedules of a plane-full of people as a joke — all because of your child's American passport! An entire plane had to be diverted, causing scheduling problems for all the other innocent passengers. The crew also had to stay for the night in Alaska. Do you know the true social cost of your actions?" Chen continued in her post.
Entering the US on a tourist visa for medical reasons remains legal as long as mothers fulfill certain requirements. Nonetheless, the incident has sparked a debate about birth tourism in Taiwan where affluent families fly abroad to give birth to gain multiple citizenship for their children.
Lo Shu-lei, a politician with the ruling Kuomintang party, alleged that the woman, named only in reports by her surname Jien, deliberately concealed her pregnancy to board the plane in the hope that she could give birth in America, "because she wanted a US passport" for her child.
"This is a selfish act. It was clearly an act carried out to give the child US citizenship. She affected the travel of other passengers. Is there no punishment?" Shu-lei asked the transportation minister.
Even after all that trouble, it's not clear the child is a US citizen. It depends on where the plane was when she was delivered. If the plane was in US airspace — above a location on US soil, or above ocean that's within US territory — she's a citizen.
Alaska state officials, however, say the baby is eligible for US citizenship. "A baby born in flight has the right to be a US citizen if that is where the child first arrives, even if born in international air space," said Susan Morgan, spokeswoman for the Alaska Department of Social Services.
---
This Article (US Keeps Child Born Mid-Flight, Deports Mother Facing $33,000 Punishment To Taiwan) is free and open source. You have permission to republish this article under a Creative Commons license with attribution to the author and AnonHQ.com.