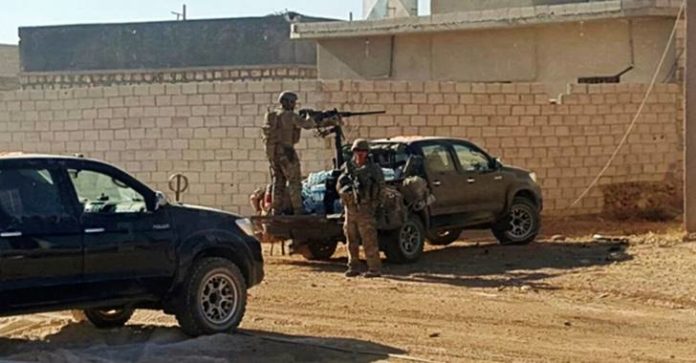 (MEE) US special forces soldiers were reportedly forced to flee a town in northern Syria after Free Syrian Army fighters threatened to "slaughter" them for their "invasion", according to videos and reports posted on social media on Friday.
Full video of #FSA chasing #US #SOF of #AlRai #Aleppo
"We're going to slaughter u. Ur coming to invade #Syria" pic.twitter.com/qy7fIVeG8x

— Riam Dalati (@Dalatrm) September 16, 2016

About 25 US soldiers were reportedly working with Turkish forces as they advanced on al-Rai, Aleppo, in preparation for an offensive against nearby al-Bab, which is controlled by the Islamic State group.
The FSA is allied with Turkish forces and ostensibly supported by the US as a "moderate" rebel group fighting against the government of Bashar al-Assad.
However, Friday's confrontation highlights the complex nature of the war in Syria.
In the video, fighters from the FSA chant that US forces are "pigs", "crusaders" and "infidels".
"Dogs, agents of America," one man can be heard to say in Arabic, while others chant "They are crusaders and infidels", "Down with America", "'Get out you pigs" and "They are coming to Syria to occupy it".
A voice on a megaphone can be heard to say there will be a "slaughter". The US forces were reportedly forced to leave the town after the protests.
The video was posted on Twitter hours after pictures showing men in US military uniform in al-Rai. A video also showed US soldiers in a column of armored vehicles and Turkish tanks speeding through al-Bab, which is known in Turkish as Cobanbey.
US soldiers spotted in Al Rai as part of Turkey's Euphrates Shield. Turkish occupation of Syria is supported by US. pic.twitter.com/8wW8zGzta2

— Serge (@Zinvor) September 16, 2016
#ABD askerleri ve onlara bağlı gruplar #Çobanbey'den boyle kovuldu. #Halep pic.twitter.com/utjKpBoXJD

— Levent Kemal (@ValkryV) September 16, 2016

A voice in the video can be heard saying in Arabic: "We won't accept any American participating alongside us." It is not known whether the footage was taken before or after the protests.
US supporting Turkish incursion
The footage is the first confirmation that US soldiers have been seen supporting Turkish forces during operation Euphrates Shield, which was launched by Turkey late last month to liberate border areas from Islamic State control, and roll back advances by Kurdish YPG militias.
The operation began with the capture of the town of Jarabulus from IS last month, but was extended to check the advance of the Kurdish YPG militia beyond the western bank of the Euphrates river.
The YPG, which has been trained by the US and has proved its most effective ally in its fight against IS in Syria, was ordered by both Turkey and the US to withdraw to the eastern bank.
Inserting US forces in Syria (anywhere, in support of anyone, agst anyone) guarantees trouble. If DC+Ankara not aware of that, big problem

— Emile Hokayem (@emile_hokayem) September 16, 2016

Turkish-trained brigades of the FSA fought alongside Turkish troops in Jarabulus and in later clashes with the YPG.
The apparent direct involvement of US troops in Euphrates Shield now holds the prospect of US forces being involved in clashes with YPG fighters as Turkey advances through northern Syria – although, as the video shows, the US presence is also opposed by elements within the FSA.
Meanwhile, pictures on social media showed US flags flying in the northern Syrian town of Tal Abyad in northern Raqqa province, which is held by the YPG.
The flags were apparently raised by the YPG to protect fighters from Turkish attack. There is no official presence of US troops in the town.
Reportedly: #YPG raised two other US flags on the Post and telecommunications building in TelAbyd city North #Raqqa pic.twitter.com/HuuzDCZbFN

— nafiseh kouhnavard (@nafisehkBBC) September 15, 2016

This article (US Troops Forced To Flee Town After US-Backed Rebels Threaten To "Slaughter" Them) by Graeme Baker originally appeared on MiddleEastEye.net and was used with permission. Anti-Media Radio airs weeknights at 11pm Eastern/8pm Pacific. Image credit: Facebook.