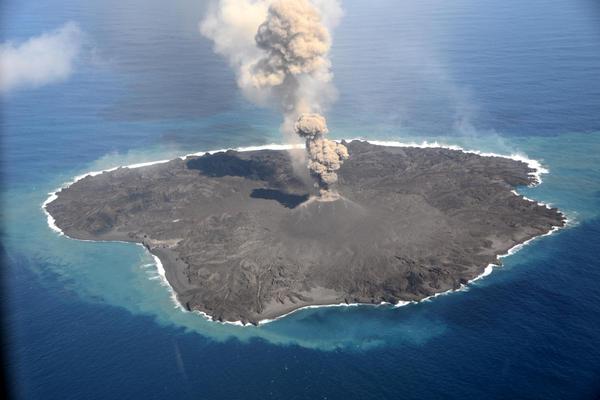 A small volcanic island, called the Nishinoshima island, has within the last 15 months began growing in size at an astonishing pace. The island, which is located off the coast of Japan has reportedly grown to 11 times its previous size in just 15 months.
The islands steady growth was caused when an undersea volcanic eruption, in November 2013, caused a new island named Niijima, to emerge from beneath the waves. The island Niijima then eventually fused with Nishoinoshima, creating a newly shaped and larger island.
2月23日、海上保安庁所属航空機により、西之島の火山活動の観測を実施しました。火山活動は活発で、一分間に数回の頻度で溶岩片の噴出が続いており、東方向に拡大していることが観測されました。 http://t.co/zcl1oaWggW pic.twitter.com/8GPM5DT2Ru

— 海上保安庁 (@JCG_koho) February 24, 2015
Reports from the Japanese Coast Guard, reveal that the undersea volcano is currently still active. The island, which is being closely monitored, was seen to have a 1,200-meter plume of smoke streaming from the volcano. It was also observed that several times per minute, volcanic rock was also intensely shooting out if the volcano.
The footage featured in the video below was shot by the Coast Guard. In it you can clearly see the molten rock cascading out of the volcano, which once cooled, will expand the surface of the island.
Records show that before 2013, the volcano has been only active on just one other occasion. From 1973 to 1974, one other major eruption occurred, which had also added to the size of the island. According to the Global Volcanism Program at the Smithsonian Institution, these are the only two eruptions of the volcano on record.
According to the Japanese Coast Guard, as of February 23, Nishinoshima has grown to 2.45 square kilometres. New land is continuously being created on the east portion of the island as the volcanic eruption continues.
---
You want to discuss a certain topic with likeminded people or you want to organize a local protest or you have an idea for a project that can help people in need in your local community or all around the world? Join our forum! www.anonboards.com
---
You want to support Anonymous Independent & Investigative News? Please, follow us on Twitter: Follow @AnonymousNewsHQ
---