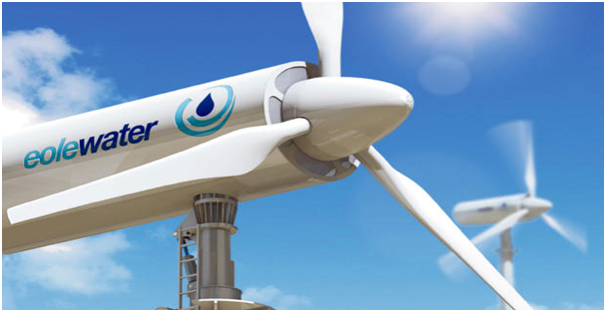 Tuesday 8 July, 2014
Author: FLU5CH
A company called "Eole water" has created a new kind of wind turbine that generates both electricity from the wind and clean water from the air. This amazing new turbine creates water from wind power even in the most dried out places. Eole water claims that each wind turbine can produce around 1000 Litres a day depending on the wind and the humidity in the air. The turbine works like any other wind turbine with 3 spinning blades to create electricity. This new turbine however can do all the things a normal one can but it will also suck humid air in through the nose then send it to a cooling compressor, which will then extract moisture from the air. Droplets of water will then drip down steel pipes into the base of the machine which holds a filtration and purification system that will make the water drinkable. The system is powered by the electricity generated by the turbine.


A prototype of the turbine in Abu Dhabi has been able to produce around 500-800 Litres of clean water a day from the dry desert air. The turbine requires wind speeds of 15 miles per hour or more to be able to produce any water.