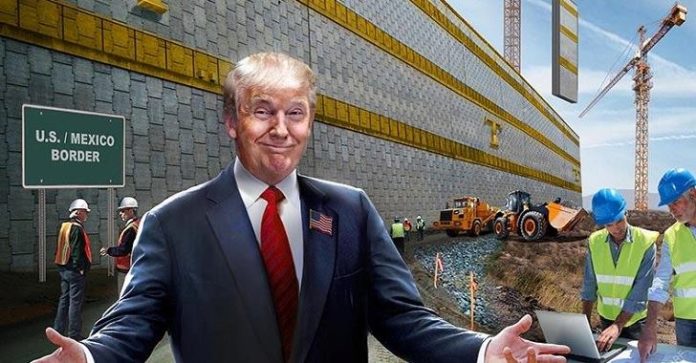 By Alice Salles at theantimedia.org
Last week, President-elect Donald Trump scolded the "dishonest media" in a tweet discussing plans to build a border wall between the United States and Mexico.
"Any money spent on building the Great Wall (for sake of speed)," he wrote on Twitter Friday, "will be paid back by Mexico later!" The project, which could cost U.S. taxpayers $25 billion according to the Washington Post, was in the news recently after Politico reported that Republican leaders, along with Trump's transition staff, were "considering using a 2006 law signed by former President George W. Bush that authorized the construction of 700 miles-plus of 'physical barrier' on the southern border." Since the law wasn't implemented and no sunset provisions were added, Trump could carry on with the project — but not before asking Congress for money.
Apparently also eager to be part of the construction of the "Great Wall," Massachusetts sheriff Thomas Hodgson told reporters that even before Trump has a chance to put in the request, he "can think of no other project that would have such a positive impact on our inmates and our country than building this wall." Offering Bristol County jail inmates as laborers in the construction of the wall, Hodgson said during his recent swearing-in ceremony that he looked forward to the implementation of what he dubs "Project National Inmates' Community Endeavors," or NICE. The plan has not been formally recognized.
"Aside from learning and perfecting construction skills," Hodgson added, "the symbolism of these inmates building a wall to prevent crime in communities around the country, and to preserve jobs and work opportunities for them and other Americans upon release, can be very powerful."
Claiming the U.S. government already spends "millions" to deport undocumented immigrants, the Bristol County Sheriff showed no signs of concern regarding the potential cost of the wall, nor did he address how this expense would be covered by the U.S. government without raising taxes. This is odd considering the sheriff's record of not "allowing inmates to lie around all day and waste tax-payers' hard-earned money."
If Trump ends up listening to Hodgson and takes him up on his offer, the President-elect could at least count on free labor. But how would that work itself out?
According to Jonathan Darling, the spokesperson for the Bristol County Sheriff's Office, Hodgson would only offer help if prisoners volunteered to participate. "We would never force them to do it," he added. Volunteers would, in exchange, receive reduced sentences.
In addition, Darling continued, volunteers would be learning skills they could use when they regain their freedom.
On the official Facebook page for the Bristol County Sheriff's Department, the institution called for the "cooperation of Sheriff's Offices across the country" while dubbing the effort the "debut of Project NICE."
Claiming that a "lot of the sheriffs across the nation want to use this resource," Hodgson added that the wall project would be a "chance for us to save taxpayers' money" by spending nothing on labor costs.
This plan bothers the American Civil Liberties Union (ACLU).
In a letter sent to the Massachusetts sheriff, the ACLU requested "[a]ll records supporting the claim that you can think of no other project, aside from having Massachusetts inmates travel to southern states to build a wall, that would have a more positive impact on the inmates and on our country." The letter also urged the sheriff to release all "records referencing or relating to 'Project [NICE]', including any records concerning the legal authority of the Bristol County Sheriff's Department to engage" in such efforts.
Speaking with the Boston Globe, the ACLU's Laura Rótolo said the idea is "most likely unconstitutional," adding that "using modern-day slave labor to send people thousands of miles away from their Massachusetts home to build a wall to keep out other vulnerable populations … [is] just preposterous." Threatening to "use every tool in our toolbox," Rótolo said the ACLU is ready to sue the sheriff.
---
This article (You're Paying for Trump's Wall — and 'Slave Labor' Might Be Used to Build It) is free and open source. You have permission to republish this article under a Creative Commons license with attribution to Alice Salles and theAntiMedia.org.