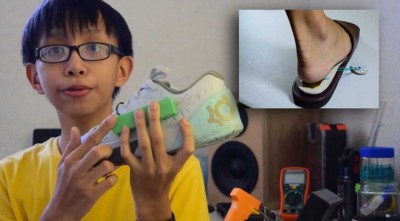 Written by: M
Imagine a world without the need to rely on building and, maintaining expensive power-plants to generate electricity. These power-plants are a necessity in our current time. Today, we generate electricity by processing water, digging deep into the earth for fossil fuels and, even making towering windmills to generate the electric power we can't live without. But what if we can make that very same power, on the soles of our own two feet?
15-year-old Angelo Casimiro, whose from the Philippines, started working on a prototype ever since he was 11-years-old. In this time, he has earned international recognition and, he became a regional finalist in Google's Science Fair. Angelo Casimiro invented a shoe insole that generates an electric charge every time that the person wearing the shoe takes a step. He has been perfecting his invention for the past four years, working diligently and, contributing to the study of what is called "Piezoelectricity".

Piezoelectricity is an electric charge that is generated by crystals that contact certain solid materials, such as metal, as a result of mechanical stress. For example, if you've got a quartz watch, piezoelectricity is what helps it keep regular time. Or, if you've been writing a letter or an essay on your computer with the help of voice recognition software, the microphone you spoke into probably used piezoelectricity to turn the sound frequencies in your voice into electrical signals your computer could interpret. Also, if you're a bit of an audiophile and like listening to music on vinyl, your gramophone would have been using piezoelectricity to "read" the sounds from your LP records. Piezoelectricity (literally, "pressing electricity") is much simpler than it sounds: it just means using crystals to convert mechanical energy into electricity or vice-versa.
This may not be a big impact on society, but this is a huge innovation, that has a lot of potential! Once its further development allows it, just imagine never having to charge your cell-phone whilst you're on the move! This concept could even surpass as much as never having to change the battery for your car! There are plans that Angelo has made, for this device to be open-sourced. Meaning, others will get the chance to apply their own ideas, or designs to further develop this device! Angelo states that this device is fully operational, although, it is not yet ready for mass distribution.
_____________________________________________________________________________________
Resources:
http://www.trueactivist.com/15-year-old-invents-device-that-generates-electricity-while-you-walk/