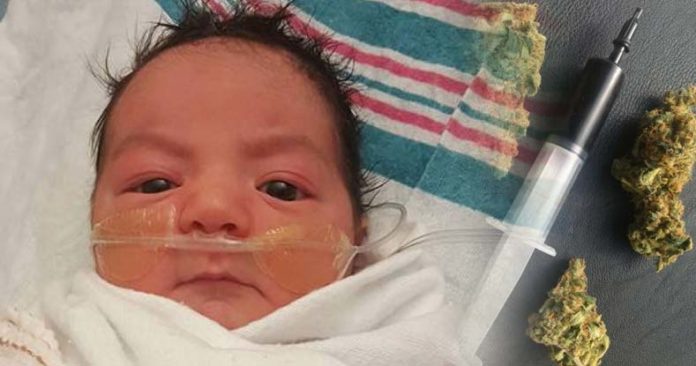 While Children's Hospital Colorado, Aurora, does not prescribe or recommend medical marijuana, doctors are monitoring Albuquerque-based Amylea Nunez, born in December 2015 with a rare form of epilepsy. After giving her parents Nicole and Ernie Nunez the nod to treat their daughter's condition with cannabis oil, the nurses have already noticed a difference in Amylea being more alert than usual.
Amylea had her first seizure a day after Nicole was discharged from the hospital. The family took her to the Children's Hospital Colorado after doctors in New Mexico could no longer help. Even as doctors at the Children's Hospital tried to control Amylea's seizures with several different types of medications, the horrible side effects on her body forced them to look for an alternative – Charlotte's Web.
"We're trying to use something different that's not so bad on her body. After researching and month after month reading on it we're hoping it works because it's a natural way and it'll help her out," Amylea's father Ernie Nunez said.
Charlotte's Web, named after 9-year-old Charlotte Figi who was given the strain of cannabis to treat her epilepsy when she was 5, is a high cannabidiol (CBD), low tetrahydrocannabinol (THC) Cannabis extract marketed as a dietary supplement under federal law of the United States, and medical cannabis under state laws. The oil has been found to effectively treat seizures in children with severe forms of epilepsy.
#Charlotte #Figi, #Charlotte's #Web high-#CBD #anti–#epilepsy medicinal #cannabis, on her first day at school. pic.twitter.com/aMLU7f8seI

— CBD Cannabidiol (@compratucbd) November 2, 2015
Although the Children's Hospital Colorado made it clear that "medical providers do not know the long-term effects that marijuana will have on learning, memory and behavior, especially in infants and young children", after much deliberation, the hospital gave that "okay" the family was waiting for.
Even though the doctors gave the okay, they were not allowed to administer Charlotte's Web. The family had to give the doses to Amylea. The 2-month-old girl took her first dose on February 11 from a tiny syringe her mother squirted into her mouth. Now, according to the family, at 2 months old, Amylea is the first and the youngest patient to receive this type of treatment at the hospital – AND she is a lot more alert; looking around and following her parents faces when they talk to her.
2-month-old makes medical #marijuana history at Colorado hospital: https://t.co/Y4jjQbpRGP pic.twitter.com/kjBANpV21I

— Extract (@ExtractCannabis) February 15, 2016
Amylea's mother Nicole Nunez told KRQE:
"I'd been working with the case study team and the neurology team here at children's and I was hopeful this will work. I sat for a good three weeks fighting with the doctors and trying to talk them into giving me the okay. For us to get the approval for us to administer it while she in the NICU while she's a patient… it's kind alike a miracle. Because they were completely against it saying, 'No you can't do it, you have to wait until she's an out-patient'."
Amylea will now be part of a case study using cannabis oil to treat seizures in young children. So the family plans to be out there for another four months, while they continue to treat her. A GoFundMe has been set up in Amylea's name.
A 2015 study found cannabis oil to be a highly effective treatment for intractable epilepsy. Of 261 patients given CBD treatment for at least 3 months, 45% experienced a significant reduction in seizure frequency. Some children continued to experience benefits even after one year.
---
This Article (2-Month-Old Girl With Epilepsy Treated With Marijuana At Colorado Hospital) is a free and open source. You have permission to republish this article under a Creative Commons license with attribution to the author and AnonHQ.com.