In 2014, an Instagram post of David D. Ovadia, an Israel Defence Forces (IDF) combat soldier bragged about killing 13 Palestinian children in one day, sparking outrage on social media. Posing with a Barrett .50 caliber sniper rifle, Ovadia tagged a Palestinian woman Sherrii ElKaderi, and wrote:
"I killed 13 childrens today and ur next f***ing muslims go to hell bitches."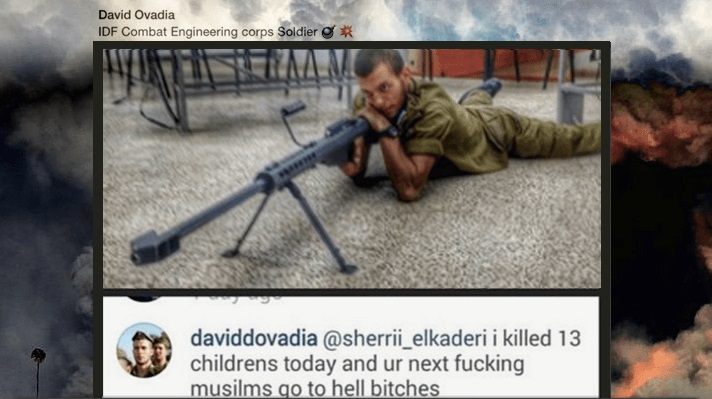 While hundreds of users took to social media to vent their outrage…
#sherrii_elkaderi piece of shit, if Hitler even existed, monsters like this one would not survive

— juan felipe prada ge (@jufeletti) August 1, 2014
"@mailraashid911: a israel army personal #sherrii_elkaderi boasts he killed 13 children today ,is he a carnivorous animal or something?"

— 보라 (Haifa) (@marvit_) August 1, 2014
@daviddovadia you are a monster so cruel than Hitler. You are a bigger evil of the world. Son of Lucifer!!

— Silvania Saldanha (@silsaldanha) August 19, 2014
During #WW2 the Nazis did the same what about that! #DavidDovadia how can you sleep #MTF #FreePalestine free #BabyKillerNetanyahu

— Behzat Beytur (@Besse70) August 4, 2014
#DavidDovadia is a swine. Anyone who boasts about killing children isn't a soldier but a mercinary. #GodHelpUsAll

— Amin Ladha (@aminl88) August 4, 2014
…some users argued it was a fake account used to malign the soldier…
As I said earlier, someone took a real soldier's (David Ovadia) FB photos & created fake social media accounts pic.twitter.com/Ja1eJjJ0ds

— (((Lahav Harkov))) (@LahavHarkov) July 31, 2014
#daviddovadia is a fake account. Situation is bad enough without spreading this lie #gaza #Israel

— Sara Conway (@SaraConway4) July 31, 2014
Someone hijacked David D. Ovadia an IDF soldiers account and is posting hate messages to looks like he is proud that he killed palestinians

— Chana Shields (@ChanaShields) July 31, 2014
Ovadia's initial plea was that his account had been hacked after Counter Current News reported that the post and account were deleted by an Anonymous group of online hackers, who later shut down the websites of the Mossad Intelligence Agency and the Israeli Ministry of Defense "for the brave IDF Sniper."
Users who believed him speculated that pro-Palestine hackers had created a fake account, photoshopped his picture with his rifle, posted it with that awful caption, closed the account and claimed to have hacked it.
But it turned out the profile was real, and that the soldier did indeed post the intimidating message; even though the post was a real post, its content was not:
Fact No. 1 – Ovadia posted the photo and bragged about murdering children.
Fact No. 2 – He deleted the account after Netizens accused him of committing war crimes.
Fact No. 3 – Social media backlash prompted him to claim that unknown users faked his Twitter and Facebook account, uploaded a photo of him lying on the ground with the sub-machine gun, and wrote the caption.
Fact No. 4 – After commanders suspected that his post was not a forgery and questioned him at length, Ovadia broke down and admitted to having made up the story to appear to be involved in the hostilities in Gaza and using the claim to harass and terrorize Palestinians on social media.
Fact No. 5 – The IDF sentenced him to 30 days in prison for lying and damaging their reputation.
"Since 2000 the IDF has killed 1,400 Palestinian children in non-military situations. 1% have been charged." #PeoplesMonday #NadinSiamNuwara

— Keegan Stephan (@KeeganNYC) May 17, 2016
…Ovadia's claim may be fake, but the reality is not…
---
This article (30 Days Jail Term for Israeli Sniper who "Killed 13 Gaza Children in One Day" to Terrorize Palestinians) is a free and open source. You have permission to republish this article under a Creative Commons license with attribution to the author and AnonHQ.com.