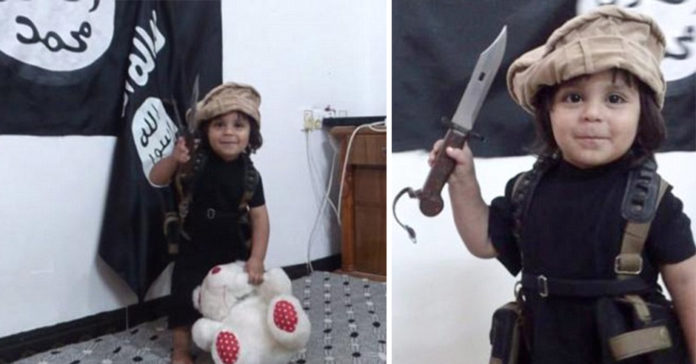 A CNN video recently showed some disturbing ISIS footage ( no, not the condom bomb ): children being trained to become killers. The video shows a toddler using a knife to "behead" his own teddy bear, and in another clip another kid is seen pointing a pistol toward the back of a prisoner's head.
It should be noted that the second clip was released awhile back by ISIS itself (as we shall see later), and that the authenticity of any ISIS clip is questionable- that is the nature of propaganda.
An activist group (apparently… I mean there are so many fake groups over in Syria, like the "Syrian Observatory For Human Rights" and the "White Helmets") embedded within ISIS's capital itself decided  to smuggle some videos and other images and video of life within the terror state. It is unknown how much of this was recycled from old clips.
It apparently also decided that sending one of their own to be interviewed in full view of the public by CNN reporters was good for its health. There was certainly no way ISIS wouldn't try to execute anyone he was associated with…
The unnamed (… you're on f***ing video) "insider" from the group "Raqqa Is Being Slaughtered Silently" (can't misinterpret their purpose with a name like that) states that ISIS used a specific camp to teach to teach kids their heinous ideology, using them as innocent-looking suicide bombers. They were also used as weapon and medicine porters.
The CNN anchor then comes in to condense it all for her dense viewers: "basically they're raising little Jihadists". Good journalism, right there.
Indeed, if this "activist's" assertions are true, ISIS's capital city is a hellish place indeed.
The activist speaks of how ISIS buys and sells women it has captured, using them as sex slaves.
The ever-helpful CNN anchor adds "so basically they're making them prostitutes".  Ok that's enough of CNN and their trivializing of the matter.
The fact is that ISIS makes no secret of their use of children as tools of war, and has of its own accord released videos of child-terrorists long before CNN and its "insiders" started to blunder their way over it.
This does not decrease the horrific nature of their ideology, however- one that was clearly created to manipulate and brainwash people from childhood.
The videos below are NSFW. They're also extremely loud for some reason. 
Below is one such video of an entire regiment of kids being trained to do… less-horrific acts. Hitler Youth eat your heart out.
And here's another Daily Mail video which shows children reassembling a rifle faster than some real grown-up soldiers I've seen. Sh** gets real when they zoom in on a toddler "terrorist" wielding a toy gun. One kid gets interviewed to explain his motivations.
There's this one of the same ISIS kid who was interviewed above executing two Russian spies…
And then there's this other Daily Mail video from just a few months back showing an ISIS kid execute a prisoner:
CNN has only scraped the surface of the brutality of ISIS. And whatever you say about Assad, he does not use children to murder innocent prisoners. It's good that France and Russia have decided to properly destroy ISIS.
Sources: CNN, Daily Mail
---
This Article (ISIS's Child Executioners, In Training And In The Field) is free and open source. You have permission to republish this article under a Creative Commons license with attribution to the author(CoNN) and AnonHQ.com.