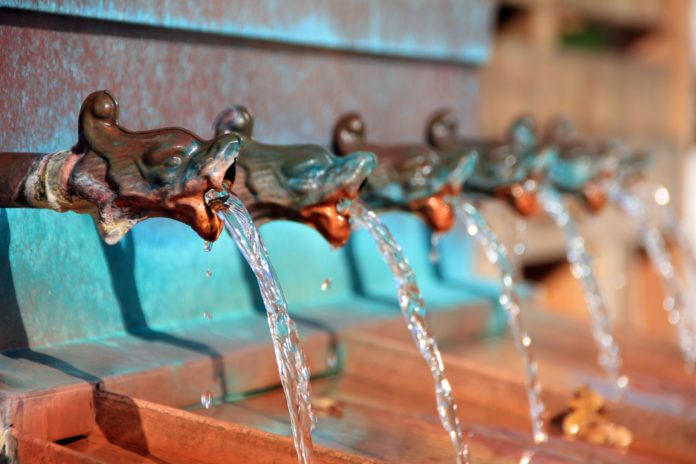 Severe dental fluorosis, "endocrine disruptor," and skeletal fluorosis are some of the terms floating about in the U.S. government and medical community. These terms that are not so familiar with the lay person, coincide with the decision to lower the recommended level of fluoride in the U.S. drinking water.
The U.S. government has confessed that the American population has been overdosed with fluoride since its introduction in the 1940's. In mid-2014, Dallas TX began a year long debate to end their million dollar contract with Mosaic Crop Nutrition to fluoridate Dallas' water supply for the next three years. But a turning point in votes at the last minute saw the contract renewed; concerns for the young and tooth decay as the main reason.
The concern for long term effects on health doesn't end there. The CDC reported that dental fluorosis exists in some form, in 40% of the American population. The condition alters the tooth enamel in the form of dark staining and blemishes, or chalky lines, occurring because of long-term fluoride ingestion during the critical time of teeth formation in children.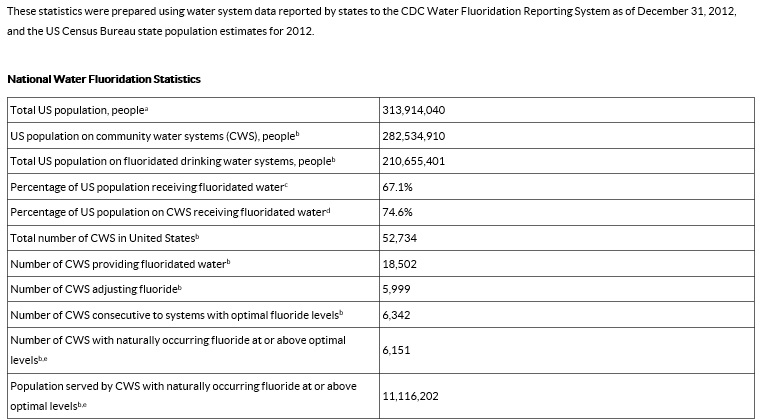 The U.S. Department of Health and Human Services (HHS) announced in April that the current 1.2 of water milligrams of fluoride per liter of water would be reduced to 0.7 milligrams. U.S. Deputy Surgeon General Rear Admiral Boris Lushniak said at the time, "while additional sources of fluoride are more widely used than they were in 1962, the need for community water fluoridation still continues. Community water fluoridation continues to reduce tooth decay in children and adults beyond that provided by using only toothpaste and other fluoride-containing products."
But the question remains should a drug be added to public drinking water or approached as we do any other drug?
Dr. Mercola suggests this about fluoridation:
"If a doctor somehow managed to force a patient to take a drug with known toxic effects and failed to inform them of the dosage and frequency, and never monitored their health outcome, they would be medically negligent and liable to legal and medical board action."
Further, the FDA have never been officially approved water fluoridation for the prevention of cavities. According to Guardianlv, The World Health Organization (WHO) and CDC have also stated that there is no noticeable difference between those living in a country with or without fluoridation.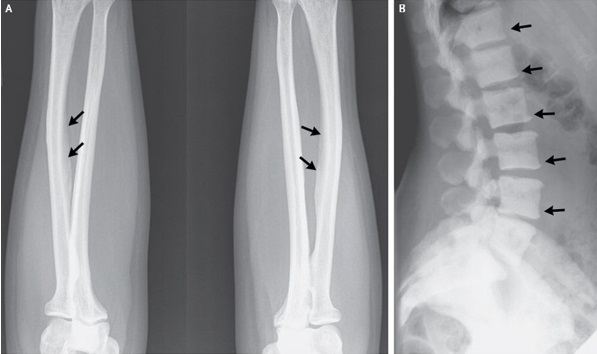 Skeletal Fluorosis, credit: New England Journal of Medicine ©2013
Dr. Mercola, a New York Times bestseller who promotes taking control of your own health by asking questions, says "Dental fluorosis is the most visible form of fluorosis, but it's far from being "just cosmetic" and of no further concern."
The suggestion is if dental fluorosis is occurring, then the rest of your body, such as your bones and internal organs, have been overexposed to fluoride as well, also known as skeletal fluorosis.
Skeletal fluorosis, with symptoms including chronic fatigue; gastrointestinal disorders; stiff joints and/or constant pain in your bones, brittle bones, and osteosclerosis; calcification of tendons or ligaments of ribs and pelvis, and anemia; is also difficult to distinguish from arthritis, making diagnosis tricky.
---
This Article (Fluoride Reduction in Water: Skeletal Fluorosis; Dental Fluorosis) is a free and open source. You have permission to republish this article under a Creative Commons license with attribution to the author AnonWatcher and AnonHQ.com.