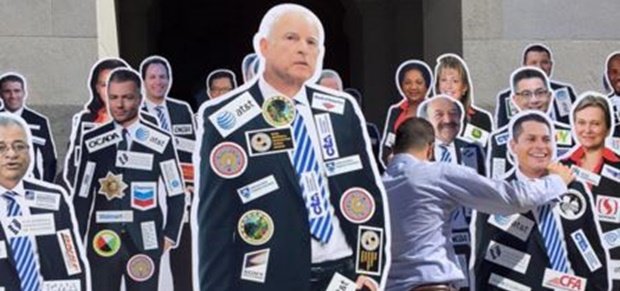 Corporations and banks have long ruled the roost. The government has assisted in their looting of funds meant for the disabled. Politicians themselves have admitted that "billionaires have basically bought the government" dozens of times. Citizen's United has basically exacerbated this problem, allowing corporations and private donations to openly buy out politicians of every stature; a report by the Brennan Center of Justice has even found that "of the $1 billion spent in federal elections by super PACs since 2010, nearly 60 percent of the money came from just 195 individuals and their spouses."
It would only be fair if we got to see their corporate sponsors displayed on their attire, like the numerous sportsmen and NASCAR racers who proudly display theirs.
A Californian ballot initiative will attempt to make this new year's resolution a reality.
San Diego entrepreneur John Cox is collecting signatures for the "California Isn't For Sale" campaign, which he kicked off this month at press events where life-sized cutouts of all 120 state Legislature members had the logos of their top supporters attached to them.
The ballot initiative would have state politicians literally don the logos of their top 10 donors while advocating policy in the Senate or Assembly- bias and accountability displayed for all the world to see.
If approved, the measure will allow the California Fair Political Practices Commission to determine which logos get stuck onto each politician's clothing. Even their campaign ads would display the logos to the American viewer, allowing a previously hot-button-issue-sensitive individual to make a cool-headed decision.
"This is a very serious initiative," Cox said. "This is not a joke. If you came down from Mars and you looked at our electoral system, you'd say to yourself, 'How dumb is this?' You've got a system under which people who want something from government fund the campaigns of the people who make the decisions. How stupid is that system?"
"Money comes from wealthy companies and special interests that curry favor with elected officials," Cox said. "It is totally legal according to the laws on the books, but they are able to wield incredible power in our state."
"I frankly wish that every legislator who walks into that chamber would have a clean suit on," Mr. Cox said.
Visit California Is Not For Sale's website HERE, and learn how you can contribute to Cox's campaign by donating, joining or organizing a protest, or volunteering.
Sources: California Is Not For Sale, Good Magazine, Occupy Democrats, Washington Times, Brennan Center of Justice
---
This Article (Californian Initiative Could Force Politicians To Wear Their Corporate Sponsors' Logos) is free and open source. You have permission to republish this article under a Creative Commons license with attribution to the author(CoNN) and AnonHQ.com.