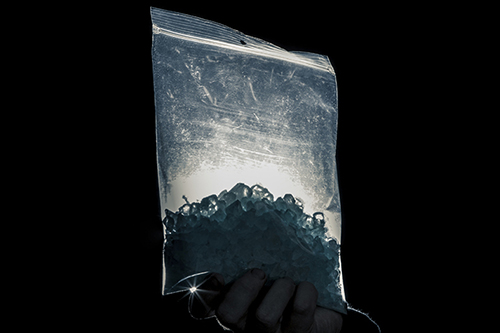 The United States Federal Bureau of Investigation (FBI) has fully dismantled an Aryan Brotherhood Methamphetamine drug ring based in Central Texas, the FBI announced in a Dec. 31 press release.
The gang responsible was allegedly distributing up to four kilos of meth in a 60-square-mile area of rural Texas. Neighborhoods around Fort Hood and Waco have experienced an uptick in arson, assault, burglary and homicides. Local authorities long suspected this trend was directly tied to the increase of meth use in the area.
"The area was being tormented," said San Antonio Division Special Agent Dan Snow, who supervises a violent gangs and criminal enterprise squad. "When you're addicted to meth, you will steal anything that's not bolted down to get money to feed your habit."
The FBI collaborated with the Drug Enforcement Agency, the Texas Department of Public Safety and local police units to bring down 34 members of the Aryan Brotherhood running the operation, and a federal judge recently convicted the last two. Agents suspect the racist drug peddlers were deliberating staying in rural areas to avoid law enforcement, but through a three-year operation involving court-ordered wiretaps, sting operations and informants, agents were able to garner enough evidence to bring down the whole ring.
"We dismantled their entire organization, from the leadership to suppliers to distributors," said Special Agent Dan Tichenor. "This case has had a big impact on the community. Local police departments reported a significant drop in crime—especially property crimes—after the drug operation was stopped."
The Aryan Brotherhood, a white supremacist gang who purport white persons are a superior race (despite the fact most scientists agree that the idea there are separate races amongst humans is incorrect; there is only one human race, with variations in culture and skin pigmentation), seem to see no irony in destroying the lives of the "white" people (and presumably others) in their own communities by selling a devastating drug to the most vulnerable.
Now all members of the Central Texas Aryan Brotherhood meth ring are doing time in federal prison. The last two members convicted, 51 year-old Chris Voerhis and 35 year-old Derrick Cooper are serving 14 years and seven years, respectively.
---
This Article (FBI Destroys Texas White Power Meth Ring) is free and open source. You have permission to republish this article under a Creative Commons license with attribution to the author and AnonHQ.com.