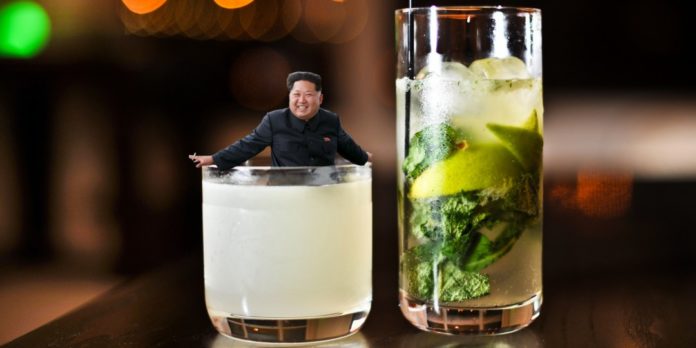 Alcohol and hangovers. If only there were some mystical force that mankind could use to free itself from the shackles of the hangov- KIM JONG UN TO THE RESCUE.
In a move that will have Un remembered throughout the annals of history, North Korea has announced that it had created hangover-free alcohol.
Maybe that's why they had to detonate a H bomb?
The Pyongyang Times reports that the drink is 30-40% alcohol. It also  "exudes national flavor"- or more accurately, the flavor of ginseng and rice. Ginseng is probably the ingredient behind the hangover-free miracle; Un had earlier claimed that a medicine made with ginseng could cure Ebola, as well as AIDS and cancer. Only the sort of ginseng grown under the glorious radiation of the Great Leader though.
"Scientists" had replaced the sugar in the drink with scorched rice- somehow causing it to be less likely to cause hangovers.
According to the Pyongyang Times, the Taedonggang Foodstuff Factory won the coveted "quality medal for preserving national smack " for making the discovery.
"Koryo Liquor, which is made of six-year-old Kaesong Koryo insam, known as being highest in medicinal effect, and the scorched rice, is highly appreciated by experts and lovers as it is suave and causes no hangover," said the Pyongyang Times. It also adds that the alcohol "has already been registered as a national scientific and technological hit."
The authenticity of the claims made by the "experts and lovers" could not be independently verified.
Sources: Foreign Policy
---
This Article (North Korea Wins The Cold War, "Invents" Hangover-Free Alcohol) is free and open source. You have permission to republish this article under a Creative Commons license with attribution to the author(CoNN) and AnonHQ.com