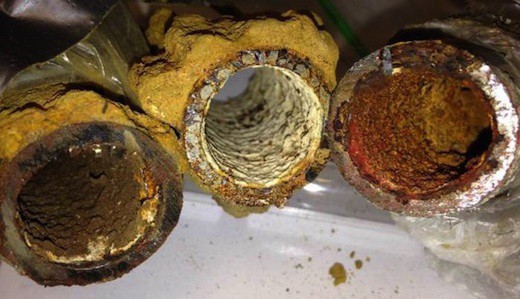 Bacteria, corroding parts, lead and chemical disinfectants have all found their way into Flint's water supply, after it was transferred to the Flint River- a tributary that runs through the town which is notorious for its filth. Researchers from Virginia Tech would go on to find elevated levels of lead in the water.
As the scandal broke, Governor Rick Snyder has been forced to release his emails. Some of these highlight just how little state officials cared about the residents of Flint.
His chief of staff, Dennis Muchmore, in a note written to Snyder:
"The issue of Flint water and its quality continues to be a challenging topic," and the state Department of Environment Quality and the Department of Community Health "feel that some in Flint are taking the very sensitive issue of children's exposure to lead and trying to turn it into a political football claiming the departments are underestimating the impacts on the populations and particularly trying to shift responsibility to the state."
He also wrote that Snyder should agree to speak with Flint's congressman or else "it will just fan the narrative that the state is ducking responsibility."
"I can't figure out why the state is responsible," he added, though he admitted that it was state treasurer Andy Dilon's decision to switch Flint's water source to cut costs.
Muchmore goes on to say that "The real responsibility rests with the County, city and KWA," Flint's new water supplier.
In a briefing email to Snyder the following day, Muchmore admitted that the Flint water supply had "less than savory aspects," but claimed that officials found no evidence of lead contamination.
"Now we have the anti everything group turning to the lead content which is a concern for everyone, but DEQ and [the health department] and EPA can't find evidence of a major change."
The information he had garnered from the state health department would prove to be quite inaccurate.
Muchmore had recently moved to a private sector role.
The emails also show that officials chose to ignore the findings of Dr Mona Hanna-Attisha, a local pediatrician from Hurley Medical Center, who was one of the first to raise alarm bells over the children she had tested and found to have high levels of lead in their blood.
The state spent a week publicly attacking her findings before admitting that she was right; this might have been because of the false information supplied by the Michigan Department of Health and Human Services (MDHHS ).
Geralyn Lasher, spokeswoman for the MDHHS, downplayed Dr Hanna-Attisha's findings in a released email.
"MDHHS epidemiologists continue to review the 'data' provided by a Hurley hospital physician that showed an increase in lead activity following the change in water supply," wrote Lasher in an email.
"While we continue to review this data, we have stated publicly that Hurley conducted their analysis in a much different way than we do at the department. Hurley used two partial years of data, MDHHS looked at five comprehensive years and saw no increase outside the normal seasonal increases."
The release of the email cache comes amid lawsuits and calls for the governor's resignation, as well as investigative probes by State and Federal prosecutors.
Sources: NY Times, Detroit Free Press, NBC News, Reuters, CNN
---
This Article (Damning Emails Show Just How Little State Officials Cared About Flint) is free and open source. You have permission to republish this article under a Creative Commons license with attribution to the author(CoNN) and AnonHQ.com.