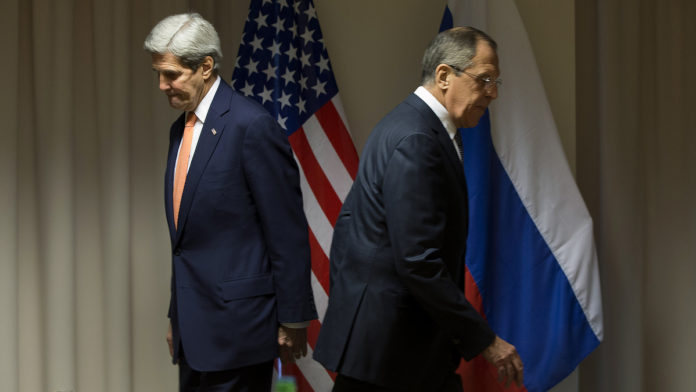 Unprecedented UN-backed peace talks in Geneva between Assad and the various rebel factions set to take place  on Monday this week have been delayed, but two are believed to be close to a compromise.
Russia and the US were close to making a compromise on the parties invited to take part, but disagreements regarding the composition of the opposition delegations have arisen.
UN Special Envoy for Syria, Staffan de Mistura is expected to invite two separate opposition delegations.
Russia had raised objections to the inclusion of a radical Islamist militia- the Jaysh al-Islam or Army of Islam, in the Saudi-backed opposition delegation also backed by the US.
Moscow has asked that Russia-friendly opposition rebels like the Syrian Kurdish PYD and Qadari Jamil, former Syrian deputy prime minister, be present as part of a second opposition delegation in return for agreeing to allow the Army of Islam into the negotiations.
The two sides have reportedly reached agreement over the matter.
"We are confident that with good initiative in the next day or so, those talks can get going," Secretary of State John Kerry told reporters on Saturday in Riyadh.
The inclusion of the Kurdish PYD as one of the rebel groups has however been opposed by Turkey, which has called their presence a "red line"
"The PYD is not real opposition," The Turkish Prime Minister, Ahmet Davutoglu said.
"Russia is insisting. They can be there on the regime side, but on the opposition side – no."
The Kurdish PYD has fought against "moderate" and "extremist" rebel groups alike- its secular nature, left-wing politics and quest for self-determination distinguishes them from the "moderate" opposition groups that are backed by the US and Turkey.
The Turkish government has a strong interest in preventing the Kurds from gaining influence in the region, waging its own battle against the Kurdish PKK.
Michael Stephens, who monitors the peace process for the Royal United Services Institute, said that Turkey and Saudi Arabia were standing in the way of their Western allies who back both the rebels and the Kurds.
"They have Russian political backing and American political backing," he said. "They are in a strong position."
---
This Article (Syria Peace Talks Delayed, But US And Russia Believed To Be Near Compromise) is free and open source. You have permission to republish this article under a Creative Commons license with attribution to the author(CoNN) and AnonHQ.com.