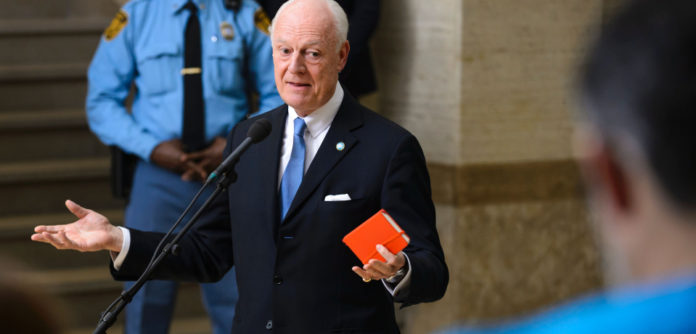 The negotiation between the Syrian government and the various rebel factions in Syria is all well and good, but the practical matter of enforcing the theoretical treaty will prove to be far more contentious.
Foreign Policy obtained a secret strategy paper, where the UN's top envoy to Syria, Staffan de Mistura's office warned that the UN  would be unable to do very much in the way of monitoring or enforcing the potential peace deal even if it is reached.
The "Draft Ceasefire Modalities Concept Paper" notes that:
"The current international and national political context and the current operational environment strongly suggest that a U.N. peacekeeping response relying on international troops or military observers would be an unsuitable modality for ceasefire monitoring,"
Syria will prove to be far too dangerous for the deployment of UN peacekeepers, which means that neither side will be held responsible for any further outbursts of conflict.
The paper also notes that major powers are also far too divided on Syria to provide a coordinated effort to enforce the terms of the possible peace agreement fairly. Extremist groups which were excluded from negotiations might be able to simply derail the peace process by force.
The UN would only be able to strengthen its presence in Syria and act as a go-between if security on the ground improves. Else-wise, the job of monitoring the peace process would fall to the government and the rebels themselves.
The factions and their foreign supporters, the 17-member International Syria Support Group or ISSG (which consists of the Arab League, China, Egypt, the EU, France, Germany, Iran, Iraq, Italy, Jordan, Lebanon, Oman, Qatar, Russia, Saudi Arabia, Turkey, United Arab Emirates, the United Kingdom, the United Nations, and the United States), would have to somehow find common ground and cooperate on the enforcement of the ceasefire.
"There must be a clear shift from the ISSG role of sponsor [of the political process] to guarantor of agreements," the U.N. paper states. "The ISSG will need to coordinate the efforts of key member states, and provide operational liaison with government and armed opposition counterparts, in order to drive the brokering and sustaining of a national ceasefire, and the achievement and maintenance of local agreements."
The lack of a truly neutral intermediary means that neither side has incentive to play by the rules of a treaty- also, provocateurs sent by extremists not party to the negotiations could very easily turn the factions against one-another again. The sustainability of a peace deal (before it has even been reached) has just been called into question.
Sources: Foreign Policy, State.gov
---
This Article (Secret Memo: UN Cannot Enforce Syrian Peace Deal. Task Falls To Rebels, Assad And Foreign Backers) is free and open source. You have permission to republish this article under a Creative Commons license with attribution to the author(CoNN) and AnonHQ.com.