Few names from history inspire such hatred and disgust as that of German leader Adolf Hitler, the tyrant who initiated World War II with the invasion of Poland. While his hands are stained with the blood of millions and the horror of the Holocaust — Hitler's dictatorial Nazi regime brutally killed at least 5.5 million Jews and an estimated 19.3 million civilians and prisoners of war — Hitler was not born a despot.  His personal experiences turned him into a monster, and his wicked ideas — inspired by the American culture — helped the rogue unleash a reign of terror in Europe.
Basically, if Hitler is the Joker, America is the Batman who dropped him in a vat of ooze.
Sounds incredibly implausible or excessively ballistic? Well, there's evidence to show how the land of the free stimulated a dictator and how the great Americans were just as bad as the evil Nazis. Here's how America inspired the Third Reich, and how Hitler only took the ruthless American ideas to their awful, logical conclusion…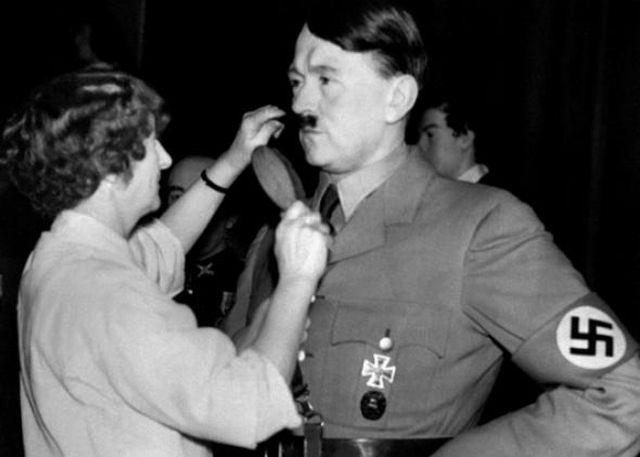 The American Way And Nazi Propaganda
Ernst "Putzi" Hanfstaengl, a Harvard University graduate, was Hitler's close confidante during the earliest years of his rise to power. A gifted pianist, Putzi was Hitler's leading propagandist empowered to enhance the prestige of the Nazi regime internationally. It was Putzi, a close associate of Franklin D. Roosevelt, who helped polish Hitler's image within the Munich high-society in the 1920s. Putzi not only helped finance Hitler's Mein Kampf and the Nazi Party's Völkischer Beobachter, he penned the Third Reich's official march tunes too.
Where did he get the idea about the Nazi salute? A document declassified by the CIA in 2001 revealed that the Nazis' "Sieg Heil! Sieg Heil!" chant was directly borrowed from American cheerleaders chanting "Harvard! Harvard! Harvard! Rah! Rah! Rah!"
"In 1923, Hitler adored American football marches and college songs. The 'Sieg Heil!' used in all political rallies is a direct copy of the technique used by American football cheerleaders. American college type of music was used to excite the German masses who had been used to very dry-as-dust political lectures."
And where did he get the ideas that put the swastika on the map, and encouraged millions to actively participate in genocide? American advertising. Paul Joseph Goebbels, Reich Minister of Propaganda under Hitler, directly cited Edward Bernays' book Crystallizing Public Opinion to convince the Germans that the Jews were the source of all their misery and misfortune. In fact, in the early 1930s, the U.S. advertising industry hailed Hitler and Goebbels as brilliant fellow propagandists.
Henry Ford And Hitler's Anti-Semitism
Very few people are aware that American industrialist Henry Ford's anti-Semitic views echoed the fears and assumptions of many Americans in the late 19th and early 20th centuries. Even lesser people are aware that Ford's racist newspaper, The Dearborn Independent, published articles in 1920s that claimed a vast Jewish conspiracy was infecting America; and that the Jews were at the root of America and the world's ills: be it financial crisis or agricultural depression.
He claimed that "the Jews are the scavengers of the world. Wherever there's anything wrong with a country, you'll find the Jews on the job there." He called the Jews morally and mentally "defective". He declared that after America, Germany was at risk of succumbing to Jewish domination. Inspired by Ford, Hitler picked up the German translation of The International Jew, a four volume set of booklets published Ford, and plagiarized its anti-Semitic propaganda in Mein Kampf.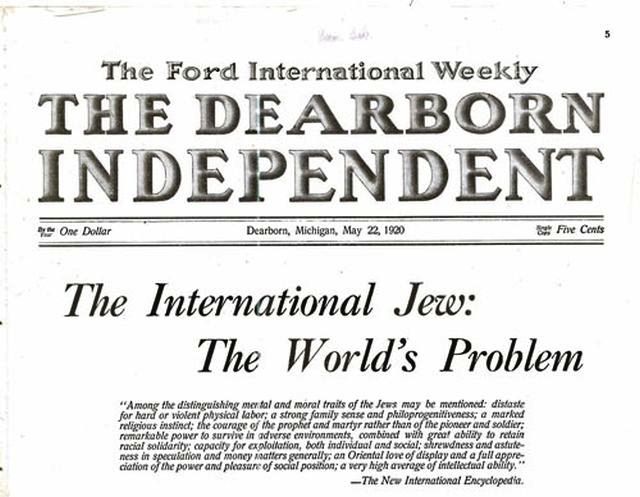 The American Reservations And Nazi Concentration Camps
In the latter half of the 19th century, Americans often uprooted thousands of Native inhabitants from lands they wished to occupy and sent them to "reservations" akin to Nazi concentration camps. David Roberts writes:
"One of the most tragic episodes of exile was the Long Walk in 1864, when Kit Carson rounded up 8,000 Navajos and forced them to walk more than 300 miles from northeastern Arizona and northwestern New Mexico to Bosque Redondo, a desolate tract on the Pecos River in eastern New Mexico. Intended to be a reservation "to tame the savages", the ill-planned site, named for a grove of cottonwoods by the river, turned into a virtual prison camp for the Navajos."
Hitler's concept of concentration camps as well as the practicality of genocide owed much to his studies of English and United States history, writes John Toland adding that Hitler often praised to his inner circle the efficiency of America's extermination — by starvation and uneven combat — of the red savages who could not be tamed by captivity.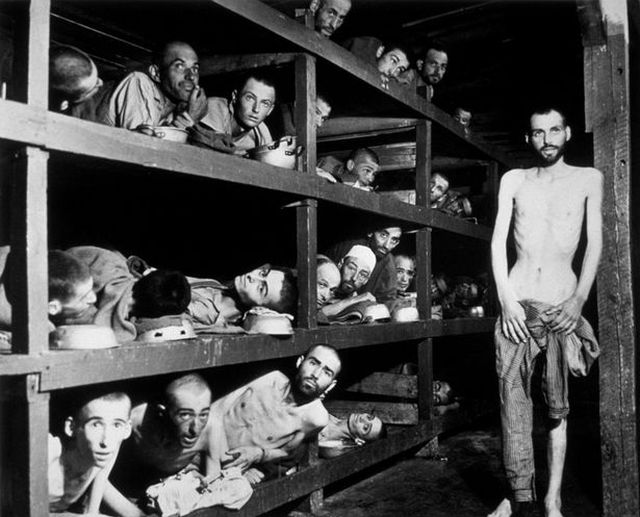 America's Immigration Policies And Hitler's Gas Chambers
For decades, American health authorities used toxic chemicals to delouse Mexicans seeking to enter the United States. To forbid Mexicans from crossing the border, Mexicans were forced to strip naked, shave their heads, bathe with cryolite, and have their clothes sprayed with Zyklon B (a cyanide-based pesticide to rid them of lice and other parasitic insects). Inspired by what the United States had been doing to their Mexican neighbors since 1917, the Nazis used Zyklon B to commit genocide in their concentration camp gas chambers during World War II.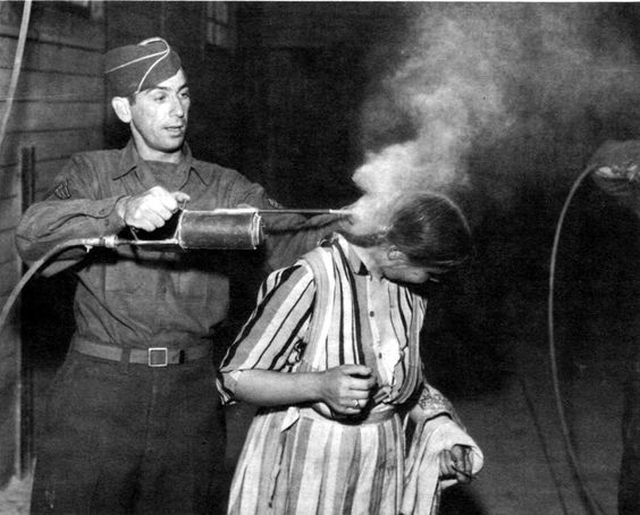 The American Eugenics Movement And Hitler's Master Race Philosophy
During the late 19th and early 20th century, Charles Darwin's cousin Sir Francis Galton spread a new philosophy — eugenics — to wipe away all human beings the superior race deemed unfit (ethnic cleansing). In its first 25 years of eugenics legislation, California sterilized 9,782 individuals, mostly women. Ultimately, eugenics practitioners coercively sterilized some 60,000 Americans.
As America's eugenics movement gathered pace, it inspired a host of imitators; the Nazi Germany was no exception. The Guardian writes:
German readers closely followed American eugenic accomplishments as the model: biological courts, forced sterilization, detention for the socially inadequate, debates on euthanasia. As America's elite were describing the socially worthless and the ancestrally unfit as "bacteria", "vermin", "mongrels" and "subhuman", a superior race of Nordics was increasingly seen as the answer to the globe's eugenic problems. U.S. laws, eugenic investigations and ideology became blueprints for Germany's rising tide of race biologists and race-based hatemongers.
Hitler ultimately sterilized over 400,000 people against their will and euthanized 300,000 more in the name of eugenics (a move that is widely viewed as his warm-up for the Holocaust); victimized an entire continent; and exterminated millions in his quest for a so-called Master Race.
---
This article (5 Nazi Ideas Hitler Stole from the Great America) is free and open source. You have permission to republish this article under a Creative Commons license with attribution to the author and AnonHQ.com.