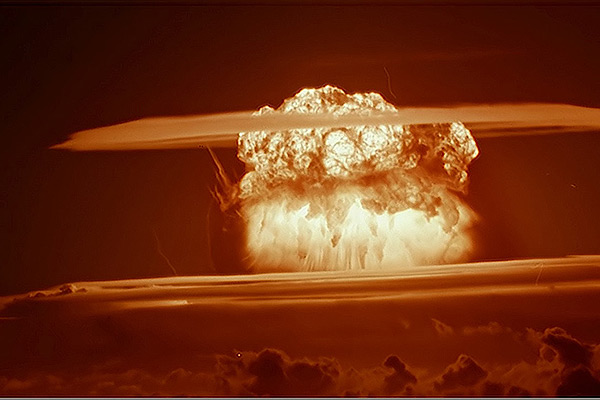 Kim Jong Un has given the order to have his country's nukes placed in "pre-emptive attack" mode, ready to launch at a moment's notice. According to state news, he was apparently concerned about the threat presented by North Korea's foes.
His action comes as the UN Security Council unanimously imposed sanctions against the hermit kingdom for its nuclear program. China, its long-time ally, had also agreed to unusually tough measures against North Korea.
After the decision, in an interview with the Washington Post, U.S. Ambassador to the U.N., Samantha Power said, "Irrespective of whether [the North Koreans] change their calculus tomorrow, it's going to be a lot harder for them to access the technology, the know-how and the money they've used to fuel their nuclear program."
Kim was hit where it hurt by the sanctions:  luxury watches, jet skis, and snowmobiles worth above 2000 dollars, were banned from being imported into North Korea. North Korean taekwondo instructors were also banned from training foreign police forces.
Exports of North Korean minerals were also banned; this would affect revenue for the country, and would unfortunately hurt the ordinary North Korean citizen.
In comments reported by state-run KCNA, Un said that North Korea must "bolster up (its) nuclear force both in quality and quantity," adding that "the need to get the nuclear warheads deployed for national defense always on standby so as to be fired any moment," KCNA quoted him as saying. "Now is the time for us to convert our mode of military counteraction toward the enemies into an preemptive attack one in every aspect."
It should be noted that South Korea and the United States have discussed the deployment of US missile defense systems in the region – a measure that could have more than North Korea in its sights. While China has agreed to impose sanctions against North Korea, Ambassador Liu Jieyi pointed out that it was also greatly concerned about the deployment of anti-missile defense systems.
"At this moment all parties concerned should avoid actions that will further aggravate tension on the ground, China opposes the deployment of the THAAD anti-missile system … because such an action harms the strategic and security interests of China and other countries of the region."
Its apparent abandonment of its ally might be intended to prevent the THAAD system from being deployed, though it might have instead contributed to Un's own insecurities and his recent pronouncement.
We previously noted that China had placed its own nuclear weapons on hair-trigger alert, and for the first time joined the other two super powers, which were already on hair-trigger.
Missile defense systems are ostentatiously deployed to neuter the actions of rogue states, such as North Korea or Iran, but they have the "unintended" consequence of disrupting the concept of Mutually Assured Destruction between their larger backers. It's  a major cornerstone for the unusually long period of peace between the hair-trigger-happy super powers of this age.
Bruno Gruselle of the International Security Program Strategic Advisers Group noted in 2010 that "French policy makers still considered the 1972 Anti-Ballistic Missile (ABM) Treaty and the doctrine of Mutually Assured Destruction to be the cornerstones of strategic stability. French thinkers viewed missile defense as jeopardizing both the doctrine and the Treaty, as well as risking a new arms race with Russia."
Sources: Reuters, Huff Post, UPI, Atlantic Council
---
This article (North Korea Readies Its Nukes For "Pre-Emptive Attack" Mode) is a free and open source. You have permission to republish this article under a Creative Commons license with attribution to the author(CoNN) and AnonHQ.com.