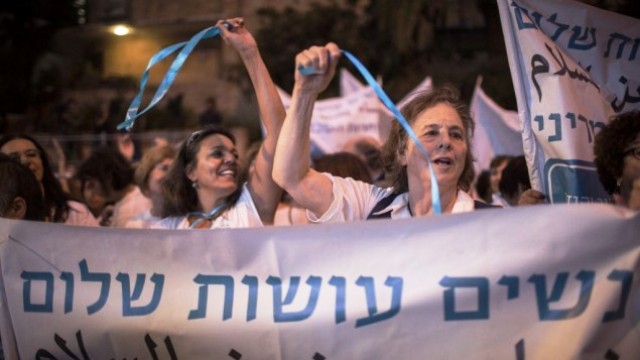 Thousands of people, from the land of immense value to all the Abrahamic religions, joined and marched from Rosh Hanikra, a city located north of Israel, to the residence of the current prime minister in Jerusalem. Both Palestinian and Israeli women took part in the long march that ended a few days ago, in hope to bring forth a message of serenity and peace.
The women carried Palestinian flags with words expressing the right for an independent state, "only free people can negotiate for peace."
According to the marchers, this action of unity and peace was a message to the United Nations – and to their governments – to better the negotiations between the two nations; as support between the two have dimmed.
"To discover, of necessity and to guard one's existence is important, but also to see the suffering of others and extend a helping hand means a lot to the sufferer," said Hadassah Forman, who was the wife of the late Rabbi Meacham Forman, as well as one of the members of the peaceful march. "Someone who is dead no longer feels it. I chose to feel and to give space to the full range of feelings inside me – to the pain and the anger, but also to mercy and love."
However, the peaceful marchers even marched to Sheikh Jarrah's neighbourhood, as that site is a place where people protest against the Jewish people coming in and settling in an area, which is largely populated by the Arab people.
According to a report published in a local Israeli newspaper, the Haaretz  stated that the number of participants was only two thousand, while the local authorities said the number was under one thousand.
In addition, the police surrounded the marchers, who feared that the Jewish extremists might try to harm the peaceful protest, however, the march went without incident.
Furthermore, Haaretz also wrote that a Zehava Galon, who is a member of the Kennest for Meretz party, and is known for her very open and freethinking views, also joined the peaceful march. This march was also inspired by a youth march that took place in March in the form of a peaceful protest, to demonstrate the capture of eastern Jerusalem in the Middle East War – that took place almost fifty years ago.
The people who took part in this march say that this walk of peace was to tell the United Nations that they should recognise Palestine as a nation, which was obviously opposed by some Israeli politicians. While on the other hand, members of the Arab League have stated that they will push Palestinians to a full membership status at the United Nations.
---
You want to support Anonymous Independent & Investigative News? Please, follow us on Twitter: Follow @AnonymousNewsHQ
---
This article (Promoting Peace: A Large Number of Israeli and Palestinian Women March Together ) is a free and open source. You have permission to republish this article under a Creative Commons license with attribution to the author and AnonHQ.com.