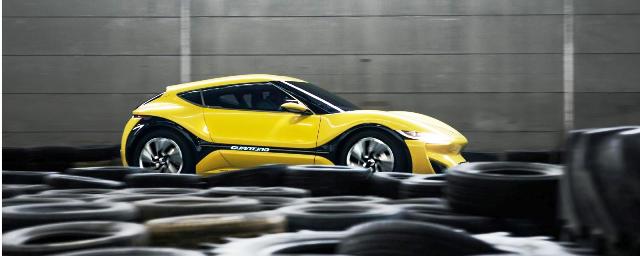 Alternate energy is a big topic in our world today, from generating nuclear energy for running submarines to planting long fields of solar cells to fuel our longing desire for power, there is no doubt the topic is popular. In addition, in this long sprint to find alternative energy sources, for some people who have gone to great lengths, the research has paid off. Likewise, a group of engineers from NanoFlowcell AG brought forth a car that runs on salt water. While there are many that believe this to be some sort conspiracy, engineers at NanoFlowcell AG explained how the process of salt water being used as energy can work.
According to the company, the salt water is passed via a special sheet, which is situated between the two tanks, helping to create an electric charge. From this, the electricity is then further supercharged via capacitors. Once the charged capacitors are filled to their capacity, they then use this energy to fuel the electric motors on board. The water aka fuel capacity of the car is up to 200 litters, which can juice the car for up to six hundred kilometers.
"The Quant made use of an ex-Nasa technology, a flow battery powered by 'ionic liquid' – that is, simple saline water," says the Top Gear team from the BBC that reviewed it. "The Quantino's electric motor produces a modest 136 horsepower, giving it (says its maker) the ability to run from zero to 62mph in five seconds and press on to a top speed of 125mph."
This unique model was initially introduced by the company at this year's Geneva Motor Show. According to NanoFlowcell AG, the company that also introduced a similar technology at 2014's Geneva Motor Show is also planning to introduce this technology to the automobile industry. In addition, once successful, they plan to expand their technology into the aviation, maritime as well as rail engine industries.
Furthermore, specialists from the Naval Research Laboratory from the United States have devised a method to extract CO2 and Hydrogen molecules from seawater, stage it from a gaseous state to a hydrocarbon compressed liquid state, and use it as fuel.
According to the experts, this technology will take more than eight years before becoming commercially available; and if this becomes public, then land-based solutions will become the first priority. In addition, this is one primary example of human innovation – proving that if we want too, we can find a solution to almost anything.
Therefore, no matter if the energy source is nuclear, solar or transforming salt water into energy, one thing is clear: we can solve the current energy problems we face. In addition, many of the world's leaders state that we will not be able to use alternative energy for another ten to fifteen years. However, those people who earn their bread and butter from researching alternative energy understand that our dependency on fossil fuel is not entirely true; there are ways and methods to provide energy for all, which are less destructive and more affordable.
---
You want to support Anonymous Independent & Investigative News? Please, follow us on Twitter: Follow @AnonymousNewsHQ
---
This article (A Sports Car that Uses Salty Water as Fuel) is a free and open source. You have permission to republish this article under a Creative Commons license with attribution to the author and AnonHQ.com.