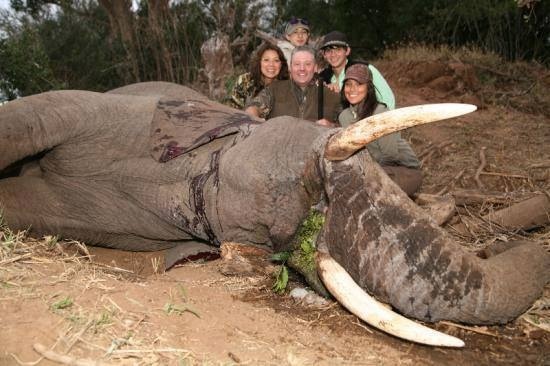 Image: Innocent elephant killed while eating.
The African elephant is a nearly endangered species due to the value of their ivory tusks. However, there are still several companies who offer expensive hunting safaris just for the purpose of killing these elephants. The picture above can be found here, along with pictures of hunters posing next to lions and other great animals. Why would a company, in 2015, still advertise to hunt these magnificent animals?
In Sri Lanka, killing an elephant will get you the death penalty! These companies who are hunting in Africa are professional hunters and their job is to control and maintain populations. The White Rhino made a comeback due to protection by hunters and conservationists, so why are they hunting elephants? Is it just for the thrill of it? For those who can afford killing an elephant (it costs up to $100,000), I believe hunting can be a great experience as it will bring out your "inner caveman," but paying a team of professional hunters to track and trace these great animals and then to just pull the trigger? It should be illegal. And not only do African elephants need this status of protection, all over the world people are still hunting endangered species of all types. At the link below, you can find a list which shows the most endangered animals.
Related Links: https://www.worldwildlife.org/species/directory?direction=desc&sort=extinction_status