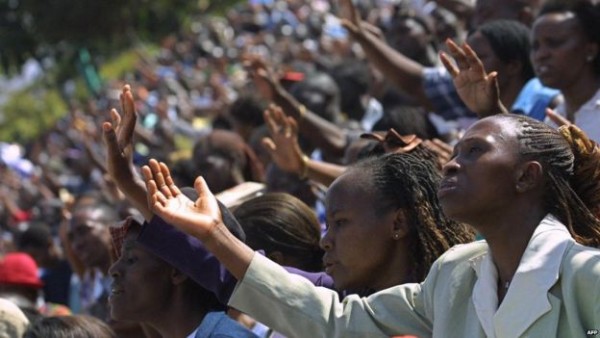 In all the 54 Independent African Nations, it is very common to find one religion or others being practiced. In North Africa, the dominant religion is Islam while in Sub-Sahara Africa, it is Christianity.
According to the Pew Research Center, Christians make up 63% of the African continent. Muslims constitute 30%, while those who practice African Traditional Religions, mixing it with Christianity or Islam account for about 3%.
From the statistics, it is clear that Christianity is the dominant religion on the continent, especially in countries below the Sahara. Within Christianity, 57% are Protestant (includes members of African Independent Churches and Anglicans). 34% are Catholic, 8% are Orthodox, and 1% others do not belong to any of these factions.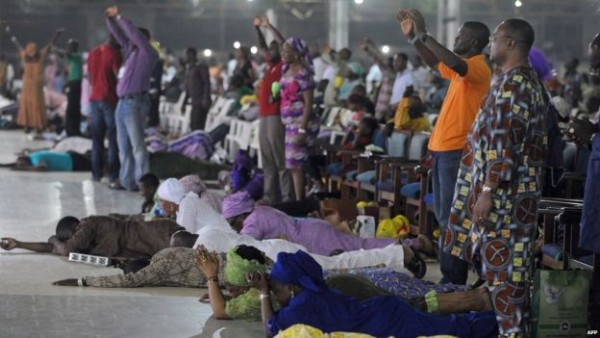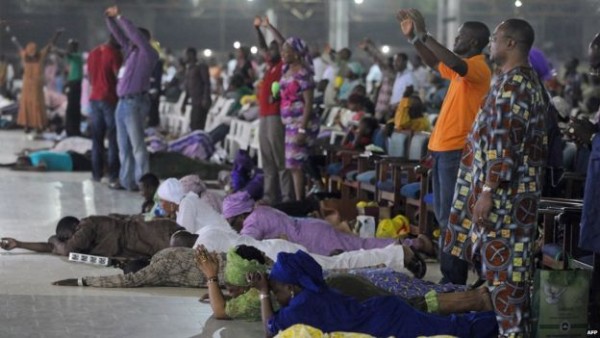 Over the years, the continent has seen a significant proliferation of one man churches (part of African Independent Churches), mostly operated by self-proclaimed 'Men of God' or 'Prophets'. These prophets have succeeded in luring people to their churches through the performance of miracles. They claim to have the power to protect their congregation from witchcraft, black magic, provide them with employment, heal their sicknesses including HIV/AIDS, and even bring back the dead to life.
The prophets have become so powerful to the extent that their congregants believe anything they say without questioning them. However, many of these prophets are beginning to gain prominence in the public discourse in Africa due to their bizarre practices.
Some governments and organizations in the continent are starting to think that these churches and their operators should be held accountable to the people they claim to serve.
The President of Kenya, Uhuru Kenyatta recently called for the regulation of these one man churches. Mr Kenyatta said the move is aimed at stamping out fake prophets who put the word of God as mask, perpetrating all kinds of crimes.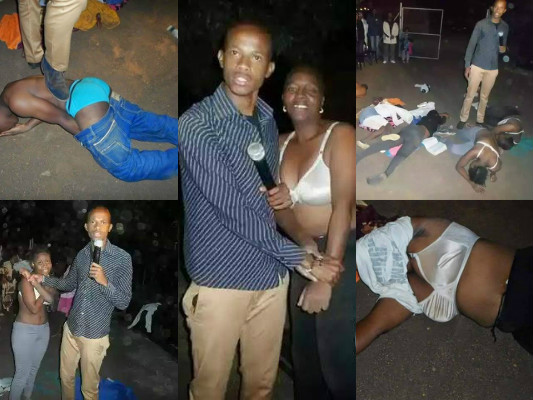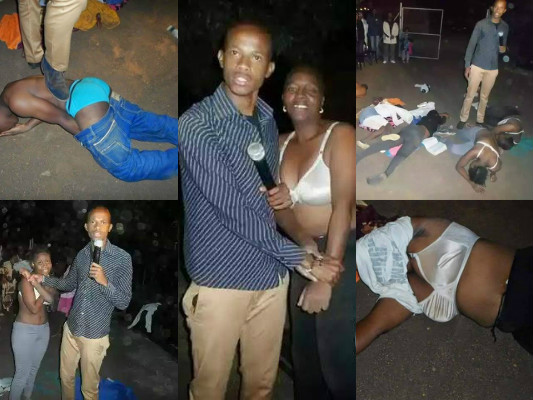 The country's leading Newspaper, the Daily Nation quoted the Mr Kenyatta as saying "They are thieves and not preachers. We have to consult and know how to remove them".
In Ghana, almost every corner of the country is flooded with these one man churches. Our investigations in the country have revealed that many of the prophets who operate these churches have been fingered in horrible human rights abuses. Some prophets on the pretext of praying for women who need husbands will end up sexually abusing them. Some too claim to have power to secure European or American visas for their congregants, but end up swindling the congregants of huge sums of monies.
These practices by the prophets have incited a public outrage. The Ghanaian government has therefore tasked the Christian Council to draft a proposal that will ensure that these churches are regulated within the laws of the country.
In Nigeria, the situation is worse. Some of the churches in the country have even attracted people from other African countries. It is one thing that leads people there. Miracles.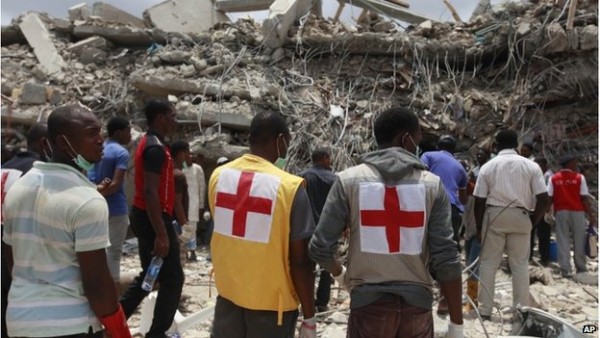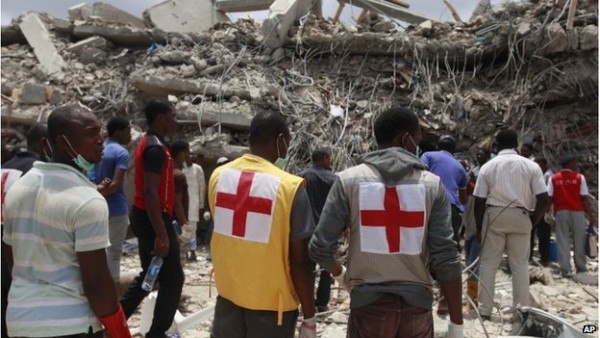 One Nigerian popular television-evangelist, TB Joshua made news on the continent following a building collapse at his Synagogue Church of All Nations in Lagos, which killed 116 people in 2014.
A coroner's report blamed the collapse on shoddy work, saying the structure had not met safety standards but Mr Joshua's church denied this, instead blaming the collapse on a mysterious plane which had been flying above the double-storey shortly before it collapsed.
Of those killed, more than 80 were from South Africa, illustrating the international nature of some of these one man churches in Nigeria.
To show you some of the bizarre practices of some of these churches, watch this video below. This is a self-proclaimed prophet in Nigeria. He claims that the Holy Spirit has instructed him not to touch the ground when preaching to his congregation. The congregation must therefore carry him in a plastic chair while he preaches the word of God.
Unbelieveable!…And while still on church matters, I saw this video earlier today and I'm still in 'Disbelief-Land.' No, this CAN'T be!

Posted by Kemisola Awonaike-Kelly on Tuesday, January 27, 2015
The Nigerian government is believed to be preparing to regulate the churches for sanity to prevail in Africa's most populous country.
Recently in South Africa, two churches, Rabboni Ministries and End Times Disciples Ministries, made headlines in the media. The churches posted images on Social Media in which their leaders were feeding followers with snakes and rats, instructing congregants to drink petrol and eat grass to be delivered from evil spirits. The images caused a nationwide outcry. One of the prophets involved, prophet Penuel Mnguni nicknamed 'snake pastor' by local media said he was doing God's work and didn't need to explain God's ways to people.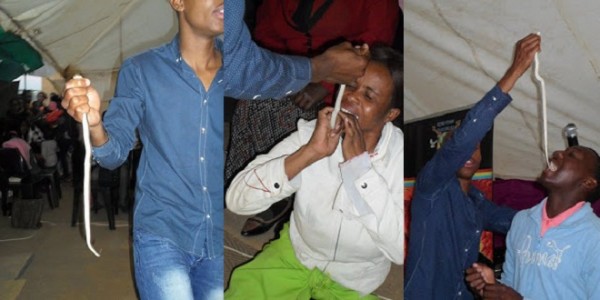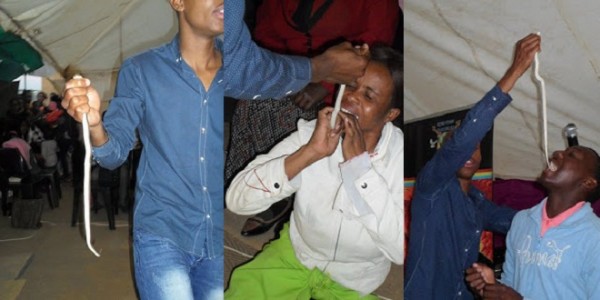 He has since been chased away by local residents, who have become angry with his bizarre practices. "Some people threatened to kill him if he ever returns. People here are angry at what he did – that's why he ran away", a local resident told the BBC about the 'snake pastor'.
South Africa's Commission for the Promotion and Protection of Cultural, Religious and Linguistic Communities (CLR) has officially summoned 40 churches over some of these exploitations activities carried out by leaders of the one man churches.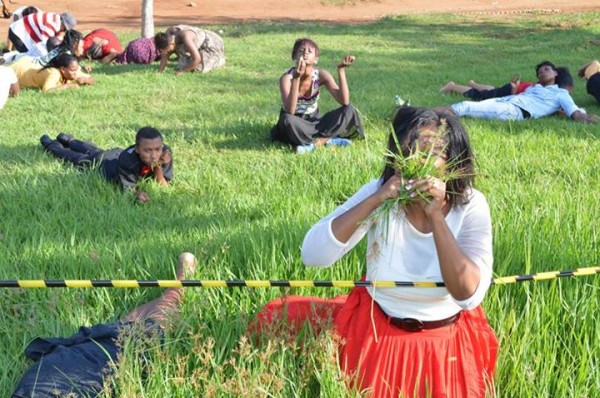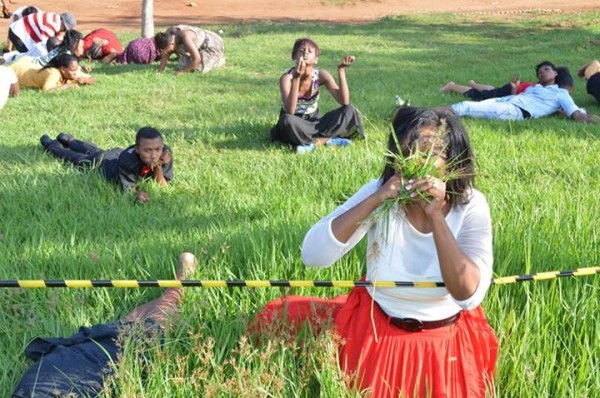 "We've found that other religions such as Islam and the Jewish religion are systematized for disciplinary codes and monitoring but Christianity, because of its volatility in terms of anyone being able to start up their own church, we feel there is a need for regulation. The sector needs to be regulated", CLR chairperson, Thoko Mkhwanazi-Xaluva told the BBC.
Religious commentators in Africa have said that one man churches have a stronghold on the continent because Africans are hugely spiritual.
"Africans do not question the existence of God as in the case with many in the Western World. It is believed that there needs to be conduit that enables communication between humans of the various layers of spiritual beings, which include angels, demons and spirits. They see these prophets as messengers from God", Pastor Conrad Mbewe of the Kabwata Baptist Church in Zambia said.
Pastor Mbewe also confirmed that financial swindling and sexual abuse were concern practices for one man church leaders in Zambia.
Ms Mkhwanazi-Xaluva also added that there is evidence that bogus churches target vulnerable people, and issues of poverty and unemployment are the reasons vulnerable continue to rely on these types of churches. She said "We have found this group is incredibly desperate and will do whatever they are told do if promised it will change their lives."
However, some Africans are beginning to question some of these self-proclaimed prophets and the bizarre practices. Some are using Social Media to denounce such prophets and their churches, and it seems their governments are also ready to crack the whip on these churches.
---
You want to support Anonymous Independent & Investigative News? Please, follow us on Twitter: Follow @AnonymousNewsHQ
---
This Article (African Governments Are Clamping Down On Churches; These Are The Reasons) is free and open source. You have permission to republish this article under a Creative Commons license with attribution to the author and AnonHQ.com