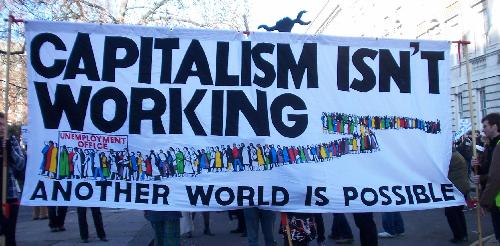 After the 2008 Global Financial crisis, there are many who question the credibility of the capitalist economical system that we currently live in. So what are the alternatives? Robert Chatwin of collective-evolution.com, writes about the various alternatives to the current capitalist system.
Socialism
Very widely misunderstood as government control of everything. However, in reality, socialism seeks to give workers control of everything. Proponents of this system believe that the people should make decisions as a collective through workplace co-operatives.
Karl Marx coined the term 'socialism' as a reaction to factory owners exploiting the working class, purely to yield more profit.
Social Democracy
Advocates of social democracy support the current mixed economy, and want to keep the private sector. However, they think that the state needs to thoroughly regulate the capitalists to avoid extreme corporatism and crony capitalism(which is when out-of-control business practices allow for corporations to lobby, influence, and sue the government). They would prefer having preconditions for corporates to ensure sustainable development.
Libertarianism
This philosophical principle suggests that a government's involvement in civil economical and social matters should be limited, and that the issues should be settled amongst civilians. Libertarianism seeks to provide free-will participants with the ability to make decisive decisions without the government determining or influencing the outcome, as long as it does not harm other individuals. It is based off the belief that each individual owns every aspect of their lives and thus should have the ability to control it. Libertarians strongly believe that through these shared principles, they are able to establish a more fruitful and peaceful society. Libertarianism traces its roots back to the early 1890s, as societies tried to escape anti-anarchist laws in France.
Communism
While libertarians seek individual decision-making and the market economy, supporters of communism seek to move beyond money as a form of trade. They believe in a society in which people work together as a community, making communal decisions that benefit all people in society.
Though many societies have claimed that they have adopted a communist system, in theory, none are truly communist.
Marx believed that communism is the natural progression after socialism; advocates of communism see the ideology as a goal to aim for as the people build a fair and equal society.
Resource Based Economy
The term and meaning of a Resource Based Economy was originated by Jacque Fresco. It is a holistic socio-economic system in which all goods and services are available without the use of money, credits, barter or any other system of debt or servitude. All resources become the common heritage of all of the inhabitants, not just a select few. The premise upon which this system is based, is that the Earth is abundant with plentiful resources; our practice of rationing resources through monetary methods is irrelevant and counter productive to our survival.
---
This Article (Alternatives To Capitalism) is free and open source. You have permission to republish this article under a Creative Commons license with attribution to the author and AnonHQ.com.
Get Your Anonymous T-Shirt / Sweatshirt / Hoodie / Tanktop, Smartphone or Tablet Cover or Mug In Our 
Spreadshirt Shop
! 
Click Here