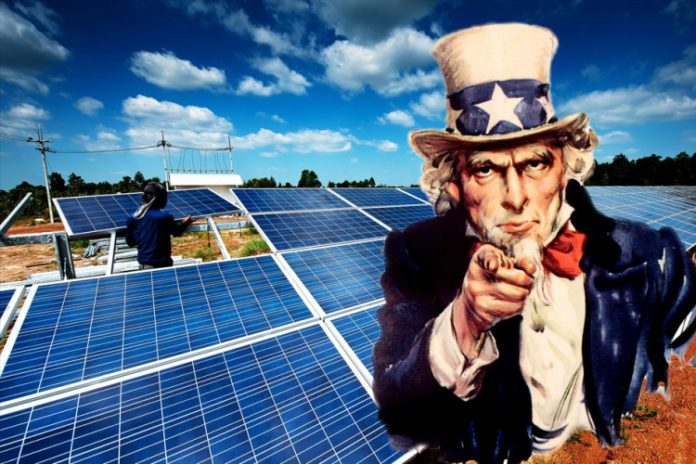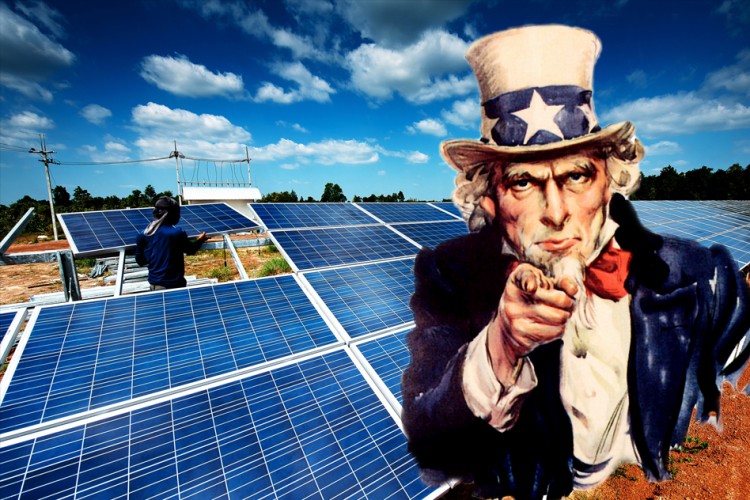 Solar power sees unprecedented boom in the United States – solar power grew by 6.2 gigawatts in 2014; and 1 million American homes have solar panels as of February 2016. However,  the United States dragged India to the World Trade Organization claiming that India's efforts to boost local production of solar cells and solar modules violated WTO rules.
Just recently, a WTO panel has ruled that the domestic content requirement (DCR) imposed under India's National Solar Mission (NSM), is inconsistent with its archaic treaty obligations under the global trading regime. The requirement in question mandates a percentage of components to be sourced locally, to boost homegrown production of solar cells and solar modules.
Though India argued that NSM helps the country meet its climate commitments under the United Nations Framework Convention on Climate Change (UNFCCC), the WTO rejected the argument. They stated that domestic policies seen as violating WTO rules, cannot be justified on the basis that they fulfill UNFCCC or other international climate commitments. Like seriously?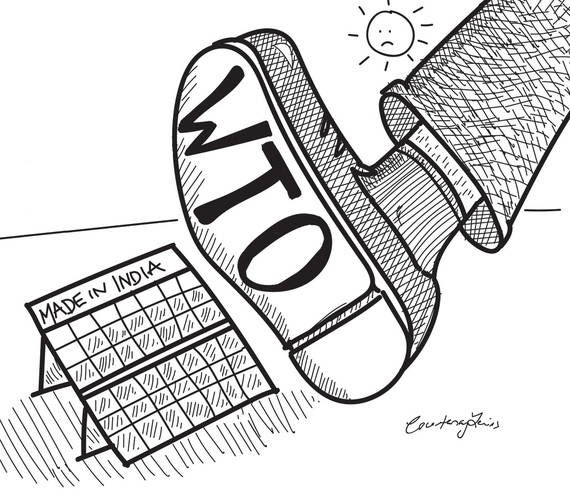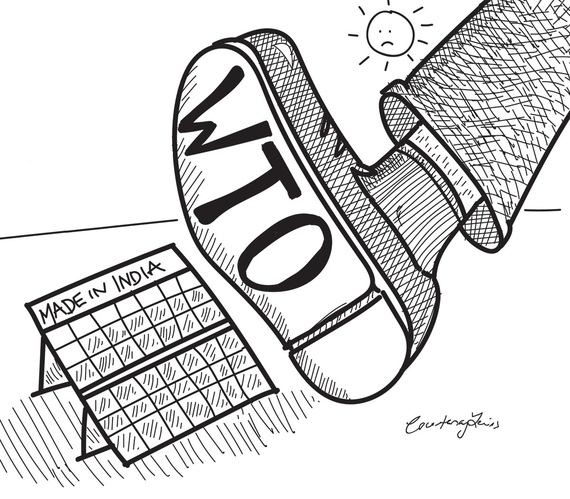 Reuters reported that the US Trade Representative's office called the ruling "a significant victory that would hasten the spread of solar energy across the world and support clean-energy jobs in the United States." Dan Whitten, vice president of communications for the Solar Energy Industries Association, told PV-Tech:
"The WTO dispute settlement panel's decision will clear the way for significant and rapid deployment of solar energy in India and can create jobs at home. This decision helps us bring clean energy to the people of India, as that nation's demand for electricity rapidly grows. We look forward to working with our solar industry colleagues in India to help grow the solar supply in both our markets and around the world."
Well, Mr Whitten DCR does allow India to provide itself with clean energy – and as Grist notes, "potentially with fewer emissions, as domestically produced solar panels don't have to be shipped in from overseas."
Meanwhile WTO is shutting down India's massive solar project, cause India prefers its own solar panels over US-made. pic.twitter.com/ZzB8eMertb

— Jeblary Bushton (@Jeblary2016) March 5, 2016
By putting pressure on India's solar program, and by hiding behind the biased WTO agreements, the United States wants to boost its solar exports to India, which it argues have fallen by 90% from 2011, when India imposed the rules.
Claiming that India was unfairly restricting access to American suppliers, US trade representative Michael Froman justified the perverse move in February 2014:
"These domestic content requirements discriminate against US exports by requiring solar power developers to use India- manufactured equipment instead of US equipment. These unfair requirements are against WTO rules, and we are standing up today for the rights of American workers and businesses."
Really? Nearly half of the American states have renewable energy programs that include "buy-local" rules that create local green jobs, and bring new solar entrepreneurs to the economy. Why must a developing country pay penalties for the same tools that a developed country uses to foster, nurture, and grow new industries? Why get penalized for cultivating domestic renewable energy firms that promote strong climate policies; and push toward 100% clean energy?
U.S. and WTO block India's solar power plan https://t.co/f8FoYqMqsG @IndependentAus And we're asked to trust US/multinationals with #TPP?

— Ming The Merciless (@MGliksmanMDPhD) March 1, 2016
The truth is: If the local content requirement was removed from India's national solar program, it would open up an opportunity for foreign companies to step in.
For the Uninitiated:
The world's first entirely solar-powered airport – made of more than 46,000 solar panels arrayed, which produce 48,000 units of energy per day; saving 300,000 tons worth of carbon emissions equivalent of planting three million trees, or not driving 750 million miles – is located in India. The world's largest 750 MW solar power station is coming up in India, and is set to start generating clean energy by March 2017.
Currently, India imports three quarters of its energy needs. With the Jawaharlal Nehru National Solar Mission, India aimed to deploy 20,000 MW of grid connected solar power by 2022 – more than the current solar capacity of the world's top five solar-producing countries combined.  This deployment was in order to reduce the cost of solar power generation in the country, making India a global leader in solar energy.
In January 2015, after US President Barack Obama met Prime Minister Narendra Modi at India's 66th Republic Day celebrations, the White Office released a statement which seemed to indicate support for that goal. The statement recognized that "global climate change is a profound threat to humanity and to the imperatives of sustainable development, growth and the eradication of poverty."
"The United States intends to support India's goal by enhancing cooperation on clean energy and climate change, to include: Expanding Partnership to Advance Clean Energy Research; Expanding Partnership to Advance Clean Energy Deployment; Accelerating Clean Energy Finance; Launching Air Quality Cooperation; Initiating Climate Resilience Tool Development; and Demonstrating Clean Energy and Climate Initiatives on the Ground."
Reports indicate that India will prefer an appeal to the appellate body, as well as explore the option of filing a counter complaint against the US. While the WTO ruling is not final, the ruling is definitely a slap in the face of climate cooperation.
Yo! @GreenpeaceIndia backs India's decision to challenge WTO ruling on Solar Mission (It's not always NGOs v Govt.Things work on principles)

— Madhavan Narayanan (@madversity) February 27, 2016
---
This article (America just blocked India's Solar Program) is a free and open source. You have permission to republish this article under a Creative Commons license with attribution to the author and AnonHQ.com.