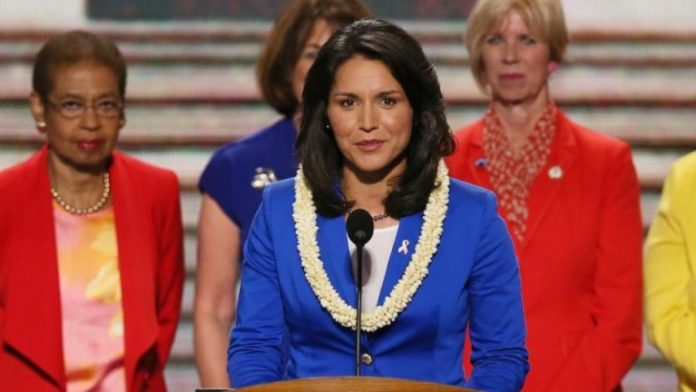 This is FOX News' worst nightmare.
The 2016 U.S. election has been a historical one for numerous reasons. Not only was Donald Trump elected to be the next POTUS, Hawaii realized FOX New's worst dream when it elected both Japan-born Mazi Hirono to be the first ever Asian-American woman elected to the Senate and Democrat Tulsi Gabbard as the first-ever practicing Hindu to the U.S. House of Representatives.
According to The Huffington Post, Gabbard began her impressive career when she ran for office at age 21. After her first term, she voluntarily served on a 12-month tour of duty with Hawaii's National Guard. Later, she became the first woman in the history of the Accelerated Officer Candidate School at the Alabama Military Academy to be designated a "distinguished honor graduate."
And now, of course, she's setting another precedent by being elected as the first-ever Hindu Congresswoman. Perhaps most interesting is the fact is that in January, Gabbard will take her oath of office over a Bhagavad Gita, a sacred text whose themes include spirituality, selfless action, war, and serving God and humanity.
Before the election results were determined, the thirty-one-year-old politician shared some of her favorite verses from the Bhagavad Gita, or Santana Dharma:
— "That which pervades the entire body you should know to be indestructible. No one is able to destroy that imperishable soul." (2:17)
— "The soul can never be cut into pieces by any weapon, nor can he be burned by fire, nor moistened by water, nor withered by the wind."(2.23)
Though many deem Donald Trump's election to be a major step backward in terms of progress for the United States, it cannot be denied that some positive developments have resulted from the historic election. In addition to marijuana now being accessible in 20% of the United States, the first Somali-American Muslim woman legislator was elected in Minnesota. Change might not be evident on the scale many would desire to see, but it is taking place.
One of Gabbard's goals through her service is to foster a better connection with India, where a large percent of the population is Hindu. She says,
"It is clear that there needs to be a closer working relationship between the United States and India. How can we have a close relationship if decision-makers in Washington know very little, if anything, about the religious beliefs, values, and practices of India's 800 million Hindus?  Hopefully the presence in Congress of an American who happens to be Hindu will increase America's understanding of India as well as India's understanding of America."
What are your thoughts? Please comment below and share this news!
---
This article (America's First-Ever Hindu Congresswoman To Be Sworn In Over Bhagavad Gita) is free and open source. You have permission to republish this article under a Creative Commons license with attribution to the author and TrueActivist.com