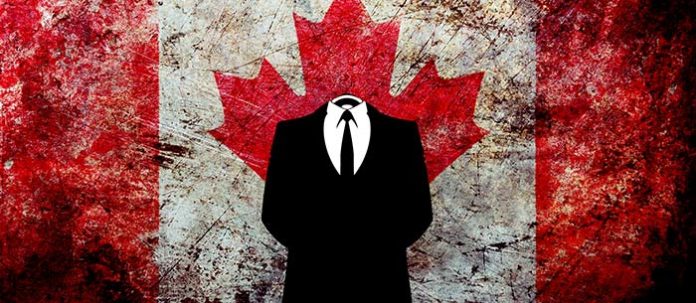 Members of Anonymous, an online hacktivist group, have leaked an authentic and official high-level federal document about the redevelopment of Canada's key diplomatic centres in Britain. The document, designated "secret" and marked "confidence of the Queen's Privy Council", discusses government cost overruns from the Department of Foreign Affairs' selling, relocating and refurbishing of Canada's diplomatic buildings in London, one of its last major acts under former minister John Baird.
Two months ago, a Fives Eyes SigInt agency opened invstg vs #CCLeaks. We're still here. We're still leaking. #OpSec, friends! Do it. #Elxn42

— Operation Anon Down (@OpAnonDown) September 26, 2015
Every mark on every page of every document we leak is being analyzed by Canada's top infosec people to catch us. #CCLeaks. — Operation Anon Down (@OpAnonDown) September 26, 2015
Cranked up heat a bit early in week and it does in fact seem the @PMHarper Gov is sweating a bit. #CCLeaks #Elxn42 https://t.co/P9JmKfH26W

— Operation Anon Down (@OpAnonDown) September 26, 2015
"It's a black eye on public sector security." I've confirmed leaked #Anonymous docs are real: http://t.co/nuNQPq619J pic.twitter.com/VDNPdlcEfi — Adrian Humphreys (@AD_Humphreys) September 26, 2015
This para! It's why our options were 1) Slow leak 2) No leak 3) Get v&. #Elxn42 #CCLeaks http://t.co/M6I484Glsy pic.twitter.com/qrHlVo8mXv

— Operation Anon Down (@OpAnonDown) September 26, 2015
In June, Anonymous brought down several Canadian government website and servers in an orchestrated cyber attack against Canada's new anti-terrorism law – BillC-51.
The games have just begun #cdnpoli #TangoDown canada.ca http://t.co/qNtFK3GFYh sencanada.ca http://t.co/H1gHFnsPn6 #StopC51 #RejectFear — Op Cyber Privacy (@OpCyberPrivacy) June 17, 2015
In July, the group breached the Canadian government computers and accessed high-level, classified national security documents. The first leak revealed the closely guarded secret of the specific size of Canadian Security Intelligence Service's network of foreign stations and problems with their outdated cyber security. The Anonymous members demand arrests of the officers involved in killing James McIntyre wearing an Anonymous mask at a protest in British Columbia, or it would release more devastating secrets about members of the current government.
This operation is still underway. We have a long fight ahead of us. #CCLeaks #cdnpoli Rest in Peace @jaymack9 https://t.co/w64cfIgCQ7

— Operation Anon Down (@OpAnonDown) July 31, 2015
Nice one! Next up: we command you to stop leaking our emails in which we command you to stop leaking our documents. https://t.co/Hj4rkLYfqJ — Jesse Brown (@JesseBrown) October 1, 2015
---
This Article (Anonymous Leaks Canadian Government's Top Security Secrets) is free and open source. You have permission to republish this article under a Creative Commons license with attribution to the author and AnonHQ.com.