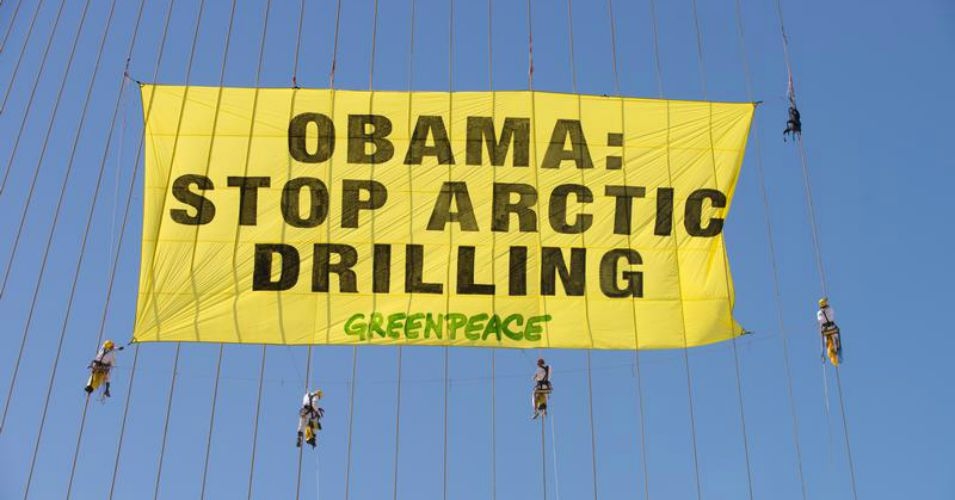 On this coming Monday, President Barack Obama's summer climate change tour will culminate in the state of Alaska. As part of Obama's eleven day summer tour, the president is set to headline a two-day conference aimed at tackling Arctic climate and adaptation issues.
"Alaskans are on the front lines of one of the greatest challenges we face this century: climate change," said President Barack Obama in a video posted on the White House website announcing the upcoming trip to the state. "Climate change once seemed like a problem for future generations. But for most Americans, it's already a reality."
However, despite his otherwise accurate and promising speech, many environmentalists are questioning the sincerity of his words. Only last month, the Obama administration gave Royal Dutch Shell the final go-ahead to drill for oil in the Chukchi Sea, just off the northwest coast of Alaska.
According to scientists, permitting Shell to drill within this region carries a number of catastrophic risks; the carbon that would be unlocked through drilling and extraction could cause disastrous effects on the ocean ecosystem, the climate, and coastal communities.
In fact, in a report released by the Oil Change International and Greenpeace earlier this month, it was concluded that it is of paramount importance that Arctic oil remains untouched. According to the assessment, Arctic drilling is "inconsistent" with internationally agreed efforts to keel global warming to less than 2° Celsius. This conclusion has been reaffirmed by the findings of other researchers.
"The bottom line is that there is no room for Arctic oil in a climate safe world," OCI's Hannah McKinnon wrote. "By allowing Shell to drill in the U.S. offshore Arctic Ocean, the Obama Administration is ignoring the world's best scientists, as well as millions of concerned citizens in North America and beyond."
President Obama will arrive in Alaska on Monday to headline at the two-day conference being held in Anchorage. Approximately 400 representatives from other Arctic nations and other interested foreign observers will attend the conference to listen to President Obama detail the global effects of Arctic changes.
"GLACIER will convene foreign ministers from Arctic nations and key non-Arctic states with scientists, policymakers, and stakeholders from Alaska and the Arctic region to discuss how climate change is reshaping the Arctic, increase global awareness of how Arctic climate change is affecting the rest of the world, and identify individual and collective actions to address these challenges," said Hallie Ruvin, White House spokesperson, in an email.
In addition to this, the president is also scheduled to travel to the Seward area to view the Kenai Fjords and the Harding Icefield, where nearly 40 glaciers are located. Also included on the itinerary are visits to Dillingham in the southwestern Alaska and Kotzebue in the northwest Arctic region, where the Native Alaskan population living within these villages are already suffering the effects of global warming.
---
This Article (Arctic Drilling: Environmentalists Deem Obama's Visit To Alaska As Hypocritical) is free and open source. You have permission to republish this article under a Creative Commons license with attribution to the author and AnonHQ.com.