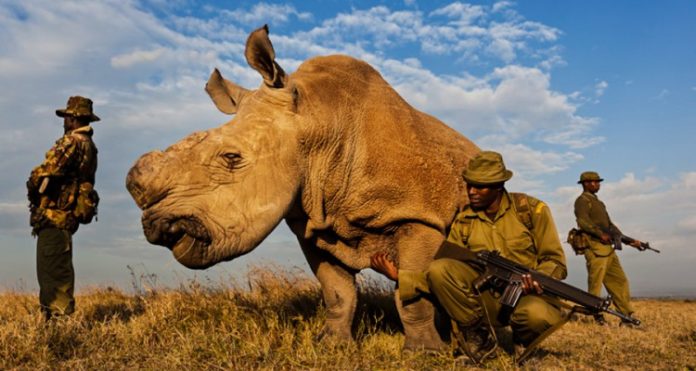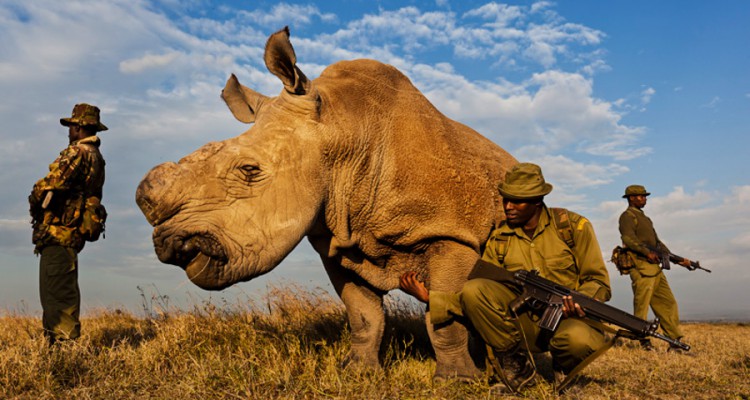 Sudan, the name of a rhinoceros and not a country, the world's last-surviving male Northern White Rhinoceros has been put under 24/7 armed protection at the Ol Pejeta Conservancy, 200km north of Nairobi in Kenya. He is one of just 5 remaining northern white rhinos on the planet, and naturally the conservancy fears that he could be a target for poachers.
Since the 1960's, rhinos have fallen victim to mass poaching, due to a popular belief across Asian  that rhinoceros horns possess medicinal properties. It is rumored that the horn can reduce a fever and febrile convulsions, as well as prolonging a youthful appearance. Contrary to these beliefs, the Rhino horn is primarily composed of Keratin – a fibrous protein which is also found in human nails and hair, and has no scientific health benefits like the ones described in the myths crafted centuries ago.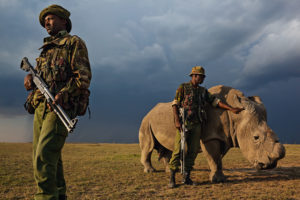 The increased demand for poached rhino horns has led the way for many crime syndicates expanding their operations into the horn trade. Although the penalties for poaching itself are being more harshly enforced, they  still appear marginal in comparison to the possible financial gain.  It was reported by The Guardian that a rhino's horn can sell for upwards of $75,000 per kilo (2.2 US pounds); and since globalisation and economic growth has made it easier to establish illegal trading routes, the financially gains severely outweigh the risks.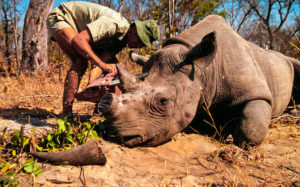 Sudan currently has two female white rhino subspecies within the conservancy. There are hopes that they will reproduce. All three of the rhinos have been fitted with radio transmitters and have had their horns safely removed to help deter poachers.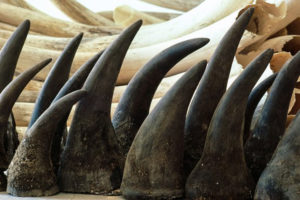 Rhino horn is typically ground up into a powder and sold for medicinal purposes, or is used to signify wealth, most commonly within Vietnam and China.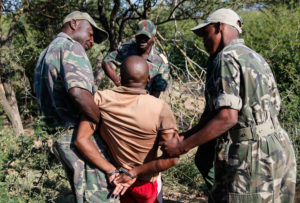 The penalty in Africa for poaching is 25 years imprisonment
Even with 24/7 armed protection, the northern white rhinos at the Ol Pejeta Conservancy are still vulnerable to complete extinction before the end of the century. Sudan, currently 42-years-old, is elderly in rhino years and thus his chances to reproduce naturally are slim "Sudan is currently old and may not be able to naturally mount and mate with a female," says George Paul, the deputy veterinarian at the conservancy. Experts from around the world are currently planning scientific methods to try to save the subspecies from extinction.
---
You want to support Anonymous Independent & Investigative News? Please, follow us on Twitter: Follow @AnonymousNewsHQ
---
Source: http://www.powerfulprimates.com/15258/armed-rangers-on-armed-guard-247-protect-the-last-male-northern-white-rhino-left-on-earth/
http://edition.cnn.com/2015/04/16/africa/kenya-northern-white-rhino/