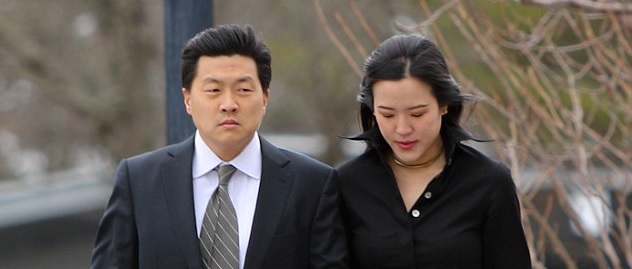 A Goldman Sachs investment banker, Jason Lee, 38, raped a 22-year-old Irish student, Dana, at his rented mansion in the Hamptons, New York, in the early hours of 20 August, 2013 because he wanted sex on his birthday and "was going to do whatever he had to get it".
Lee, who left Goldman in the wake of his arrest, met Dana while celebrating his birthday at the Georgica eatery in Wainscott. The party continued at Lee's $35,000 per month East Hampton rental pad, while his banker wife was in Manhattan. Lee later invited the student and her friends back to his summer rental at 4 a.m.
Dana, who recently flew 3,000 miles to testify against Lee, told the court that she was going to the bathroom when a naked Lee forced his way in, knocking her to the ground as she fought to keep the door shut. She said he jumped on top of her and sexually assaulted her, at one point putting his hand over her mouth and telling her to be quiet.
"I tried to bite him but I couldn't. He told me to shut the f*** up. He said it twice. He pulled up my dress and pulled down my underwear. I was still struggling, trying to get away. With every ounce of strength I had in me, I pulled my leg up and I kneed him in the groin. He fell off. I just sat there in disbelief. I couldn't believe what had happened. I took off the dress as quickly as I could because it was disgusting. I got out of there as quickly as I could," she said.
The victim was led outside by her friends, and told the first police officer on the scene that she had been raped. Dana was taken to a hospital where a rape kit was used to test her. According to the report in Patch, Suffolk County District Attorney Thomas Spota said a nurse had found the woman's injuries to be "consistent" with her allegations.
"What you see is not always what you get. What she encountered was a man who wanted one thing and one thing only and that was sex… he was going to do whatever he had to do to get it," prosecutor Kerriann Kelly said.
Lee's lawyer, Andrew Lankler had said that the sex was consensual; photographs taken after the arrest appear to prove that it was not a sexual assault, because Lee doesn't have a scratch on him. However, officers found Lee hiding around two hours later in the back seat of his Range Rover that was parked outside the house, from where his mobile showed he had made numerous attempts to call taxis.
Dana was in America on a J-1 exchange visa and had been working in South Carolina in a frozen yogurt shop for the summer of 2013. She had gone to New York to see this 'big city that everyone talks about'.
Lee, who is free on $100,000 bail, has denied the charges of first-degree rape, sexual misconduct and third-degree assault. He faces up to 25 years in jail if convicted.
---
You want to support Anonymous Independent & Investigative News? Please, follow us on Twitter: Follow @AnonymousNewsHQ
---