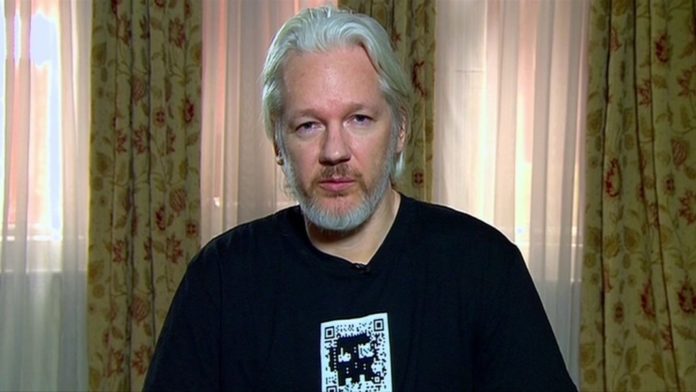 This week, Julian Assange went public, recalling his version of events that surrounded the rape allegations for which he was arrested for in 2010.
"Six years ago today, on 7 December 2010, I was handcuffed and locked into Wandsworth prison by order of a Swedish prosecutor, Marianne Ny," Assange explains in a testimony released on Wednesday. "I had not and still have not been charged with an offence. The claimed grounds for my arrest and extradition without charge were so that Ny could question me. But it was not until six years later – three weeks ago – that I was questioned for the first time. I have decided to release my responses."
Anyone who has followed the Assange saga would be all too aware of the events surrounding his persecution, with the well-timed rape charges coinciding with Assange's exposure of US government war crimes, particularly after the Chelsea Manning leaks.
Released late November, Assange details in a 19-page statement, the events leading up to his forced time in the Ecuadorian embassy in London, mentioning how the American, Swedish, English and Australian governments all conspired against him.
"The White House sent an e-mail with the subject heading "Thoughts on Wikileaks" containing a memo in which the White House," Assange says in the report.
The White House email stated the following:
"advised journalists on possible reporting tacks to take on the [Afghan War Diaries] documents […] As you report on this issue, it's worth noting that wikileaks is not an objective news outlet but rather an organization that opposes US policy in Afghanistan." With the US Defence Department declaring "Calling on the FBI to aid the investigation ensures that the department will have all the resources needed to investigate… noting that use of the bureau ensures the investigation can go wherever it needs to go."
Assange continued, documenting how he "learned from news reports" that Australian security authorities assisted the "US intelligence investigation into WikiLeaks," and Assange, during the time the trumped-up assault charges were occurring.
According to the statement, Assange mentions SW, the woman whom he was accused of sexually assaulting, and how he had agreed to testing for STDs only to discover the following day that the news reported police were "hunting" for Assange "all over Stockholm" for rape charges:
"I… could not believe my eyes when five days later I saw a headline in a Swedish tabloid that I was suspected of a crime and arrested in my absence. I immediately made myself available to Swedish authorities to clarify any questions that might exist, even though I had no obligation to do so."
Assange continues in the report, "Her behaviour towards me on the night in question and in the morning made it clear that she actively and enthusiastically wanted me to have sex with her. This is also shown by text messages "SW" sent to her friends during the course of the evening I was at her home and during that week, which the Swedish police collected from her phone. Although the prosecutor has fought for years to prevent me, the public and the courts from seeing them, my lawyers were permitted to see them at the police station and were able to note down a number of them, including:
  – On 14 August 2010 "SW" sent the following text to a friend: I want him. I want him. Followed by several more of similar content (all referring to me) in the lead-up to the events in question (13:05);
  – On 17 August "SW" wrote that we had long foreplay, but nothing happened (01:14); then it got better (05:15);
  – On 17 August, after all sex had occurred, "SW" wrote to a friend that it "turned out all right" other than STD/pregnancy risk (10:29);
  – On 20 August "SW", while at the police station, wrote that she "did not want to put any charges on Julian Assange" but that "the police were keen on getting their hands on him" (14:26); and that she was "chocked (sic shocked) when they arrested him" because she "only wanted him to take a test" (17:06);
  – On 21 August "SW" wrote that she "did not want to accuse" Julian Assange "for anything", (07:27); and that it was the "police who made up the charges (sic)" (22:25);
  – On 23 August "AA" (the other woman whose case was dropped in August 2015) wrote to "SW" that it was important that she went public with her story so that they could form public opinion for their case (06:43);
  – On 23 August "SW" wrote that it was the police, not herself, who started the whole thing (16:02);
  – On 26 August "AA" wrote to "SW" that they ought to sell their stories for money to a newspaper (13:38);
  – On 28 August "AA" wrote that they had a contact on the biggest Swedish tabloid (12:53); and "SW" wrote that their lawyer negotiated with the tabloid (15:59);
The United Nations recently rejected the United Kingdom's appeal. It was announced that the Julian Assange's detention must be ended immediately.
Unfortunately for Assange, no one knows what the future holds, but one thing's for certain, the United States rarely 'plays ball' with a whistleblower.
---
This article (Assange Recalls Rape Allegation Events in 19-Page Document) is a free and open source. You have permission to republish this article under a Creative Commons license with attribution to the author AnonWatcher and AnonHQ.com.
---
Supporting Anonymous' Independent & Investigative News is important to us. Please, follow us on Twitter: Follow @AnonymousNewsHQ