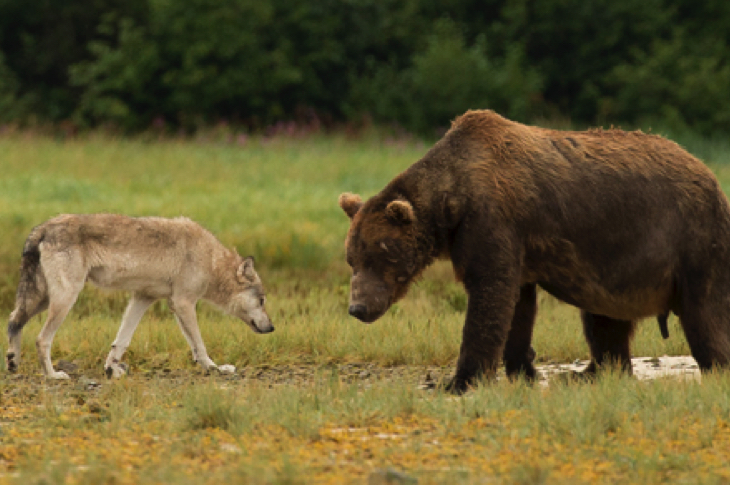 By Brianna Acuesta at trueactivist.com
The most famous grizzly bear at Yellowstone National Park has been killed by hunters.

Officials from Montana Fish, Wildlife, and Parks recently announced that a beloved bear named Scarface was killed by hunters last fall. The 25-year-old grizzly bear was one of the park's most famous residents, and wildlife photographers Jill Cooper and Simon Jackson said in a statement:
"Our emotions alternate between shock, sadness, anger and a profound sense of loss."
Grizzly bears are federally protected in 48 states under the Endangered Species Act, so even though Scarface was killed outside the park's boundary, doing so was illegal.
The wildlife officials and federal police have said that they started an investigation into Scarface's killing.
The beloved bear was dubbed "Scarface" because of the scars on his face which he got from fighting with other male bears. Fights between males erupt often when a female is involved during mating season or when there is valuable food or territory.
Scarface's distinctive marks are what made him so popular amongst visitors and photographers. He was easy to identify and certainly fierce, though in his old age he calmed down. At his largest, he was 600 pounds, but he recently lost nearly half of his body weight as he grew older.
Though he likely would have died soon of natural causes, it was wrong for hunters to take his life prematurely. The conservationists and photographers that followed his life have expressed their grief in his untimely death.
Somewhat fortunately, the population of grizzly bears has increased in recent years, meaning that conservation efforts have been effective so far. Unfortunately, this has led to many questioning whether or not the species should still be on the list of Endangered Species.
Wildlife photographers Cooper and Jackson have said that delisting grizzly bears will lead to trophy hunting a species that is not out of the woods yet when it comes to their regeneration.
"Please, if you choose to do anything to honour Scarface, choose to make your voice heard…to stop the de-listing of grizzlies in the Lower 48."
What are your thoughts on Scarface's and the grizzly bears' fate? Please comment on, like, and share this article!
---
This article (Beloved Yellowstone National Park Bear Killed By Hunters) is free and open source. You have permission to republish this article under a Creative Commons license with attribution to the author and TrueActivist.com