Two of NASA's space telescopes recently caught a huge burst of X-ray spewing out of a super massive black hole. These flares appeared to be triggered by the eruption of a massive corona (charged particles) from the black hole, which goes against the conventional notion that they are compact particles with such a huge gravitational pull, that even light can't escape. If nothing can get out of a black hole, how did the corona come out of it?
The latest findings confirmed Indian astrophysicist Abhas Mitra's theory that the so-called black holes are not "true" black holes, but are actually ultra hot balls of fire – much like our Sun. Mitra explains:
"As massive star contracts to the size of a black hole, the radiation trapped within the extremely hot star must exert an outward force to counter the gravitational pull resulting into a state of eternal contraction with an infinitesimally slow rate. Thus, instead of true black holes predicted by Einstein's theory, we proposed that massive stars end up as balls of fire – termed Magnetospheric Eternally Collapsing Objects or MECOs.
"NASA's observation of giant X-ray flares from black hole can be most naturally explained by this MECO paradigm. MECOs possess accretion disks around them, something similar to the rings of Saturn, and also may be immersed in a sea of interstellar gases. Gas streams pulled inward by gravity get extremely hot by friction and may radiate X-rays."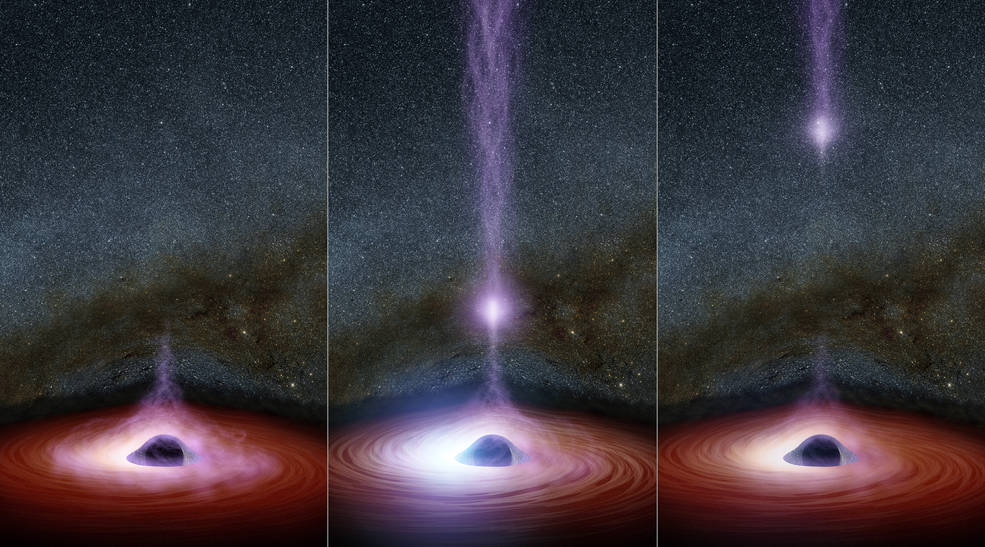 The diagram above shows how a shifting feature, called a corona, can create a flare of X-rays around a black hole. The corona (feature represented in purplish colors) gathers inward (left), becoming brighter, before shooting away from the black hole (middle and right). Credits: NASA/JPL-Caltech
New observations from NASA's Explorer missions Swift and the Nuclear Spectroscopic Telescope Array (NuSTAR), suggest that super massive black holes send out beams of X-rays when their surrounding coronas – sources of extremely energetic particles – shoot, or launch, away from the black holes. Astronomers now want to understand what causes the ejection of the corona.
"The nature of the energetic source of X-rays we call the corona is mysterious, but now with the ability to see dramatic changes like this we are getting clues about its size and structure," said Fiona Harrison, the principal investigator of NuSTAR at the California Institute of Technology in Pasadena.
It's #BlackFriday, but for us, it's the 3rd annual #BlackHoleFriday. Today, we'll post pics & info about black holes pic.twitter.com/w274nnwnP6

— NASA (@NASA) November 27, 2015
A black hole's pull of gravity is so strong, no light escapes: https://t.co/LgUYfgonX6 #BlackHoleFriday #BlackFriday pic.twitter.com/7pCvdDiNfJ — NASA (@NASA) November 27, 2015
Black holes aren't empty holes at all! They're a massive amount of matter packed in a tiny area #BlackHoleFriday pic.twitter.com/LBn6rniga2

— NASA (@NASA) November 27, 2015
Real #BlackFriday Doorbuster: @NASANuSTAR sees black hole blow X-ray wind https://t.co/idzqg9WjX9 #BlackHoleFriday pic.twitter.com/8rBz0SXT2Z — NASA (@NASA) November 27, 2015
---
This Article (Black Holes Don't Really Exist, NASA Confirms Indian Astrophysicist's Theory) is free and open source. You have permission to republish this article under a Creative Commons license with attribution to the author and AnonHQ.com.