(Zero Hedge) Heroin addict, and former Boeing engineer Anthony Hathaway, robbed 30 banks from 2013 to 2014, spoke with Bloomberg about how a life of addiction that led to the crime.
Hathaway was appointed technical designer by Boeing, after a decade of hard work. He was in charge of design for galleys on the 747-8 Intercontinental. He told Bloomberg that he was the only engineer at the Boeing Everett Factory in Everett, Washington, that didn't have a college degree.
Several years of earning $100,000 per year and living large in the 2000s, he had a herniated disc after an incident during a company sporting event and was prescribed OxyContin by his doctor in 2005.
"It was like a miracle drug," Hathaway told Bloomberg.
And this is when his life spiraled down: Hathaway had two back surgeries to fix the disc, doctors prescribed him even more opioids, sometimes at higher doses. He said he instantly developed an addiction and became reclusive.
Hathaway said: "I was peeling the coating off of the OxyContin, crushing them, and snorting them. I knew I was in trouble."
When OxyContin in 2010 modified pills to make it uncrushable,  Hathaway and his teenage son resorted to heroin instead.
His salary couldn't support the expensive drug habit, and in summer 2011, his son robbed a bank and was arrested after a dye pack in cash exploded as he left.
Shortly after, Hathaway became homeless, had to move in with his mother, and at that very moment, he decided to become a professional bank robber. "I started planning," he said.
He added: " I knew that as long as I didn't leave any fingerprints or DNA or facial recognition that I should be able to pull this off without too many problems."
Hathaway knocked over his first bank on February 5, 2013, at a Banner Bank in Everett, down the street from the Boeing factory; 27 more robberies followed over the year. He told Bloomberg that he never carried a weapon.
By Spring of 2013, he robbed several more banks and was broadcasted on Washington's Most Wanted TV show. Police called him the Cyborg Bandit as detectives believed his face mask was made of metal.
Hathaway switched up costumes for different banks, with one that looked like he had roughly cut t-shirts as a mask.
He said there were several incidents where the police almost caught him – one with a teller who planted a GPS device into the money bag, which he quickly discovered, as well as one teller who became uncooperative during a heist.
The most money he ever stole from a bank was a little over $6,000 from Whidbey Island Bank in Bothell. He averaged one robbery per week in 2013, but there was a 67-day quiet period from May to June when his winnings from a casino allowed him to take a break.
Hathaway staged his last bank robbery on February 11, 2014, at KeyBank in Seattle. He shot up with heroin right before the robbery and passed out. Minutes later he awoke and robbed the bank, made off with $2,310. FBI and police immediately surrounded him as he walked outside – ending his 30-robbery streak.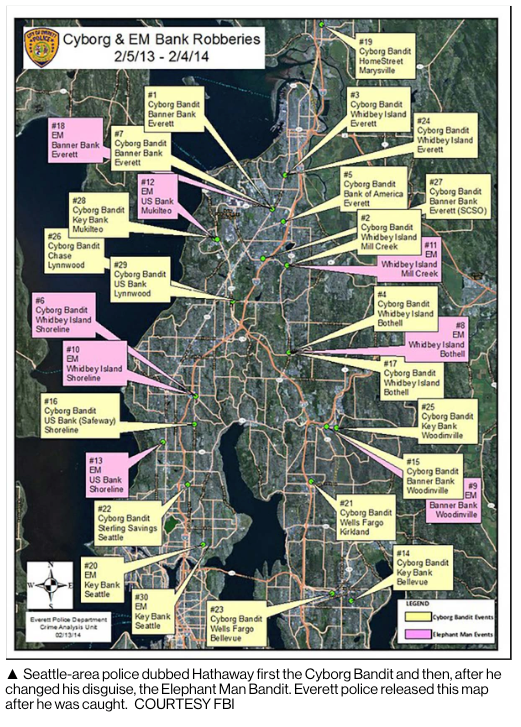 In a plea arrangement in January 2016, Hathaway was sentenced to 106 months in prison.
Detective Len Carver with the Seattle Police Department and a member of the FBI's Seattle Safe Streets Task Force, said he thought one of Hathaway's masks were made of metal.
Carver said in one instance, Hathaway wore a T-shirt draped over your head. "I've never seen a guy just drape a T-shirt over his head and cut some holes in it" before robbing a bank.
Hathaway, now 50, sits in the Monroe Correctional Complex in Washinton state. Has cable TV, and a job at the jail that pays 42¢ an hour, with a maximum of $55 per week, and 20% of that goes to court fees and restitution for his crimes.
"It'll be around $112,000 by the time I get out," he tells Bloomberg during a visit in June. "But I have my whole life to pay it off."
Hathaway's quick transition from star engineer at Boeing to a nasty heroin addiction that contributed to dozens of bank heist, all started with pain management programs in hospitals prescribing highly addictive legal opioids.