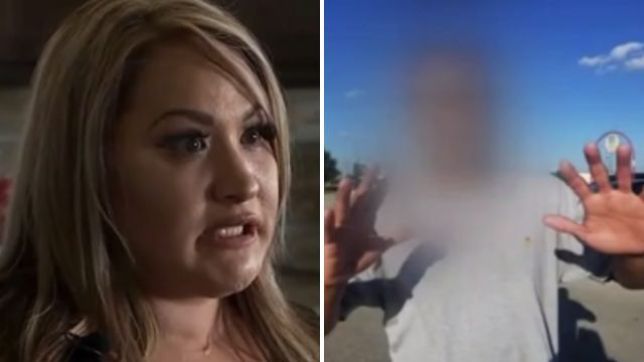 Maria Hernandez took this photo after confronting a creepy stranger who admitted following her daughter around in his car for an entire day (Pictures: ABC13)
A brave mother confronted a creepy stranger who spent an entire day following her young daughter around.
Maria Hernandez stormed up to the Nissan driver after her husband noticed him parked in the cul-de-sac in Katy, Texas, where they live.
The mothers blood ran cold when her 24 year-old daughter Samantha drove off alone on a supermarket errand, and the Altima pulled off to follow her.
She and her husband got into their own car, and followed him to a local H-E-B supermarket, before Hernandez parked up and confronted him.
When Hernandez approached him, the man admitted hed been there for three hours, and followed them home from an earlier trip to department store JC Penney.
She told ABC13: Then thats when he said JCPenney.
And thats when I really lost it, I said, "Youve been following us since JCPenney?"
Babysitter, 81, avoids jail despite horrific video showing her batter boy, 1
And you went to my house and you sat there for three hours?
Hes like "Yeah, but Im sorry. I wont do it again, Im sorry. Im sorry".
Hernandez said the man was scared and nervous at being confronted, and was horrified when he explained his behavior by saying (Samanthas) attractive to me.
She snapped photos of the 37 year-old man and his license plate, leading police to track him down.
When confronted by cops, he confessed, and wrote the family a letter of apology.
Get Your Anonymous T-Shirt / Sweatshirt / Hoodie / Tanktop, Smartphone or Tablet Cover or Mug In Our 
Spreadshirt Shop
! 
Click Here