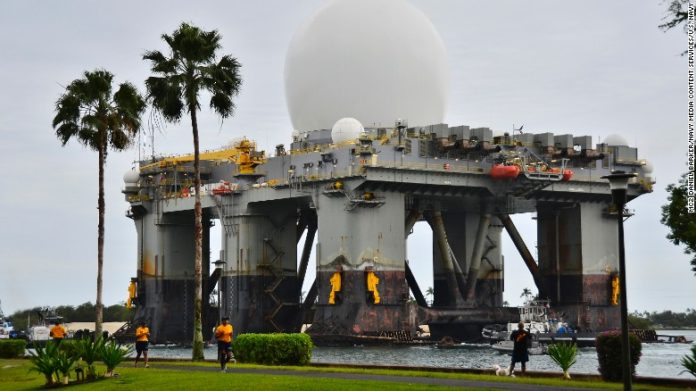 In recent days, North Korea has declared their capability of launching an ICBM toward the United States coastline, and that they could do this any time soon. To downplay the possible scenario, the President-elect early this week insisted "it won't happen."
However, in breaking news, only two hours ago, video footage was released showing a high-tech radar being deployed from its homeport in Oahu's Pearl Harbour, Hawaii in response to these threats. The anonymous spokesperson said it would reach its destination by the end of January.
On one hand, we have several U.S. officials, including Trump, stating that North Korea is unlikely to have such ICBM launch capabilities; however, the official line is to collect intelligence on the ICBM if it is launched, and that if it is launched then it will be shot down – unless it heads out to sea, according to Defense Secretary Ash Carter.
"If the missile is threatening, it will be intercepted. If it's not threatening, we won't necessarily do so," Carter said.
The sea-based X-band radar (SB-X) is capable of tracking a North Korean ICBM and other long range launches. It has been reported that the Korean Peninsula will now be heavily monitored in light of the threats made by Kim Jong Un to Trump earlier this week.
North Korea has conducted tests throughout 2016, surprising the United States with their capabilities. Sanctions have done little to deter the North Korean leader. The ICBM was one of the more feared weapons of choice during the Cold War era.
In spite of all the talk surrounding Russia, Putin may be the least of the world's trouble, and may in fact be one of the key alliances needed by the U.S. to help in this international security issue.
Here at the AnonMedia faction we will continue to monitor the situation and report on any new events arising on the matter and are currently attempting to verify further information.
.

---
This article (BREAKING: High-Tech Radar Deployed from Pearl Harbour to Detect ICBM from North Korea) is a free and open source. You have permission to republish this article under a Creative Commons license with attribution to the author AnonWatcher and AnonHQ.com.
---