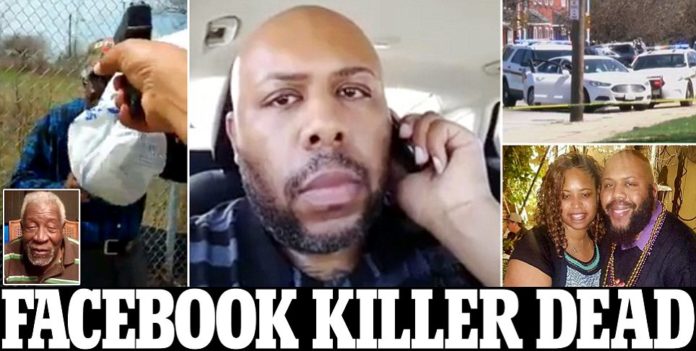 On April 16, 37-year-old Steve Stephens shot 74-year-old great-grandfather Robert Godwin at point-blank range in Cleveland and posted the 57-second long video of the murder on Facebook. A nationwide manhunt to catch one of the world's most wanted men ensued with the FBI placing billboards all over the country. As the reward for his capture climbed to $50,000, the Cleveland Police Department received over 400 tips regarding Stephens' whereabouts.
On April 18, the manhunt ended in another fatal shooting. Stephens' Ford Fusion was spotted in the car park of a McDonald's restaurant in the city of Erie, Pennsylvania. Authorities say cops tried to pull him over and, after a brief chase, the fugitive shot and killed himself. Pennsylvania State Police (PSP) said in a statement:
"Facebook Killer Steve Stephens was spotted just after 11 a.m. this morning by an alert citizen near the intersection of Buffalo Road and Downing Avenue in Erie County, Pennsylvania, which is less than two miles from PSP Troop E headquarters.
"PSP troopers immediately began to canvas the area for Stephens and located him in his vehicle a short time later. Troopers in marked patrol units initiated a pursuit that lasted approximately two miles. The troopers attempted a PIT maneuver to disable Stephens' vehicle, a white Ford Fusion. As the vehicle was spinning out of control from the PIT maneuver, Stephens pulled a pistol and shot himself in the head."
Steve Stephens was spotted this morning by PSP members in Erie County. After a brief pursuit, Stephens shot and killed himself.

— PA State Police (@PAStatePolice) April 18, 2017
Cleveland Police Chief Calvin Williams, baffled as to what prompted a case manager for a children's mental health organization to turn to homicide (though he acknowledged on Facebook he was driven to kill by a broken-down relationship and gambling debts), told a news conference:
"The search for Steve Stephens has ended. We are grateful that this has ended. We would have preferred that it did not have ended this way. We would like to have brought Steve in peacefully and really talk to him to find out exactly why this happened, find out why he did what he did and what drove him to this. This started with one tragedy and ended with another person taking his own life."
Tonya Godwin-Baines, one of Godwin's 10 children asking Stephens to surrender on April 17, told WJW: "Each one of us forgives the killer, the murderer. We want to wrap our arms around him. I forgive you and love you, but most importantly, God loves you. God can heal your mind and save your soul."
Godwin's son, Robert Godwin Jr., added: "Steve, I forgive you… I'm not happy with what you did, but I forgive you."
But Debbie Godwin, one of Godwin's daughters, was upset that Stephens had killed himself. She told The Associated Press: "I would have preferred that Stephens remain alive and face prison time. If you did it, you have to face your crime."
Brenda Haymon, another of Godwin's daughters, told CNN she was making funeral arrangements for her father when she heard the news: "All I can say is that I wish he had gone down in a hail of 100 bullets. I wish it had gone down like that instead of him shooting himself."
34-year-old Angela Smith, who was in a relationship with Robert Godwin for the last 18 years and is the mother of Godwin's two youngest sons, is devastated:
"Why didn't he do it in the first place? Why did he have to take these children's dear daddy first? It doesn't make me feel good that he took himself out like a coward. It doesn't make me feel any better. I still haven't got any closure. He's gone still. I can't eat, I can't sleep, and now I see on the news that he's killed himself. He left these kids without a father. I don't even know what we're going to do at this point."
Stephens worked as a vocational specialist for the Assertive Community Treatment team, which provides support to older teens and young adults. But he blew his salary at the tables in the Jack casino, and at one point petitioned for bankruptcy.
---
This article (BREAKING: Man Who Broadcasted Cold-Blooded Murder on Facebook Dead After Shooting Himself ) is a free and open source. You have permission to republish this article under a Creative Commons license with attribution to the author and AnonHQ.com.
---
Supporting Anonymous' Independent & Investigative News is important to us. Please, follow us on Twitter: Follow @AnonymousNewsHQ