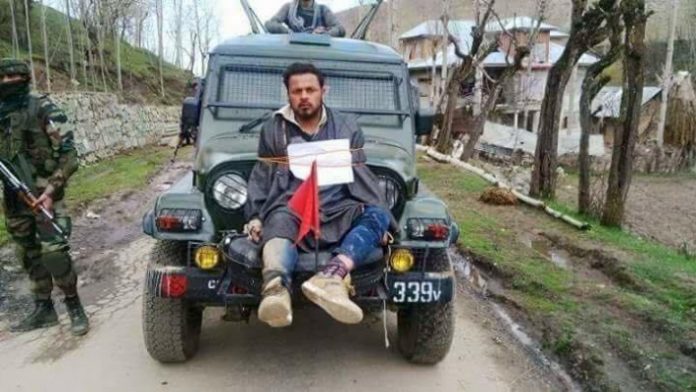 The video of a man tied to an Indian army jeep — allegedly as a human shield against stone-pelting in Kashmir on the day of the violence-hit Srinagar by-elections — has gone viral on social media. Triggering nationwide outrage, the state government, the Ministry of Defense, and the Indian army have been forced to investigate the matter.
The widely-shared video shows a civilian tied to the bonnet of what was believed to be an Indian Army jeep and used as a human shield, raising concerns over the violation of human rights by Indian armed forces in Kashmir.
Here's the video of the Kashmiri boy tied to the front of an Army jeep and used as a human shield in Gundipora, Beerwah. @TimesNow? @NewsX? pic.twitter.com/wW2yns2RN3

— Junaid Azim Mattu (@Junaid_Mattu) April 14, 2017
The man has been identified as 26-year-old Farooq Ahmad Dar, a shawl weaver who was among the few villagers who turned out to cast their vote on April 9. He was reportedly picked up by the Indian army and paraded in several villages for nearly eight hours when he was on his way to attend a condolence meeting at his sister's house.
Colonel Rajesh Kalia, an Indian Army spokesman, told The Indian Express that the army is verifying the contents of the 11-second clip, in which an army soldier could be heard saying, "Those who throw stones will meet the same fate." Omar Abdullah, former chief minister of Jammu & Kashmir, was among the many Twitter users who reacted with outrage:
This young man was TIED to the front of an army jeep to make sure no stones were thrown at the jeep? This is just so shocking!!!! #Kashmir pic.twitter.com/bqs4YJOpJc

— Omar Abdullah (@abdullah_omar) April 14, 2017
Ma'am seriously?You are going to use that video to justify this action. So we should expect no better from the army than from stone pelters? https://t.co/gUClpGBYDq

— Omar Abdullah (@abdullah_omar) April 14, 2017
Let's see channels going ballistic &having discussions with outraged panelists now. Probably not since "Kashmir is ours" hell with Kashmiris

— Omar Abdullah (@abdullah_omar) April 14, 2017
I understand the outrage the CRPF video generated. I'm also outraged that the video of the youth on the jeep won't generate the same anger.

— Omar Abdullah (@abdullah_omar) April 14, 2017
The shameful video comes days after a clip showing Kashmiri youths hitting, kicking and tossing invectives at fully-armed Central Reserve Police Force soldiers during by-elections to the Srinagar parliamentary constituency on April 9, went viral.
While the CRPF soldiers were praised for showing admirable restraint despite being provoked by slogans of 'India go back', the behavior of the Indian Army has upset the Kashmiris.
"Please check my name in the list of voters, if I voted for democracy, why would I stop others from voting and pelt stones? We are poor people and Kashmiris. Whether we vote or note, whether we are pro-Azadi or anti-azadi, for them (security forces), we are the same," says Dar.
According to the Indian news agencies, officials investigating the shocking incident say Dar (a resident of Sitaharaan village in Khag tehsil of Budgam district in central Kashmir) was out to cast his vote — defying a separatist boycott call that contributed to the lowest turnout (7%) in its electoral history — when the fateful episode of human rights violations occurred. Dar shared his ordeal with The Wire:
"I was stopped by the forces in Utligam village, a few kilometers before Gampora, where some women were protesting against the elections. They [the army men] damaged my bike, thrashed me severely with gun butts and wooden sticks and in an almost unconscious state tied me to the front of the jeep and paraded me through 10 to 20 villages. There was no stone-pelting going on in the area when the army men picked me up and neither did any stone pelting take place on the [army] vehicles when I was being paraded.
"At one point I had given up the hope of returning home alive. I thought all my bones have been broken as my entire body was in pain due to ruthless beating. I was in shock, not able to understand what do to as the forces kept threatening me in case I speak to anybody moving on the road. I was pleading with them to leave me but they wouldn't listen. I thought my end is near but I kept praying and hoping that people who had seen me would inform my family.
"I have never ever in my life hurled stones on forces. But I am not able to understand why I was beaten ruthlessly and then tied to the vehicle. What was my crime?"
Many retired Indian Army officers, closely associated with operations in Jammu & Kashmir, have come forward to advise the security personnel to be "militarily correct" and urge political leaders to reach out to provide the "healing touch". Lt Gen (R) BS Jaswal, former Army Commander, Northern Command, told India Today:
"I definitely condemn the use of a civilian as shield. Although some may say that is an innovative technique which may save lives on both sides, I would condemn it as it is violation of rights. It is prohibited [under international norms]."
---
This article (Indian Army Ties Man to the Front of Jeep as Human Shield Against Stone-Pelting in Kashmir) is a free and open source. You have permission to republish this article under a Creative Commons license with attribution to the author and AnonHQ.com.
---
Supporting Anonymous' Independent & Investigative News is important to us. Please, follow us on Twitter: Follow @AnonymousNewsHQ