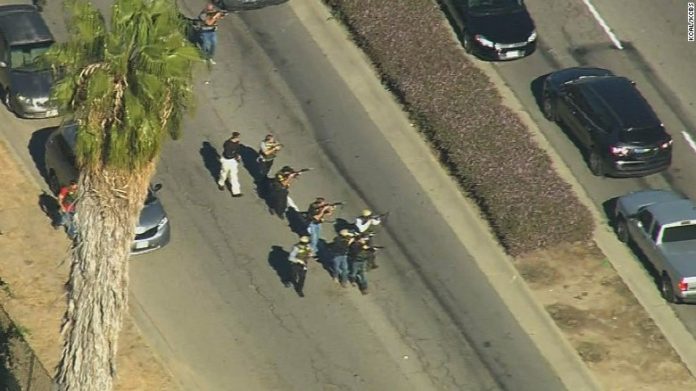 By Jake Anderson at theantimedia.org
Another domestic shooting struck America midday Wednesday in San Bernardino, California, 60 miles east of Los Angeles at the Inland Regional Center. Initial reports suggest there could be as many as 10 to 20 victims and one to three possible shooters. Triage is being conducted at the 1300 block of Waterman Avenue and the nearest Level 1 trauma unit is preparing for multiple victims.
Local law enforcement is working to remove people from the affected buildings, one of which is a non-profit center that coordinates services for children with developmental disabilities. There is also a K-8 school in the vicinity.
Two eye witnesses described loved ones locking themselves in their offices after hearing shots and seeing bodies on the floor.
Witnesses also told police they saw three men with long guns, AK-47-type weapons, a law enforcement source told CNN. The source said the suspects got into a black SUV and drove away.
Multiple questions remain: did police engage the shooter(s)? Did the shooter(s) escape or kill themselves?
Both the FBI and ATF are also at the scene conducting investigations.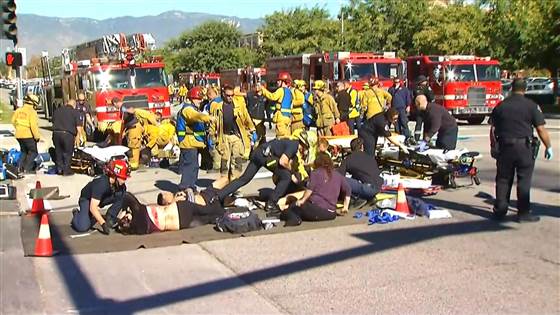 So far, according to a live CNN broadcast, 12 fatalities have been confirmed. New reports suggest 3 shooters armed with long rifles may have fled in a black SUV after leaving behind a device. That device is currently being investigated by a bomb squad.
Meanwhile, hundreds of people are holed up in their offices. The daughter of one man texted him, imploring people to "Pray for us."
.@SanBernardinoPD has confirmed an active shooter in the area of Orange Show Rd/ Waterman Ave near Park center. #SBCSD assisting.

— SB County Sheriff (@sbcountysheriff) December 2, 2015

This is a developing story and more information will be provided as it becomes available.
UPDATE: According to authorities, the conference center where the shootings took place was the site where a county health department was holding some kind of event. Three shooters entered wearing military gear and wielding long rifles. According to the San Bernardino police department, the shooting started at 11 AM. According to one authority, "We do not know if this is a terrorist incident….but they came prepared."
Police now say one suspect is "down" and removed from the SUV and officers are in the midst of a standoff with the other shooters.