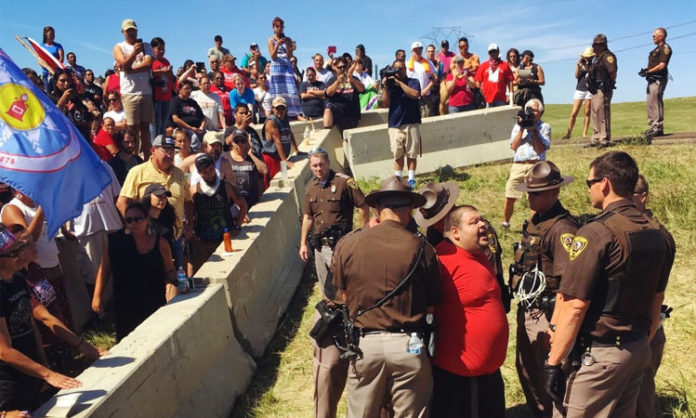 By Whitney Webb at trueactivist.com
Despite the federal government's temporary injunction on a section of the pipeline, tensions are again escalating as ND state police used crowd control weapons on nonviolent protestors.
Though news coverage of the Dakota Access pipeline (DAPL) has slowed to a trickle following Obama's temporary halt of construction on a small fraction of the 1,134 mile pipeline, tensions over the project are again escalating. Since the injunction was put in effect, the leader of the Standing Rock Sioux testified before the UN Human Rights Council, pleading for international support to end the pipeline. Soon after, UN experts demanded a permanent end to Dakota Access due to the validity of the Sioux's concerns. Meanwhile, construction continues on a majority of the pipeline and protestors have continued to push back relentlessly despite a total lack of mainstream media coverage.
Four days ago, the protests spread to other states as activists stopped construction at a DAPL site in Iowa by locking themselves to construction equipment. They were later detained by private security and twelve arrests were made. However, just a few hours ago, videos surfaced of police moving in on Standing Rock protestors in North Dakota, complete with machine-guns, shotguns, and tear gas as they attempted to arrest and subdue the nonviolent protestors.
Thomas H. Joseph II, one of the protestors at the scene, had the following to say:
We need everyone able to come join us at Standing Rock.
Today's action where uncalled for, the police was a direct threat to woman and children.
We gathered in prayer unarmed, prayed, sang songs, and attempted to leave. No threats. No vandalism. No violence was taken on our part.
Flood the White House with phone calls and demand Obama to act and enforce his previous declaration of no construction. With state police protecting Dakota Access Pipeline, his words are meaningless.
White House Phone Number: 202-456-1111
Armored vehicles blocked all roads, boxing the protestors in, while helicopters circled overhead. Tear gas was deployed via aircraft and intimidation tactics were used on men, women, and children. Protestors were prevented from leaving the area and internet signals were blocked, preventing them from accessing social media and publicizing police actions. Snipers were deployed on top of nearby hills as police clad in full riot gear, attempted to arrest as many protestors as possible. Police drew and loaded their weapons as they approached protestors, causing chaos in the protest camp as many tried to flee from the police.
One video commentator noted that a military-grade sound weapon was deployed to the area, though it appears it was not used. Now that state police are assisting private security in protecting the pipeline project, even more police violence towards peaceful protestors is likely until enough people stand in solidarity with Standing Rock and demand an end to Dakota Access once and for all.
Watch the video footage of today's dramatic police escalation for yourself :

What are your thoughts on this? Please share, like, and comment on this article!
---
This article (State Police Use Tear Gas, Point Loaded Weapons At Peaceful DAPL Protestors) is free and open source. You have permission to republish this article under a Creative Commons license with attribution to the author and TrueActivist.com