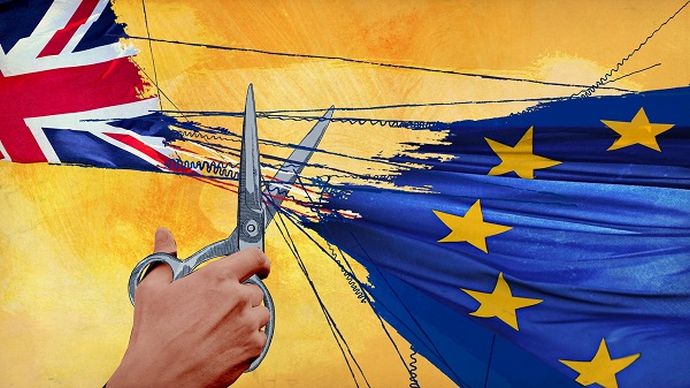 After the British Prime Minister Theresa May triggered Article 50, formally kicking off the two-year Brexit process to leave the European Union (EU) after 44 years, EU leaders not only mourned the irreversible split, they accused her of "lumping terror together with trade."
In a six-page letter to European Council President Donald Tusk invoking Article 50 of the Lisbon Treaty, and officially notifying the EU of Britain's decision to withdraw from the 28-country bloc, May issued a blatant threat to European negotiators over Europe's future security.
"If, however, we leave the European Union without an agreement, the default position is that we would have to trade on World Trade Organization terms. In security terms, a failure to reach agreement would mean our cooperation in the fight against crime and terrorism would be weakened," she wrote.
Gianni Pittella, the leader of the Socialist bloc in the European parliament, was quoted by The Guardian as saying:
"It would be outrageous to play with people's lives in these negotiations. This has not been a good start by Theresa May. It feels like blackmail, but security is good for all our citizens and not a bargaining chip. We still hope that Theresa May can get back on the right track. This was not a smart move."
In January, May alarmed European leaders with threats to turn Britain into a tax haven if the EU's trade offer isn't good enough. But in her letter to the EU, officially announcing that the UK was leaving, she insisted "the U.K.'s vote to leave the EU was no rejection of the values we share as fellow Europeans" and promised "Britain won't be cherry picking elements of single market membership."
Nevertheless, EU leaders and netizens expressed their unhappiness as newspapers across the globe featured the landmark moment on front pages.
Jean-Claude Juncker, the European commission president, said the UK's decision to quit the block was a "choice they will regret one day." Tusk, speaking shortly after receiving article 50, remarked: "We already miss you. Thank you and goodbye."
Die Welt puts out a Mayday distress signal as Britannia seeks to rule the waves with an e.e. of 3.6 per cent in her sails. pic.twitter.com/tIWS4FRggu

— Fraser Stoddart (@sirfrasersays) March 29, 2017
This morning's Libération front page says it all really #Brexit #Article50 pic.twitter.com/vSsYkHBbdQ

— FrancoBritishChamber (@fbcci) March 29, 2017
#Brexit Reino Unido ha comunicado oficialmente su intención de salir la #UE. Estamos preparados. Calma, tranquilidad y confianza pic.twitter.com/ZfOi5hCYS8

— Mariano Rajoy Brey (@marianorajoy) March 29, 2017
There is nothing sweet about what is happening today, it is a sad day – Prime Minister @JosephMuscat_JM on #Brexit #EUdialogues #Malta pic.twitter.com/uwWTx3wRrb

— EU Commission Malta (@ECRepMalta) March 29, 2017
#begov will play a constructive and active role in creating a new relationship between UK & EU. We will defend the European values. #Brexit

— Charles Michel (@CharlesMichel) March 29, 2017
Set your clocks back to 1973 ????#brexitday #triggered pic.twitter.com/lsQ4FAceUF

— eimear ✨ (@eimearod) March 29, 2017
Calling the country to unite on #brexitday ? Ridiculous! We should never, ever unite around something we know is deeply, utterly wrong.

— Elizabeth Bangs (@ElizabethBangs) March 29, 2017
Britain: a nation still divided on #BrexitDay as these two front pages show. Hope v fear? Jingoism v reality? You decide #skypapers pic.twitter.com/NLxWy4vOeW

— Martin Daubney (@MartinDaubney) March 29, 2017
Oof. pic.twitter.com/20MjoTEy24

— Lily (@lilyallen) March 29, 2017
One of the saddest days in the last 200 years of British political history; one of the greatest acts of self-harm. Heartbreaking. pic.twitter.com/GxUk1qnvUm

— Alain de Botton (@alaindebotton) March 28, 2017

Brexit: All you need to know about the UK leaving the EU
---
This article (Brexit Begins: EU Condemns Theresa May's Blackmail as Britain Invokes Article 50) is a free and open source. You have permission to republish this article under a Creative Commons license with attribution to the author and AnonHQ.com.
---
Supporting Anonymous' Independent & Investigative News is important to us. Please, follow us on Twitter: Follow @AnonymousNewsHQ